What's going on: These are the peri-menopausal years when estrogen levels start to decline. Estrogen is stored in the fat cells, and as estrogen decreases, the skin will start to lose its tone. Estrogen is a natural anti-inflammatory and since it's dropped, many people can be sensitive to skin care ingredients that once were agreeable with the skin. This is also a time when skin redness and dilated capillaries start to appear. How will your skin age? It's based on your ethnicity.
It's time to "get serious" about your skin and it's never too late to achieve skin health. The combination of both topical applications of Vitamin C and internal antioxidants from foods creates an ideal synergy and will play an important role in maintaining a youthful appearance.
What your skin needs at home: …
Renée Rouleau Intensive Firming Serum is formulated with potent peptides and pomegranate for use on both the face and neck to firm and tighten the skin with continued use.
Because the 40's start to bring on sensitive skin, yet the skin still needs exfoliation, the Renée RouleauTriple Berry Smoothing Peel is extremely effective for gently removing dry skin cells to smooth the skin
Renée Rouleau Multi Vitamin Cream drenches the skin with time-released antioxidants to protect the skin from harmful environmental damage.
Regular mini facials should be performed at home to maintain the results of professional facials. Here's  how to give your skin a facial at home.
What your skin needs in the spa:
Our Bio Visage Lifting Facial from France uses low level electrical current impulses to improve muscle tone in the face and neck, tighten and lift jowls, soften lines and restore the glow of youthful skin…after just one treatment. More than likely, you'll attend a class reunion in your 40's, so this facial is excellent prior to special events to look your best!
Is your skin in need of serious repair? Our Skin Repair program is a six week series of peels and skin repair treatments to resurface the skin while fading hyperpigmentation and softening the appearance of wrinkles.
Skin Tip for the 40's:
-Don't neglect your neck. Make sure your moisturizer with sunscreen is applied to the neck and the sides of the neck every day.
-Short on sleep? Read skin tips to reduce dark circles and puffiness.
-Avoid using skin care products containing synthetic fragrances or perfumes. These are unnecessary and are the #1 cause of allergic reactions. Read our list of ingredients to avoid in your skin care products.
-Avoid facial scrubs using apricot kernels or any other natural grain as they are much too abrasive on the skin. Instead use round grains like Polyethylene granules or micro beadlets.
-After working out, make sure to wash your skin to remove the salts from your sweat which can dehydrate the skin. Then apply toner (using our Toning Cloths and cream.)
-Getting off makeup, dirt and bacteria at night is a must. Read five reasons why you must wash your face every night.
-The best anti-oxidants foods for your skin are found in grapes, berries, broccoli, tomatoes, and sweet potatoes. Eat up and stay healthy!
-Avoid drinking out of straws. The pursing of the lips causes unnecessary wrinkles. Save that expression for kissing!
-Vision getting blurry? Don't put off getting your eyes checked. Unnecessary squinting will accelerate wrinkles around the eyes.
-Don't overdo it with too many laser treatments and chemical peels. Read why they might be damaging your skin.
Read skin tips for those in their 50's and 60's.
Which products are right for you? See our nine skin types and get products recommended.
For expert skin advice, check out Skin Source–the A-Z guide on all things skin. Also sign up here for our skin tip e-newsletter, follow Renée Rouleau on Twitter and like our Facebook page. You'll be your own skin care expert in no time!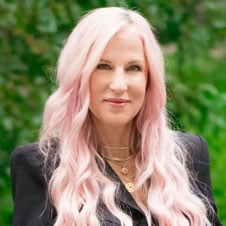 Celebrity Esthetician & Skincare Expert
As an esthetician trained in cosmetic chemistry, Renée Rouleau has spent 30 years researching skin, educating her audience, and building an award-winning line of products. Her hands-on experience as an esthetician and trusted skin care expert has created a real-world solution — products that are formulated for nine different types of skin so your face will get exactly what it needs to look and feel its best. Trusted by celebrities, editors, bloggers, and skincare obsessives around the globe, her vast real-world knowledge and constant research are why Marie Claire calls her "the most passionate skin practitioner we know."