What's going on: As hormone levels are now returning to normal, the material that attaches the skin to the bone, called fascia, is deteriorating causing the skin to continue to lose tone. Skin sensitivity is lessened; so many skins with redness may find that they are less red, and in fact, skin circulation has slowed down significantly so people in their 60's will see a dullness in their skin.
Intensive topical moisture is important to keep the skin looking moist and dewy, while regular exercise will help keep good circulation in the skin and body to retain that vibrancy. However, capillaries are more fragile, so you may want to ease up on facial scrubs and Microdermabrasion.
What your skin needs at home:  …
Renée Rouleau Pure Radiance Mask uses 14 different skin stimulating oils to intensively hydrate the skin while giving a boost of circulation to give the skin the glow it needs.
Renée Rouleau Hydrating Mineral Toner works to rejuvenate dry, sun-damaged skin while elevating moisture levels.
In the 60's and beyond, keeping the skin moist and dewy is a must. Renée Rouleau Hawaiian Nourishing Cream uses a marine extract found on the shores of the Hawaiian Islands to increase skin firmness and moisture.
What your skin needs in the spa:
Our Synergy 3 Facial takes three of the best age-defying facials and combines them into one amazing 75 minute treatment based on three different focuses: deep cleanse, resurface, and lift & firm.
Our Photo Rejuvenation Facial helps to encourage collagen production to keep the skin looking smooth and plump. Add on a Bio Visage Lifting Treatment for a skin tightening boost.
Skin Tips:
-When in doubt, have it checked out. Moles that change in color, shape or size must be looked at by a Dermatologist. Skin cancer is very prevalent in the 60's and beyond.
-Performing your nighttime routine is essential because skin's permeability increases while you sleep, allowing the action ingredients to absorb.
-Skin in need of a lift? Read skin firming tips.
-Healthy skin is what your body gives you when you treat yourself well. Make YOU a priority!
-Always wear sunglasses when outdoors. Unnecessary squinting will accelerate wrinkles around the eyes.
-Short on sleep? Read skin tips to reduce dark circles and puffiness.
-Always apply eye cream using your ring finger. This is your weakest finger and will allow for the gentlest application.
-Make sure to avoid the ingredient Mineral Oil in your eye cream. Read why your eye cream could be causing more wrinkles.
-Regular mini facials should be performed at home to maintain the results of professional facials. Here's  how to give your skin a facial at home.
Which Renée Rouleau products are right for you? Get products recommended by choosing your skin type.
Read skin tips for those in their 40's and 50's.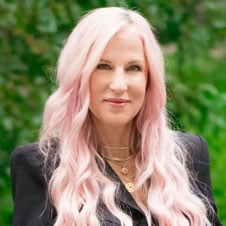 Celebrity Esthetician & Skincare Expert
As an esthetician trained in cosmetic chemistry, Renée Rouleau has spent 30 years researching skin, educating her audience, and building an award-winning line of products. Her hands-on experience as an esthetician and trusted skin care expert has created a real-world solution — products that are formulated for nine different types of skin so your face will get exactly what it needs to look and feel its best. Trusted by celebrities, editors, bloggers, and skincare obsessives around the globe, her vast real-world knowledge and constant research are why Marie Claire calls her "the most passionate skin practitioner we know."