Start reading your ingredient labels and make sure to avoid these in your skin care products.
Although there is a purpose for every ingredient in cosmetics, certain ingredients may not be appropriate for your specific skin condition. At Renée Rouleau, we care about what you put on your skin. That's why we avoid certain ingredients that may cause reactions in sensitive skin, acne-prone skin. Check labels before you buy so that you can avoid them also!
MINERAL OIL OR PETROLATUM
Commonly used in moisturizers and cleansers, these ingredients suffocate the skin, contributing to a dull, tired, sluggish complexion. They can clog the pores, contributing to excessive breakouts. They also trap heat in the skin, which will keep your skin red long after you get out of a hot shower.
SODIUM LAURETH SULFATE, SODIUM LAURYL SULFATE OR AMMONIUM LAURETH SULFATE
Often used in foaming and gel cleansers, these ingredients are extremely drying and irritating, and encourage dead skin cell buildup. Choose sulfate-free cleansing gels.
SD ALCOHOL 40 OR DENATURED ALCOHOL
Frequently used in astringents and toners, these ingredients will cause dead skin cell buildup, which can trap oil and contribute to breakouts. They also strip water out of the skin, deleting the moisture essential for anti-aging. Choose alcohol-free toners.
FRAGRANCE
Often used in skin care products, fragrance is the #1 cause of allergic reactions to products. The words "fragrance", "parfum" or "perfume" will be listed near the bottom of the ingredient list.
ISOPROPYL MYRISTATE OR ISOPROPYL PALMITATE
Commonly used in cleansers and moisturizers, these ingredients will clog the pores, leading to excessive blackheads and breakouts.
ACETONE
Frequently used in astringents and toners, acetone is extremely drying and can cause severe irritation.
LANOLIN
Often found in older-formula moisturizers, lanolin can be a skin sensitizer and can aggravate breakouts.
We want to assure you that all of the Renée Rouleau skin care products DO NOT use these ingredients and we highly recommend you avoid them, too.
Which products are right for your skin? Check out our nine skin types.
For daily skin care tips, follow Renée on Twitter and join our Facebook page.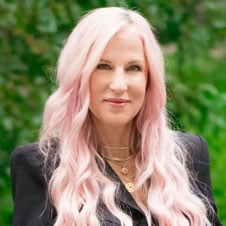 Celebrity Esthetician & Skincare Expert
As an esthetician trained in cosmetic chemistry, Renée Rouleau has spent 30 years researching skin, educating her audience, and building an award-winning line of products. Her hands-on experience as an esthetician and trusted skin care expert has created a real-world solution — products that are formulated for nine different types of skin so your face will get exactly what it needs to look and feel its best. Trusted by celebrities, editors, bloggers, and skincare obsessives around the globe, her vast real-world knowledge and constant research are why Marie Claire calls her "the most passionate skin practitioner we know."