What's going on: Menopause. There is a sharp decrease in estrogen and the weakening of collagen and elastin fibers, which causes the skin to lose that "cushion" resulting in the loss of skin tone. Introduce your skin to "sun damage repair" and "collagen boosting" skin peels and products. Due to the loss of moisture in the skin, it's important to replace lost moisture topically with oil-based moisturizers, as well as increasing essential fatty acids in your diet to give your body the moisture it needs.
Rosacea, a chronic skin disorder affecting as many as 14 million Americans could now be in full swing. While the cause is still unknown, the redness in the skin can be quite noticeable. Anti-inflammatory and calming products with ingredients like Chamomile, Sea Whip, Blue Azulene and White Tea are should be used daily to keep symptoms at bay.
What your skin needs at home:

For skins with rosacea, Renée Rouleau Soothing Relief Serum cools heat-activated skin to reduce redness and symptoms related to this condition that affects 14 million Americans.
Renée Rouleau Bio Radiance Night Serum is formulated with potent peptides and pomegranate for use on both the face and neck to firm and tighten the skin with continued use.
Because rosacea is occurs most often in the 50's, Renée Rouleau Triple Berry Smoothing Peel is a gentle, yet effective way to exfoliate the skin and stimulate collagen. Generally it's recommended to leave on for 5-10 minutes, but for those with rosacea, it's best to leave it on for just 3 minutes–especially the first time using it. It offers professional-strength exfoliation at home to stimulate cellular turnover, smooth the skin and remove dryness that is so common in the 50's.
In the 50's, lines and wrinkles come on full force because of menopause. Renée Rouleau Instant Line Filler is a specialty serum to fill lines and wrinkles without needles or surgery, using Hyaluronic Filling Spheres for smoother, less lined skin. Inspired by dermatological wrinkles fillers, such as Restylane®, this revolutionary serum is the injection-free, surgery-free and pain-free answer to younger-looking skin. The magic ingredient is Hyaluronic Filling Spheres which resemble tiny micro sponges that expand when it reacts with the moisture in the skin, therefore plumping up wrinkled areas.
What your skin needs in the spa:
Our Redness Relief Facial is excellent for those with redness, sensitivity and rosacea to calm, soothe and sedate the skin.
Our Photo Rejuvenation Facial helps to encourage collagen production to keep the skin looking smooth and plump. Add on a Bio Visage Lifting Treatment for a skin tightening boost.
Skin Tips:
-Eat almonds, salmon, avocados and olive oil. These contain healthy fats that keep your skin moist, supple and glowing from inside out. See the best antioxidant foods.
-Avoid using skin care products containing synthetic fragrances or perfumes. These are unnecessary and are the #1 cause of allergic reactions.
– Always use an alcohol-free toner after cleansing and leave it damp before applying cream. Your skin cells are like fish, they need water to live.
-Pay attention to your ears. This area can show a lot of aging. Use a facial scrub on the ears twice a week and use sunscreen daily.
– Skin in need of a lift? Read skin firming tips.
-Dry skin? Instead of over-moisturizing, increase your exfoliation. Remove the dry skin, and you won't have dry skin! It's really that simple!
-Don't use regular washcloths to wash your face, they are too rough. Instead wash with baby washcloths or Renée Rouleau Facial Sponges.
-Short on sleep? Read skin tips to reduce dark circles and puffiness.
-Regular mini facials should be performed at home to maintain the results of professional facials. Here's  how to give your skin a facial at home.
-Don't overdo it with too many laser treatments and chemical peels. Read why they might be damaging your skin.
Read skin tips for those in their 40's and 60's.
Which products are right for you? See our nine skin types and get products recommended.
For expert skin advice, check out Skin Source–the A-Z guide on all things skin. Also sign up here for our skin tip e-newsletter, follow Renée Rouleau on Twitter and like our Facebook page. You'll be your own skin care expert in no time!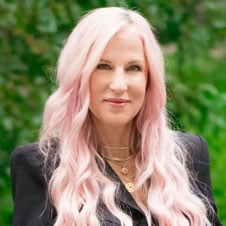 Celebrity Esthetician & Skincare Expert
As an esthetician trained in cosmetic chemistry, Renée Rouleau has spent 30 years researching skin, educating her audience, and building an award-winning line of products. Her hands-on experience as an esthetician and trusted skin care expert has created a real-world solution — products that are formulated for nine different types of skin so your face will get exactly what it needs to look and feel its best. Trusted by celebrities, editors, bloggers, and skincare obsessives around the globe, her vast real-world knowledge and constant research are why Marie Claire calls her "the most passionate skin practitioner we know."