Updated 2/13/20. Giving yourself a monthly or even weekly facial at home is a great way to get results above and beyond what your normal skincare routine offers.
In this post, I'll give a step-by-step tutorial on the best way to give yourself a facial at home. Follow these steps and you'll definitely be seeing clear, smooth, even-toned skin. Read on!
Which Products Will I Need?
A gentle cleanser
At-home skincare device (optional)
A gentle facial scrub
An exfoliating peel
A serum for your skin type
A mask (this one will depend on what your skin is needing at the time of the facial)
A baby washcloth or facial sponge
How Do I Give Myself a Facial?
For the perfect treat-yourself night in, follow these steps.
Step 1
Start with a thorough yet gentle cleanse to make sure all makeup, sunscreen, oil, and debris is properly removed from the skin. This will lay the foundation for the rest of the facial and ensure the following steps are as effective as possible.
Step 2
If you have one, this is where you would use an at-home device such as an LED light or microcurrent device. Read my review of home skincare devices to learn which ones are worth it (and which ones aren't).
Step 3
Massage a gentle facial scrub like Mint Buffing Beads lightly over the skin to lift dead cells off the surface. It's important to look for a scrub that uses rounded beads instead of jagged granules that may scratch your skin. The addition of mint will help encourage blood flow and bring oxygen and fresh nutrients to the skin. If your skin is more acne-prone, you can use AHA/BHA Blemish Control Cleanser. It includes jojoba beads for a light physical exfoliation. Massage the scrub over your skin for 30-60 seconds, but don't apply much pressure. Rinse well and pat skin dry.
Facial scrubs have gotten a bad rap, but they offer so many benefits that I think everyone should have a well-formulated scrub in their routine.

Step 4 
Apply a thin layer of an exfoliating peel like Triple Berry Smoothing Peel and leave on for three to ten minutes. Triple Berry Smoothing Peel uses five different acids to gently lower the pH of the skin, which dissolves cellular build up to provide a really nice exfoliation.
Step 5
Apply a thin layer of a hydrating or specialty serum for your skin type. You can find your skin type and learn which serum is best for you by taking the skin type quiz!
Step 6
Follow immediately with a facial mask. In the above photo, I'm using a non-drying, clay-based mask called Energizing Cleansing Masque because my skin was feeling oily. Another great option is Rapid Response Detox Masque. This antibacterial gel fights acne while also deeply infusing the skin with hydration. Leave the mask on for fifteen minutes and then rinse off gently with a baby washcloth or facial sponge.
Step 7
Finish off with an alcohol-free toner to remove impurities from tap water then seal everything off with a moisturizer. Personally, I also like to dab on eye cream to finish it all off.
After your facial, your skin should be brighter and clearer and feel silky smooth. If you can commit to doing this weekly, you'll see even more amazing results. If you're feeling really ambitious, you can follow these steps to extract blackheads or clogged pores. After a facial is the best time to do this since everything is primed and prepped.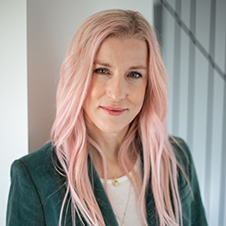 Celebrity Esthetician & Skincare Expert
As an esthetician trained in cosmetic chemistry, Renée Rouleau has spent 30 years researching skin, educating her audience, and building an award-winning line of products. Her hands-on experience as an esthetician and trusted skin care expert has created a real-world solution — products that are formulated for nine different types of skin so your face will get exactly what it needs to look and feel its best. Trusted by celebrities, editors, bloggers, and skincare obsessives around the globe, her vast real-world knowledge and constant research are why Marie Claire calls her "the most passionate skin practitioner we know."