What's the best way to give a facial to my own skin?
Updated 3/4/18. Giving your skin a facial at home is sure to reveal softer, clearer, smoother and younger-looking skin. Doing so on a regular basis can truly give your skin extra results, above and beyond your normal skincare routine.
In this post and as seen in the photo above, I give a step-by-step tutorial on the best way to give your skin a facial that can give amazing results at home. (And yes, that's my dog who wanted to see what all the fuss was about.) Read on!
Which skincare products will I need to perform a facial?
An exfoliant such as a facial scrub, sonic cleansing brush or exfoliating peel
A skin serum for your skin type
A mask for your skin type and based on what your skin needs at the time of the facial
A washcloth, baby washcloth or facial sponge
If you want to perform manual extractions to remove blackheads instead of leaving it to a professional, have everything on hand as listed in this post.
How do I give my skin a facial?
Step 1 Massage a gentle facial scrub lightly over the skin to lift up surface dead cells. Mint Buffing Beads is an excellent one since the mint botanicals can help to encourage blood flow to the skin to bring oxygen and fresh nutrients to the cells during the exfoliating process. Massage over skin for 30-60 seconds but don't apply much pressure. Rinse well and pat skin dry.
Step 2 Apply a layer of an exfoliating peel (Triple Berry Smoothing Peel) and leave on for 3-10 minutes. This uses five different acids to gently lower the pH of the skin to dissolve and digest cellular build up to provide a really nice exfoliation.
Step 3 Apply a thin layer of a serum for your skin type and follow with a layer of a facial mask. In the above photo, I'm using a non-drying clay-based mask called Energizing Cleansing Masque because I'm a skin type #2. (Find your skin type). Leave the mask on for 15 minutes and then rinse off and wipe over with a washcloth or sponge. Follow with a toner to remove impure tap water and then a moisturizer. I also like to dab on eye cream to finish it all off.
There are so many different types of masks available. Read how to choose the best mask for your skin type.
Your skin should be brighter, clearer and feel silky smooth and it thanks to the extra attention you gave it.
It's recommended to give your skin an at-home facial a few times a month as a way to maintain the health of your skin in between regular professional facials.
Speaking of things to do for your skin at home, DON'T try these at-home skincare trends!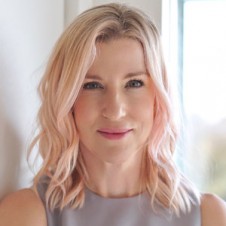 Celebrity Esthetician & Skincare Expert
As an esthetician trained in cosmetic chemistry, Renée Rouleau has spent 30 years researching skin, educating her audience, and building an award-winning line of products. Trusted by celebrities, editors, bloggers, and skincare obsessives around the globe, her vast real-world knowledge and constant research are why Marie Claire calls her "the most passionate skin practitioner we know."