One time, I was flipping through a magazine, and I read this quote from a top beauty editor: "I never use eye cream because I haven't found one that actually works." It got me thinking. If a top beauty editor at a major publication, who constantly tests skincare products is saying this, then consumers must feel this way, too.
As someone with 30+ years of experience as an esthetician, I certainly have some opinions on the efficacy of eye cream. In this post, I'll share whether or not I think eye creams really work and whether or not you should be using one (if you aren't already).
Do Eye Creams Really Work?
Let me start by saying eye creams really do work, and you should definitely be using one. With that being said, they're not a quick fix, and they don't work miracles despite what some brands may claim. It's important to have realistic expectations. If you expect them to instantly remove dark circles and lines and wrinkles, you'll be disappointed. For that, you need to turn to professional treatments and cosmetic procedures, like Botox. But if you expect them to moisturize, prevent premature signs of aging, and keep the eye area looking younger when used over time, you'll find that they really are effective.
The skin around the eyes is 10 times thinner than that of the rest of the face, and it has very few oil glands. Plus, on average, we blink 10,000 times a day. We also squint and smile, so it's no wonder that this area is the first to show signs of aging. Moisturizing the area with eye cream will help maintain proper water levels, keep the skin's structure intact, and help it function as it should in both the short and long term. The result? Collagen and elastin are preserved and fewer premature lines and wrinkles appear.
That's just from moisturization alone. It's also important to consider that many eye creams contain active ingredients that can create other positive changes in the skin. For example, many eye creams contain firming peptides or brightening antioxidants (but more on that in a minute).
5 Mistakes to Avoid When Using Eye Cream
If you've used eye creams in the past and felt like they didn't work, you may have been making one of these five mistakes.
1. You Apply Eye Cream Too Close to Your Lash Line
Eye cream should only be applied to the orbital bone. Avoid applying it any closer, because every time you blink, your lashes will lift tiny amounts of product off the skin that can then be deposited into your eyes. Getting eye cream in your eyes, even in tiny amounts, can cause unnecessary irritation and puffiness, leading to a loss of skin elasticity.
2. You Don't Use Your Ring Finger to Apply Eye Cream
This might seem like an unnecessary distinction, but it's really beneficial to use your ring finger to apply eye cream. That's because it's the weakest and therefore the most gentle finger, which makes it perfect for application to the delicate tissue under the eyes. Eye cream should be applied every day, and if you're too aggressive and you repeatedly pull on the skin, it can lead to wrinkles.
3. You Use an Eye Cream with Heavy or Irritating Ingredients
Since the skin under the eyes is so thin and sensitive, you must choose your formula carefully. I see so many eye creams that are, in my opinion, poorly formulated.
First, you want to make sure that your eye cream is not loaded up with too many oils. Heavy oils can easily migrate into the eyes while you sleep and cause puffiness. Over time, chronic puffiness will stretch out the skin tissue to the point where it will no longer spring back. In fact, the connective tissues that attach the skin to the orbital bone actually deteriorate.
Second, you'll want to avoid formulas that are highly fragranced, which can lead to watery, irritated, and even rashy eyes. Look out for words like "fragrance," "perfume," "natural fragrance" or "parfum" listed on the bottle or jar. I also suggest staying away from eye creams that are loaded up with essential oils. These can easily inflame the delicate skin around the eyes.
4. You Don't Use an Eye Cream With Firming Ingredients
Since the skin around the eyes is so thin and gets so much wear and tear from squinting, smiling, and rubbing, you need to make sure you're using an eye cream with firming ingredients to help keep the skin intact. I really like eye creams that use peptides, which are short- or long-chain amino acids. They penetrate through the skin's barrier and can help send a signal to your skin to create more collagen.
There are many different types of peptides. I formulated the Total Eye Repair Creme with Palmitoyl Oligopeptide, which is a line-filling peptide, and Acetyl Octapeptide-3, which is a firming peptide. It also contains hydrating ingredients and antioxidants to enhance elasticity.
5. You Don't Exfoliate Your Eye Area
Moisturizing is powerful, but to help manage dryness and soften existing fine lines and wrinkles, you have to do a little extra. I recommend gently exfoliating the eye area to remove dryness. This will bring fresher, plumper skin cells to the surface and allow an eye cream to penetrate more effectively. This will give you better results—trying to moisturize cells that are already expired won't get you very far.
I recommend the Overnight Eye Serum. It's formulated with glycolic and lactic acids to gently resurface the skin. It also contains allantoin and aloe vera to calm and soothe the sensitive skin around the eye area.
The Bottom Line
Trust me, eye creams work! I personally use one every single night. Do I still have some wrinkles around my eyes? Yes. I'm 52, and this is normal. But I've always practiced a consistent skincare routine and I get Botox in that area. The latter can quickly and dramatically smooth eye-area wrinkles, so if you're really concerned with lines and wrinkles, you might want to consider it! The best way to go about it is to consult a doctor to see if it's right for you.
Next, learn more about under-eye puffiness—why it happens and what you can do about it!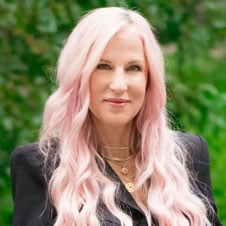 Celebrity Esthetician & Skincare Expert
As an esthetician trained in cosmetic chemistry, Renée Rouleau has spent 30 years researching skin, educating her audience, and building an award-winning line of products. Her hands-on experience as an esthetician and trusted skin care expert has created a real-world solution — products that are formulated for nine different types of skin so your face will get exactly what it needs to look and feel its best. Trusted by celebrities, editors, bloggers, and skincare obsessives around the globe, her vast real-world knowledge and constant research are why Marie Claire calls her "the most passionate skin practitioner we know."