Updated 1/24/18. What's the #1 reason people will go to sleep without washing their faces? Exhaustion. I certainly understand the discipline and effort it requires to perform your nighttime skin care routine, especially when you're tired and feeling unmotivated. However, I'm here tell you that if you want your skin to look its best and act in a healthy way, you really must stick to your routine.
In this post, I'll share five reasons why you really need to be washing your face before you go to sleep in hopes that you'll make it a regular habit. (Just do it!)
Why is it important to wash my skin at night?
1. It will lessen the amount of oil on the skin, resulting in fewer blemishes.
Oil breeds bacteria and bacteria leads to breakouts. By simply removing bacteria from the skin's surface and within the pores (with targeted pore-clearing ingredients like salicylic acid), you'll have fewer blemishes. Did you know that touching your face all day long, without intentionally doing so, is making your face one of the dirtiest parts of your body? It's a fact that bacteria thrives in oil, so why give bacteria a chance to cause blemishes? Recommended product: AHA/BHA Blemish Control Cleanser
2. You will have a clean palette so your nighttime products will have maximum effectiveness.
As I discuss in this video, your skin goes into repair mode when the sun goes down and the day goes from light to dark. This means that your nighttime products can make a big improvement in the quality of your skin. Of course, as long as you're applying them to a clean face and washing it before bedtime. Potent ingredients like retinol, prescription retinoids, and peptides can all absorb deeply into the skin to accelerate the metabolism of your cells and send a signal to your skin to act younger. Recommended products: Advanced Resurfacing Serum and Firm + Repair Overnight Serum
Feeling lazy? Perform your nighttime skin care routine earlier in the evening so you get it out of the way before the tiredness sets in.
3. Clean skin won't dirty up your pillowcases.
Less laundry and better skin? That sounds pretty good. Plus, if you don't wash your face at night, you are transferring a day's worth of oil from your hair and face, as well as makeup, onto your pillowcase. If you don't change your pillowcase daily (which most people don't), then all of this keeps getting added to your skin each and every night. Clean skin is healthy skin. (Are you into the double cleansing method? Read this post.)
4. Your skin will be dramatically more hydrated and glowing.
The hydrating effects of moisturizer will not last all day. Since moisturizer applied in the morning will naturally evaporate throughout the day (especially in low humidity climates), applying a moisturizer in the evening will give your skin another dose of hydration and nourishment so it will look fresher and be healthier. Skincare ingredients are short-lived, so giving your skin a new application of products at night after washing your face is really beneficial for your cells. If you're into using a facial oil at night, be sure you're not using it wrong.
5. If you have children, you're setting a good example of self-care.
Teaching children the importance of caring for their skin is such a great gift. I've heard from so many clients through the years that they wish their mothers would have taught them how to care for their skin starting at a young age. For me, my grandmother was a hairdresser and owned her own salon, and my mother got regular facials all throughout my childhood. This set a great example for me, and I even made a career out of it! The simple act of washing your face at night and applying moisturizer is a way of treating yourself well and with respect, which then can be passed on to your children. Actions always speak louder than words.
There you have it. Five good reasons to cleanse your face before you go to bed so you can have amazing beauty sleep. If you're needing to know which products are best for you to use in the evening, take this Skin Type Quiz.
Short on sleep? Six tips for reducing dark circles and under eye puffiness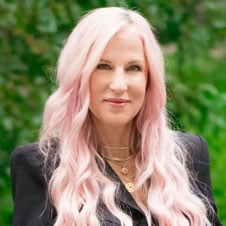 Celebrity Esthetician & Skincare Expert
As an esthetician trained in cosmetic chemistry, Renée Rouleau has spent 30 years researching skin, educating her audience, and building an award-winning line of products. Her hands-on experience as an esthetician and trusted skin care expert has created a real-world solution — products that are formulated for nine different types of skin so your face will get exactly what it needs to look and feel its best. Trusted by celebrities, editors, bloggers, and skincare obsessives around the globe, her vast real-world knowledge and constant research are why Marie Claire calls her "the most passionate skin practitioner we know."