It's that time of year again when along with live tweeting during The Academy Awards and commenting on the celebrities skin, I also reveal my vote for whose looked the best.
Normally, I don't choose someone this young because let's face it, aging really hasn't set in yet but I decided that 25 year old, Dakota Johnson of Fifty Shades of Grey wins my vote.
Why? What I like most about Dakota Johnson's skin is the natural volume she has. There are three genetic traits that if you're lucky enough to inherit, you'll look younger longer and having an abundance of natural fat cells in the skin is definitely a gift she's been given. It's not that she has a chubby face, but simply has a nice fullness to it that will serve her well in the years to come. The texture of her skin is also really smooth, but that's expected at this young age. The red dress she wore added to that 'lit from within' radiance so wearing a bright color was a good choice and I loved that she showed off her pretty complexion by wearing her hair back. (Unlike Laura Dern whose hair was hanging in her face.) If Dakota commits to taking great care of her skin by wearing sunscreen faithfully and using products for her skin type, she'll be in good shape. The future of her skin is up to her and prevention is everything.
Here's a recap of some of my tweets from the night.
The beautiful Marion Cotillard is French and the French definitely know how to care for their skin.

I have had a facial in France. Here is my experience. (An interesting one!)
Here's how celebrities get their skin red carpet-ready! 
If Michael Keaton were my client, you better believe he'd get both a face and scalp facial. The skin on the head gets really dry and uneven!

If your guy has a scruffy beard like @adamlevine, it can irritate a girls skin. You need to read this!
Seeing what Steve Carrell had to endure w/ his skin during Fox Catcher reminds me why celebs don't have it easy. Read the downside of celebrity skin care.
Love Lupita Nyong'o and her natural hair and glowing skin. A skin like hers requires regular exfoliation to keep it even-toned.
If you want your skin to look glow-y and bright, wearing a bright color like Anna Kendrick is, is a great choice! Hello peachy-orange!
Read about five clothing colors to give you a glow.
Great contouring makeup on Sienna Miller to really accentuate her cheekbones. Makeup can do miracles!
Last year, I voted Sandra Bullock as best skin at the #Oscars.
In 2013, I voted Kerry Washington as best skin at the #Oscars.
A lot of neck & décolleté showing at the #Oscars. This is why it's important to extend your skin products onto this area!
Dakota Johnson is someone who will age well due to the natural volume she has in her skin. No skin fillers should ever be needed for her!
Not that I promote fillers… I'm generally NOT a fan of cosmetic dermal fillers and here is why. Read here.
But ya know…the natural way to plump up deep wrinkles in your skin is to gain a few pounds. (Ice cream, please. Nom, nom.)
I spy Anna Faris. I've worked on her skin many times and it's just as gorgeous in person as it looks from afar. And she's so funny and cute!
Peaches and cream skin. The lovely Anna Faris. #ReneeRouleauGLOW
 J Lo. As always, she's sporting her glow! It's that light-reflective, shimmery makeup that anyone can do to their own skin. Instant glow!
I'm pretty sure Jennifer Aniston never ages. She always looks so youthful and if she's had anything done, it sure is au natural. Bravo, Jen!
The one product that is an absolute MUST two days before any special event is THIS ONE.
Texas is represented on the red carpet with Taya Kyle. What a beautiful, strong women.  #texasforever

Ethan Hawke looks like a smoker. One of the biggest skin side effects from smoking is loose skin (bags) under the eyes.
Uh oh. I spy a nose ring. When you get tired of it, it leaves a hole in the nose that's impossible to get rid of. Think before you pierce!

Love the nice sheen on Kerry Washington's skin. A lot of makeup artists want to matte the skin for TV but then it can look dull.

I would never do microdermabrasion on Nicole Kidman's skin as it can pull and tug at fragile capillaries that get weak with age. Go easy if you have fair, sensitive skin.
Read: Actress, Sofia Vergara Shares Her Favorite Moisturizer
Read: Actress, Mary Elizabeth Winstead Shares Her Beauty Secrets
Which skin care products are best for you? See our nine skin types or take the Skin Type Quiz and get products recommended.
Need expert advice from a licensed esthetician? Schedule a virtual consultation to get customized advice in person, over the phone or online via Skype or FaceTime.
For more expert advice check out the blog. Also sign up for our skin tip e-newsletter, follow Renée Rouleau on Twitter and Instagram and join the discussion on our Facebook page. You'll be your own skin care expert in no time. Get the #ReneeRouleauGlow!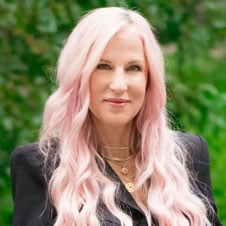 Celebrity Esthetician & Skincare Expert
As an esthetician trained in cosmetic chemistry, Renée Rouleau has spent 30 years researching skin, educating her audience, and building an award-winning line of products. Her hands-on experience as an esthetician and trusted skin care expert has created a real-world solution — products that are formulated for nine different types of skin so your face will get exactly what it needs to look and feel its best. Trusted by celebrities, editors, bloggers, and skincare obsessives around the globe, her vast real-world knowledge and constant research are why Marie Claire calls her "the most passionate skin practitioner we know."