Whether it's The Oscars, The Emmys, The Grammys or any other award show, glowing and flawless skin is at the top of the prep list for celebrities. As an esthetician who works with many of them, I'm called upon during the red carpet season to get their skin ready for the spotlight. Between my exclusive Red Carpet Facial and my Red Carpet Glow Kit packed with all the essentials they'll need for the big day, their skin is guaranteed to be radiant and ready to go.
The focus I take when preparing a client's skin for the red carpet is to smooth and brighten, increase circulation and provide hydration deep within the skin. This provides the best texture to create a beautiful canvas upon which makeup can enhance the skin to give a gorgeous red carpet glow.
The Red Carpet Facial I perform anywhere from 2-10 days before an event addresses both the surface of the skin as well as underneath it for an inside-out approach. Topically, Triple Berry Smoothing Peel dissolves and digests dry surface cells while hydrating serums like Vitamin C&E Treatment with hyaluronic acid and vitamin C will brighten, make skin light reflective and reveal a newly refined radiance. Below the surface of the skin, the goal is to increase micro-circulation to bring oxygen and nutrient-rich blood to the cells. I use a bubbly, botanical effervescent mask with extracts of marigold, rosemary and lime tree to stimulate blood flow, followed by warm ultrasound that will help create a rosy glow so the skin appears 'lit from within.' It's truly an incredible facial. (Here's a picture of me and Demi Lovato in preparation for the 2015 MTV Video Music Awards!)
At the conclusion of the facial, I give my clients customized skin tips and instructions for them to follow the night before and morning of the event.
Some of these tips include:

-Sleep with your head elevated on two pillows to promote drainage of fluids around the eyes.

-Drink a lot of cold water and avoid salty foods to control under-eye puffiness. Lack of water and eating foods with a high sodium content will cause retention of fluids around the eyes leading to swelling.
-Get a good night's sleep to avoid under-eye puffiness. Staying up past your usual bedtime will naturally cause you to yawn more. The act of yawning causes eyes to tear up, which then increases fluid around them, causing swelling and puffiness, especially in the morning. It's called "beauty sleep" for a reason.
-Drink peppermint tea. The morning of the event, drink a warm cup of organic peppermint tea to boost blood circulation. This will give the skin a vibrant glow as well as clearing the mind.
-Don't pick at any blemish on the skin to avoid leaving a crusty scab. The goal for flawless skin under makeup is to have a smooth canvas. It's best to leave blemishes completely alone so the bump can be concealed smoothly under makeup.

-Give your skin a smoothing and hydrating facial two nights before a special event with Triple Berry Smoothing Peel and Bio Calm Repair Masque. Five skin smoothing acids gently dissolve and smooth away dry and expired cells to give a smooth-as-glass finish. An application of a cooling gel mask instantly delivers water directly into the cells to give a plump, dewy look. (This is a DIY for clients who didn't receive my Red Carpet Facial.)
-Exfoliate the neck and chest with a gentle facial scrub. Since the neck and chest are often showing in red carpet dresses, it's important this area stays looking smooth. While looking upwards to keep the skin on the neck tight, rub Mint Buffing Beads in circular motions for 90 seconds to smooth away dry skin cells. Follow with moisturizer.
-Use 2 drops of a facial oil mixed with moisturizer under makeup. Jojoba, rose hips seed, pomegranate and safflower oils are all helpful for repairing invisible cracks within the skin's moisture barrier to make skin light reflective and radiant-looking. Pro Remedy Oil the oil I have them use and is guaranteed to make the skin look radiant and dewy.
-Reduce dark circles and puffiness in the morning by performing a gentle massage in circular motions using the ring finger. This helps to stimulate stagnant blood flow that can contribute to darkness—especially from lack of sleep. This also helps to encourage proper drainage to help get rid of puffiness. Vitamin C Eye Brightener is then applied to infuse this area with anti-wrinkle peptides, vessel-strengthening anti-inflammatories, soothing plant extracts and skin illuminators. This treatment cream will reduce dark circles and brighten tired eyes. It's truly a miracle and celebrities love using it.
-Practice deep breathing to encourage a stress-free red carpet experience.
I then prepare a customized Red Carpet Glow Kit (as shown in the photo above) with the essentials they'll need.
This may include:
Granola bar (to tuck in a handbag for a quick little snack at the event. Celebs barely eat anything before these events so it's known that they are starving sitting in their seats for these long award shows.)
Mints (fresh breath for pre-and post-event conversations)
Vitamin C Eye Brightener
Anti Cyst Treatment (for healing any emergency blemishes that come up without making the skin dry and flaky)
Peppermint tea
Bio Calm Repair Masque
Pro Remedy Oil
Skin Drink
Celebrity, Amanda Crew of HBO's Silicon Valley posted a picture of the Red Carpet Glow Kit she received prior to attending The Emmys.
Without a doubt, makeup will never looks its best unless the skin underneath is in good, healthy condition. Before the 2014 MTV Video Music Awards, Demi Lovato's makeup artist, Jill Powell posted on Instagram. "Renée, you are amazing. Demi's skin is so soft and smooth and you made my job so easy. Thanks for working your wonders on this beauty. I love your products!"
It's always a pleasure to give my clients the famous #ReneeRouleauGLOW.
I have also put together some tips on how you can have great looking skin for high definition tv and video.
Read: 34 Tips To Get Your Best Skin Ever
Which skin care products are best for you? See our nine skin types or take the Skin Type Quiz and get products recommended.
Need expert advice from a licensed esthetician? Schedule a virtual consultation to get customized advice in person, over the phone or online via Skype or FaceTime.
For more expert advice check out the blog. Also sign up for our skin tip e-newsletter, follow Renée Rouleau on Twitter and Instagram and join the discussion on our Facebook page. You'll be your own skin care expert in no time. Get the #ReneeRouleauGlow!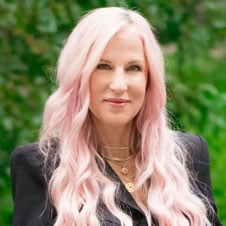 Celebrity Esthetician & Skincare Expert
As an esthetician trained in cosmetic chemistry, Renée Rouleau has spent 30 years researching skin, educating her audience, and building an award-winning line of products. Her hands-on experience as an esthetician and trusted skin care expert has created a real-world solution — products that are formulated for nine different types of skin so your face will get exactly what it needs to look and feel its best. Trusted by celebrities, editors, bloggers, and skincare obsessives around the globe, her vast real-world knowledge and constant research are why Marie Claire calls her "the most passionate skin practitioner we know."