While watching high definition television and videos is great for viewing, it is not at all forgiving for those in front of the camera. Fine lines, wrinkles, large pores, acne scars, chickenpox scars and any other texture issues are exacerbated when seen in high definition. My celebrity clients are always complaining about how much older they appear, so here is my expert advice that I give to them to have great-looking, smooth skin when appearing on TV and videos.
Acne scars, chickenpox scars, large pores, lines and wrinkles are essentially indents in the skin. I often use this example to my clients when I'm offering solutions for reducing the appearance of lines and wrinkles. If you were to take a piece of wood and hit it with a hammer, you would make an indentation in the wood. To smooth out the dent, using sandpaper would make the dent less noticeable. The same rules apply with the skin.
When dead skin cells are present on the skin, it creates a buildup which essentially makes the skin thicker, and therefore any indents in the skin appear deeper. When exfoliating (sanding) down the skin you are thinning out the skin (albeit temporarily) which will make the skin appear smoother and wrinkles, lines, large pores and scars less noticeable. It's truly that simple! Once the skin is exfoliated, you should then focus on giving the skin intensive hydration to fill the cells with moisture and collagen-protecting ingredients so the lines appear plumped up…
Exfoliating Acids:
Citric Acid– This fruit-derived acid helps stimulate collagen fiber production in the dermis. It also helps with skin discoloration. You can find it in our Multi Vitamin Cream.
Glycolic Acid– Derived from sugar cane, this acid is best known for its ability to exfoliate, hydrate, and rejuvenate skin. It also helps smooth fines lines and wrinkles. You can find it in our AHA Smoothing Serums and Triple Berry Smoothing Peel.
Lactic Acid– Derived from milk, this acid exfoliates skin and keeps it hydrated. It also aids in diminishing fine lines and wrinkles. You can find it in our Anti Cyst Treatment and AHA/BHA Cleansing Gel.
Salicylic Acid-This beta hydroxy acid is most widely used to treat acne and problematic skin. You can find it in our Tea Tree Anti-Blemish Lotion and  AHA/BHA Cleansing Gel.
Tartaric Acid– Derived from wine, this acid helps treat skin's texture and tone. You can find it in our Triple Berry Smoothing Peel.
Malic Acid– Malic acid is a fruit-derived alpha hydroxy acid that helps increase oxygen supply to the muscles. You can find it in our Triple Berry Smoothing Peel.
Read: Exfoliating Acids: Skin Tips for Using Them Correctly
Facial Scrubs:
A facial scrub is usually a cream-based product that contains little exfoliating pieces that when massaged across the skin help smooth the skin by physically lifting off dry, dead skin cells. Avoid the ingredients apricot kernels, or natural seeds/shells, which may cause irritation – especially for sensitive and acne prone skin. Instead, choose formulas that use round jojoba beads, aluminum oxide (used in microdermabrasion crystals) or polyethylene grains. The other ones have sharp edges, these are perfectly round so they perform a gently rolling action.
See our Mint Buffing Beads, Micro Crystal Cream and AHA/BHA Cleansing Gel.
Read: How to Use a Facial Scrub
After exfoliation, apply a hydrating serum with ingredients such as Hyaluronic Acid which will deliver hydration deep within the skin to give a smooth, less-lined look. We love Skin Drink and Intensive Firming Serum.
Also look for products with Hyaluronic acid filling spheres (found in Renée Rouleau Instant Line Filler) that resemble tiny micro-sponges and when applied to the surface of the skin, they enter into the lines and wrinkles and penetrate the upper layers of the epidermis. The Hyaluronic Filling Spheres rehydrate with the water in skin, plumping up lines and wrinkles, making them less noticeable.
Also, good mineral-based light reflective makeup with a makeup primer underneath is always effective for making the skin appear smoother than it actually is.
Do you have any tips or tricks to make the skin appear smoother for high definition?
Which products are right for your skin? See our nine skin types and get products recommended.
Need expert advice from a licensed esthetician? Schedule My Skin Prescription to get personalized advice in person, over the phone or via Skype or Facetime.
For more expert skin advice, check out Skin Source–the A-Z guide on all things skin. Also sign up for our skin tip e-newsletter, follow Renée Rouleau on Twitter and join the discussion on our Facebook page. You'll be your own skin care expert in no time!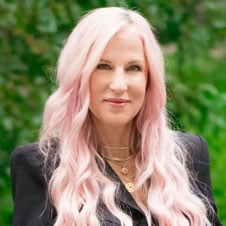 Celebrity Esthetician & Skincare Expert
As an esthetician trained in cosmetic chemistry, Renée Rouleau has spent 30 years researching skin, educating her audience, and building an award-winning line of products. Her hands-on experience as an esthetician and trusted skin care expert has created a real-world solution — products that are formulated for nine different types of skin so your face will get exactly what it needs to look and feel its best. Trusted by celebrities, editors, bloggers, and skincare obsessives around the globe, her vast real-world knowledge and constant research are why Marie Claire calls her "the most passionate skin practitioner we know."