Facial scrubs are an essential part of a skin care routine. What is a facial scrub? A facial scrub is usually a cream-based product that contains little exfoliating pieces that when massaged across the skin help smooth the skin by physically lifting off dry, dead skin cells. They've been around for many, many years and while the formulas have changed a bit, they are still a necessity in your skin care routine.
Read: Exfoliation Will Give You Beautiful Skin
For starters, before you purchase a facial scrub, it is important that you choose one that will be helpful and not harmful to the skin. This is the time that natural is not better. A synthetically made grain is far superior to any of the naturally made grains. Avoid the ingredients apricot kernels, or natural seeds/shells, which may cause irritation – especially for sensitive and acne prone skin. Instead, choose formulas that use round jojoba beads, aluminum oxide (used in microdermabrasion crystals) or polyethylene grains. The other ones have sharp edges, these are perfectly round so they perform a gently rolling action…
Because a facial scrub is an added step above and beyond a basic cleanser-toner-moisturizer routine, it often gets neglected. Clients will tell me that they use it only when they remember to. An easy way to ensure it gets used and to reap the benefits is keep it in the shower and use it in place of your morning cleanser two to three times a week. Since most scrubs come in a creamy base, it will naturally have cleansing agents in it.
Apply it to slightly damp skin and massage in a circular motion to the entire face for 60 seconds. The key to getting the best results with a facial scrub is not to press hard on the skin, as this will cause irritation, even when using round grain scrubs. If you feel like your skin can use more exfoliation, it's better to use it longer (90 seconds) than to apply extra pressure. Rinse off and proceed with toner, serum and moisturizer.
If you have active acne where the infection of the blemish is still present, I would suggest avoiding that area as it may cause more irritation to this inflamed area. Instead for exfoliation use an exfoliant with salicylic acid like BHA Clarifying Serum.
Facial scrubs also work very well to keep the skin on the neck smooth to make exfoliation easier. When exfoliating, make sure to look upwards so the skin on the neck is nice and taut, which will make for easier use.
Read: Must-Have Skin Care Ingredients For Those Who Exfoliate Regularly
A facial scrub is a critical part of a skin care routine. It is important to follow these steps to ensure you're getting the best results!
Read: Is The Clarisonic Brush Harmful Or Helpful To The Skin?
Which skin care products are best for you? See our nine skin types or take the Skin Type Quiz and get products recommended.
Need expert advice from a licensed esthetician? Schedule a virtual consultation to get customized advice in person, over the phone or online via Skype or FaceTime.
For more expert advice check out the blog. Also sign up for our skin tip e-newsletter, follow Renée Rouleau on Twitter and Instagram and join the discussion on our Facebook page. You'll be your own skin care expert in no time. Get the #ReneeRouleauGlow!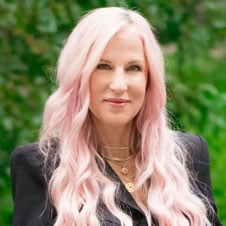 Celebrity Esthetician & Skincare Expert
As an esthetician trained in cosmetic chemistry, Renée Rouleau has spent 30 years researching skin, educating her audience, and building an award-winning line of products. Her hands-on experience as an esthetician and trusted skin care expert has created a real-world solution — products that are formulated for nine different types of skin so your face will get exactly what it needs to look and feel its best. Trusted by celebrities, editors, bloggers, and skincare obsessives around the globe, her vast real-world knowledge and constant research are why Marie Claire calls her "the most passionate skin practitioner we know."