Updated 10/19/15. Lines and wrinkles are a fact of life but before I share tips on how to prevent them, you first need to understand the cause. Collagen is the main protein found in the skin.  It's purpose is to give the skin strength and support to keep it firm and smooth. Elastin, another protein, gives the skin its resiliency.  It's the fiber that snaps the skin back into place when you pull or stretch it.
As skin ages, collagen and elastin decrease, becoming rigid and less effective. One main reason is cross linking of collagen and elastin fibers. Free radical damage from sun, pollutants, poor diet, smoking, and alcohol consumption (to name a few) make these fibers collapse, thus causing wrinkles and an unveven, leathery texture in the skin. Also, starting in your early thirties, collagen production slows down and the type of collagen you produce is a less effective form. Enzymes in your skin which are supposed to clean up damaged collagen fibers continue to breakdown old collagen, but new collagen fiber production can't quite keep up. The result is less overall collagen and thus, aging skin showing lines, wrinkles and loss of tone. So, what can you do to prevent lines and wrinkles from appearing as quickly?
Eat adequate amounts of protein. The first line of defense is to make sure you are getting all the nutrients you need to produce new collagen fibers. Since these fibers are constructed from amino acids that make up proteins, it is essential to have a diet which contains adequate amounts of protein (fish, lean meats, poultry, and eggs).  A lack of protein may age the skin visibly more quickly…
Eat a diet rich in vitamin C and antioxidants. A diet rich in vitamin C is also essential in converting these amino acids into a usable form of protein to make new collagen and elastin fibers. Also, fruits and vegetables high in antioxidants are really important to protect your cells from free radical damage that leads to aging.
Use skin care products that stimulate collagen. There have been many studies showing that vitamin C, applied topically, has a positive effect on collagen production.  My very favorite form of vitamin C is Magnesium Ascorbyl Phosphate (found in Vitamin C&E Treatment) because it is highly stable and also helps to fade brown spots and pigmentation. Peptides, a chain of amino acids, is another powerful ingredient that when used regularly will help with the formation of new collagen. Bio Radiance Night Serum is loaded with peptides and is a great product to prevent wrinkles and encourage a firmer tone. Total Eye Repair Cream also uses peptides and is amazing for the delicate eye area to keep it firm and moist.
Get regular chemical peels. It's a fact that a response to injury is a major stimulant of collagen production. Whenever you have a chemical peel, the top layer of the skin is removed to create a smoother surface. Because of this process, it helps to trick the skin into thinking that there has been an injury. When this happens the skin goes into a "healing response," which encourages the skin to produce more collagen. This healing response may last up to ten days following a treatment. All chemical peels are not equal, so consult with your esthetician to find the best one for your skin type. At the Renée Rouleau Skin Care Spas, we offer our Skin Repair Program.
Don't have time to get a professional chemical peel? Consider using an at-home option one to three times a month like Triple Berry Smoothing Peel. They often use various acids (malic, salicylic, glycolic, and lactic), and are usually left on the skin for three to 10 minutes before rinsing off. While at-home peels are not as strong as in-spa or in-office peels, they can yield similar results with continued use. These formulas are intended to deliver smoother, brighter-looking skin. They're a great option for people who don't have the time it takes to recover from professional peels.
In addition to the face, you can use peels on dry hands and cuticles to reveal softer skin, on a sun-damaged chest to even the skin tone and remove dryness, and on keratosis pilaris to flatten bumps and give a smooth appearance. And, surprisingly, there is a recommended season for getting a peel: They're best performed from November to May, on skin that hasn't been in the sun a lot.

Consider getting LED phototherapy or laser treatments. Light has long been known to have health benefits. LED pulse light stimulates and regenerates skin cells to promote healing using specific light frequencies. It affects collagen by harnessing energy in skin cells to rev up metabolism, thus stimulating collagen production. Lasers are well-known for their ability to produce specific single light frequencies. Their high power-density and focused energy generate heat that damages sensitive skin tissue—it's the primary mechanism of the laser which evokes a healing response in the skin. But lasers harmful side effects are also well-known, so it's very important to go to a trusted doctor with experience in these treatments.

Use a serum with retinol—faithfully. Aging skins need a serious boost to its metabolism and this can be achieved with skin serums that contain effective performance ingredients. Retinol is one such ingredient because it penetrates deep within the dermis and evokes stimulation right where collagen fibers are created. It is considered to be one of the most miraculous ingredients for smoothing the texture of the skin, softening lines and wrinkles and reducing pore size. Advanced Resurfacing Serum with pure retinol is the most effective anti-aging product I use in my routine. If you're not using this type of product, you really need to be. Read this story about the doctor I met who was instrumental in getting prescription retinoids FDA approved.

Apply sunscreen generously and wear it 365 days a year, rain or shine, inside or out. As a skin care consumer caring for my own skin, and as an esthetician for 25 years (read my bio), I know that for most of us the goal is to have skin that is young, youthful-looking and wrinkle-free. To achieve that, people will continually search for a magic potion, a perfect cure-all. What is funny is that even with this obsession about preventing skin aging, people overlook using the world's best anti-aging product on a regular basis. What is it? Simple sunscreen. Sunscreen blocks out the harmful UV rays that cause loss of elasticity, premature aging, skin cancer, dark spots, damaged capillaries etc. Sunscreen is a must whether you're lying out at the beach OR working inside your office near windows. Did you know? Zinc Oxide (found in Daily Protection SPF 30 and a favorite of actress, Sofia Vergara)  provides the broadest spectrum of coverage among UV filters currently approved by the FDA. I also highly suggest that everyone uses a sunscreen mineral powder to prevent wrinkles and sun damage. ColoreScience is the brand I recommend and personally use on my own skin.
So, in summary, the skin's ability to produce collagen and elastin will decrease with age. Nevertheless, we now have methods to maintain and increase collagen and elastin to create a younger-looking, glowing, radiant skin.
Read: Do You Have Both Wrinkles AND Breakouts?
Read: 34 Tips To Get Your Best Skin Ever
Read: My Good (And Bad!) Skin Care Secrets
Which skin care products are best for you? See our nine skin types or take the Skin Type Quiz and get products recommended.
Need expert advice from a licensed esthetician? Schedule a virtual consultation to get customized advice in person, over the phone or online via Skype or FaceTime.
For more expert advice check out the blog. Also sign up for our skin tip e-newsletter, follow Renée Rouleau on Twitter and Instagram and join the discussion on our Facebook page. You'll be your own skin care expert in no time. Get the #ReneeRouleauGlow!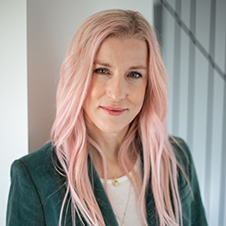 Celebrity Esthetician & Skincare Expert
As an esthetician trained in cosmetic chemistry, Renée Rouleau has spent 30 years researching skin, educating her audience, and building an award-winning line of products. Trusted by celebrities, editors, bloggers, and skincare obsessives around the globe, her vast real-world knowledge and constant research are why Marie Claire calls her "the most passionate skin practitioner we know."