Updated 10/10/22. Retinol is a clinically proven vitamin A ingredient that offers a variety of benefits. It stimulates cell regeneration, boosts the production of collagen, and promotes skin elasticity. With time, it can give you brighter, smoother, and firmer skin.
It's for all these reasons and more that I formulated it into the Advanced Resurfacing Serum. I've seen with my own eyes how this serum can improve the skin and reverse visible signs of sun damage. (That's why I recommend it to so many of my clients.) While I love sharing what this serum can do, I also like sharing how it came to be. After all, this serum was in the making for a long time, and there's a whole backstory behind it!
The Backstory
In the late '80s, I was living in Boston and I was a fresh graduate of the Catherine Hinds School of Esthetics. As a young esthetician (only 18 years old!), I got my first job at a full-service salon.
One of the salon's regular clients was Dr. Thomas Fitzpatrick. At the time, he was the Chief of Dermatology at Mass General Hospital (and the inventor of the Fitzpatrick Skin Type testing). While he was getting his hair cut, he'd talk with the estheticians since we were all in the skincare industry. He was such a prestigious dermatologist, so I was always asking him questions and hanging on to every word he said.
One day, while we were having a conversation, he held out both his hands and asked if I could see a difference. I couldn't believe my eyes. One hand looked so much younger than the other—it was brighter, plumper, and smoother. At the time, he was in his mid-60s, so his hands were showing signs of aging. However, one was much more prominently aged than the other. It was all thanks to Retin-A.
The History of Retin-A (Prescription Retinoid)
Retin-A is a topical cream that was initially used exclusively to treat acne. Since it had harsh side effects, like dryness, redness, and peeling, dermatologists had to give very specific instructions for how to use it. Dr. Fitzpatrcik would always demonstrate by taking a pea-sized amount (the recommended amount for the entire face) and rubbing it on the back of one of his hands. He did this day in and day out. Over time, he noticed that one hand looked younger than the other! This realization led Dr. Fitzpatrick to become one of the doctors instrumental in getting Retin-A FDA-approved for wrinkle reduction.
It wouldn't receive FDA approval until 1995. However, in 1991, word had already gotten out. Soon, Retin-A was all the rage, and people were lining up at dermatologists' offices to get it. Unfortunately, there was a major lack of awareness about how to properly use it. People were slathering it on, and they were experiencing all the negative side effects, including dryness, flakiness, peeling, redness, and irritation.
Soon, my appointment schedule filled up with clients coming to see me to address these side effects. They would come in and say, "I need your help, Renée. I'm using this new prescription, and my skin is a mess!" I remember one specific client who came to see me. She was experiencing so much dryness, that when she smiled, her skin cracked and began to bleed in front of me.
To treat my clients with extreme dryness, I would give them moisturizing and rehydrating facials, but within a few days the moisture would evaporate and dryness would set right back in again so long as they continued to use Retin-A. After enough time and constant dryness, many people gave up. They stopped using Retin-A because they couldn't tolerate the side effects. So much for that!
However, I remained a firm believer in the power of Retin-A to reduce wrinkles. I saw what it did to Dr. Fitzpatrick's hand, and I would never forget it. I had a few clients who stuck it out, and after 3-5 months or so, the side effects lessened and the anti-aging, skin-smoothing, and wrinkle-reducing benefits kicked in. (I had one client named Madeline who stuck with it. Every time I saw her, I noticed her skin looked smoother and more youthful.)
My Personal Experience With Retin-A
Once I turned 35, I noticed signs of aging were appearing. I decided it was time to try Retin-A myself. I visited a dermatologist to get a prescription. Unfortunately, I soon discovered that it didn't agree with my skin. Even though I introduced it slowly and used it sparingly, I developed eczema on my eyelids within a week (even though I never even used it in that area.)
The reason for this is that retinoic acid (the active ingredient in Retin-A) works within the entire skin—not just on a surface level. In other words, it was creating irritation and stimulating a breakdown of my skin's barrier in places I wasn't applying it, like my eyelids, which is the thinnest area of skin on the face.
Aside from eczema, I do recall one other peculiar thing that would happen when I used it.  I would wake up in the morning and feel what I can only describe as a little heartbeat in my face—almost like a little pulsing sensation. I knew this meant that something was occurring within the skin (almost as though I could feel collagen production being stimulated?), but I'm not sure what it was. Ultimately, I decided to discontinue it.
Non-Prescription Options (Like the Advanced Resurfacing Serum)
In the early 2000s, skincare brands started introducing non-prescription retinol products. As I said before, retinol is a vitamin A ingredient. It's more gentle than Retin-A, which is why it's available without a prescription. (On that note, read up on the different types of retinoids and how they affect the skin.)
Since my chemists had access to these ingredients, I played around with developing a formula. However, I never felt that the formulas I came up with would offer the same results as the stronger, prescription form. So, I decided to wait until skincare technology progressed, so I had access to more effective options.
Soon enough, I had created what I consider to be the perfect retinol serum. When I was testing it, I would apply it at night, and much to my surprise, I could feel the pulsating sensation in my skin—the same one I experienced when using Retin-A! Wow. This was it. I was convinced this product could offer serious results. (Note: You may not experience the pulsating sensation in the skin like I did. That's just an individual experience that made me realize how effective the formulation was.)
Since then, I've been using the Advanced Resurfacing Serum consistently, and I'm happy to report that I'm extremely impressed with the results. My pores appear smaller, my brown spots are minimized, and my lines and wrinkles are reduced. What's more, is that I haven't experienced any extreme sensitivity (or eczema!). I get more compliments on my skin than ever.
The Bottom Line
Here's what I know for sure. Retinol and retinoids, when used long-term, can offer beautiful results. Just be sure you're using them consistently. There is no instant gratification when it comes to using them like there is with an exfoliating acid-based product. In fact, it can take months to see any difference at all. But trust me, stick with it, and your skin will thank you!
Next, read my beginner's guide to retinol & retinoids to learn how to avoid negative side effects.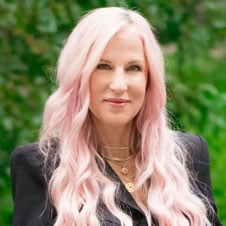 Celebrity Esthetician & Skincare Expert
As an esthetician trained in cosmetic chemistry, Renée Rouleau has spent 30 years researching skin, educating her audience, and building an award-winning line of products. Her hands-on experience as an esthetician and trusted skin care expert has created a real-world solution — products that are formulated for nine different types of skin so your face will get exactly what it needs to look and feel its best. Trusted by celebrities, editors, bloggers, and skincare obsessives around the globe, her vast real-world knowledge and constant research are why Marie Claire calls her "the most passionate skin practitioner we know."