We are all in awe of celebrities' skin that we see in magazines, movies, the red carpet, and on TV because it always looks so perfect. I'm sure you know they all have access to a team of the top beauty professionals (including me!) that are making them look their best on and off the screen. However, sometimes actors don't have it so easy. A prime example is actress Rebecca Mader who I met in Dallas for the Super Bowl a few years back and I have been her esthetician ever since.
While her skin is beautiful, it hasn't always been that way and her profession is to blame.
When Rebecca was on the TV show "Lost", playing an anthropologist named Charlotte Lewis, they filmed for months in the jungles of Hawaii. As someone prone to freckles with fair skin, Rebecca is faithful about her use of sunscreen. While she was using sunscreen daily, the constant exposure from the sun still caused her freckles to come out in full force. Heat from the sun stimulates pigment cells to create more melanin, so no skin lightener or fading product could stop her freckles from becoming more prominent. Only when she stopped filming for the show and out of the sun's heat would this melanin activity slow down. Another aspect that compounded with the effects of sun and heat was the water-resistant sunscreens she used. Some of these sunscreens can be sticky and they can cause some congestion within the pores. Her skin was in desperate need of some serious love once the show wrapped up.
Rebecca's latest role is on ABC's "Once Upon a Time", where she portrays The Wicked Witch of the West, Zelena. As you can see from the photo above, her skin was painted green for the role. Seven layers of airbrushed skin paint were applied daily: five different shades of green, one plum, and gold shimmer paint. The paint took 90 minutes to apply and stayed on her skin for 12-17 hours a day for months at a time. Yikes!
While the chemicals in the paint can certainly create an occlusive barrier to block the pores, the real problem for Rebecca's skin was the removal process. It was dissolved off with an oil-based makeup remover, alcohol, and then physically (aggressively!) scrubbed off with hot towels. Sometimes it would take two makeup artists just to get her skin clean and the paint completely removed.
Rebecca saw her sensitive skin becoming especially red and irritated while being stripped of the green makeup. The aggressive rubbing of the skin with towels is considered physical exfoliation (similar to that of facial cleansing brushes and scrubs) which can disrupt and breakdown the moisture barrier causing redness and dryness. In addition, fair skin, like Rebecca's, has fragile and visible capillaries, so this rubbing causes even more redness. So for Rebecca, keeping her skin calm was important.
So there you have it, the nature of the business isn't always so glamorous. Luckily, Rebecca trusts her skin to me and my extensive collection of products. We are always adjusting her home regimen to fit her exact needs with every movie or TV role she has.
Rebecca says…
"After a both a shower and a bath to make sure I was completely green-free, I would lather my skin with Renee Rouleau Vitamin C&E Treatment. This was truly my saving grace while I was shooting. I also used the Mint Buffing Beads each weekend to gently remove dry, flakey skin since the paint and chemicals were so drying. Another product that I found to rejuvenate my skin was the BHA Clarifying Serum. This product is a magic potion and gives me a youthful glow. I am obsessed!!"
Read: Celebrity Skin Care Tips
Read: Is Your Skin Both Dry AND Oily? The Problem Is Your Products, Not Your Skin
Read: How Does Singer Demi Lovato Care For Her Skin?
Which skin care products are best for you? See our nine skin types or take the Skin Type Quiz and get products recommended.
Need expert advice from a licensed esthetician? Schedule a virtual consultation to get customized advice in person, over the phone or online via Skype or FaceTime.
For more expert advice check out the blog. Also sign up for our skin tip e-newsletter, follow Renée Rouleau on Twitter and Instagram and join the discussion on our Facebook page. You'll be your own skin care expert in no time. Get the #ReneeRouleauGlow!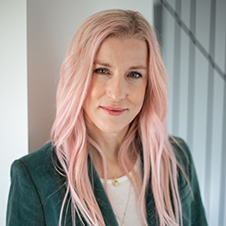 Celebrity Esthetician & Skincare Expert
As an esthetician trained in cosmetic chemistry, Renée Rouleau has spent 30 years researching skin, educating her audience, and building an award-winning line of products. Trusted by celebrities, editors, bloggers, and skincare obsessives around the globe, her vast real-world knowledge and constant research are why Marie Claire calls her "the most passionate skin practitioner we know."