Updated 6/16/20 These days, it is in style for many men to have a bit of facial stubble, so you see a lot of men having a few days' growth. For the girlfriends and wives of these men, particularly those with sensitive skin, this can leave their faces red and irritated after kissing. Add in the fact that you may also be using exfoliating products in your skin care routine (such as acids, enzymes, facial scrubs, and professional chemical peels) or even retinol/retinoids, and this can definitely make the skin more vulnerable to irritation. So how can you help prevent this, short of cutting out kissing?
Why Does Facial Stubble Cause Irritation?
When a man's facial stubble brushes up against a woman's skin, it is actually a form of exfoliation (albeit an irritating form). The stubble can actually poke little holes in the skin, creating cracks in the skin's moisture barrier. This allows moisture to escape, and irritants to get in more easily.
What Can I Do About It?
If possible, prior to kissing, apply a good, rich moisturizer on the face to provide a protective barrier to lessen skin irritation. However, putting on moisturizer prior to kissing is not always practical, so sometimes the best thing is to focus on calming the skin after the fact. Look for a moisturizer that contains lipid-rich oils such as Ceramides and Jojoba Oil, as these can aid in skin repair. Renée Rouleau Phytolipid Comfort Creamrepairs the protective barrier while providing calming, anti-inflammatory relief for red, irritated, and sensitive skin.
When you cleanse, be sure to use a gentle, sulfate-free cleanser. When the skin is already irritated, using a harsh, detergent-based cleanser will only exacerbate the irritation. If you prefer, you can use a gentle cleansing lotion with soothing ingredients like chamomile.
Kisses are a fun part of life, so care for your skin in the right way, and you won't ever have to worry about missing out!
Read: Expert Tips For Sensitive Skin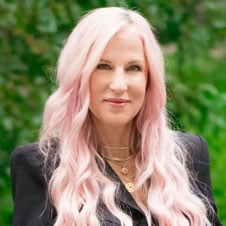 Celebrity Esthetician & Skincare Expert
As an esthetician trained in cosmetic chemistry, Renée Rouleau has spent 30 years researching skin, educating her audience, and building an award-winning line of products. Her hands-on experience as an esthetician and trusted skin care expert has created a real-world solution — products that are formulated for nine different types of skin so your face will get exactly what it needs to look and feel its best. Trusted by celebrities, editors, bloggers, and skincare obsessives around the globe, her vast real-world knowledge and constant research are why Marie Claire calls her "the most passionate skin practitioner we know."