For the past few years, I've been giving actress, Mary Elizabeth Winstead facial treatments when on my quarterly visits to Los Angeles. In addition, Mary is a huge fan of the Renée Rouleau Skin Care line and uses the products faithfully. She is so talented in her career as an actress and truly one of the nicest people you'll ever meet. I adore her to pieces.
What three beauty products can't you live without?
"One of my beauty addictions is Dior Lip Glow — it enhances your natural lip color and it's the best thing to brighten up a tired face. Also, I love dry shampoo (usually Oribe Texturizing Spray) and a good BB cream."

What do you do to relax and take time out for yourself?
"At this point in my life, I've become really into spa days. I will take any opportunity to sit in the steam room, put on a comfy robe, have some tea, and read a magazine. And, a massage is of course great, too! I just love the whole experience. It really helps me de-stress and regroup."
"Pampering myself this Sunday with Renée Rouleau goodies." says Mary on Instagram.
What's your favorite beauty treatment to indulge in?
"I took a trip to South Korea last year, and became obsessed with their beauty products — particularly their sheet masks. Now, you can find them anywhere, but at that point they seemed very new and exciting to me. I love putting one on at home and terrifying my husband. But it's great, because it feels like a real at-home professional beauty treatment."
What's your biggest skin concern?
"Definitely breakouts. You'd think once you reach your late twenties, you wouldn't have to worry about that anymore! But, my skin is still pretty sensitive, so I try and stick to a good skin care routine. When I'm not working, I wear as little make up as possible to keep my skin clean and breakout-free."
Do you have a specific skin care beauty routine? Any advice on keeping skin beautiful from what you eat and what you do to care for it?
"My good friend Amanda Crew turned me on to [your products], and they have been an absolute life saver for me! I start with Renée Rouleau Purifying Face Wash, then Elderberry Toner then Vitamin C & E Treatment, followed by Daily Protection SPF 30. Although I don't always adhere to it, staying out of the sun and remembering to always wear sunscreen is the best tip to follow. And, drink lots of water! I can instantly tell a difference in my skin when I'm dehydrated."
What beauty prep do you absolutely do before any red carpet or premiere appearances?
"Before a big appearance, I'll do one of the sheet masks I mentioned before, and also apply some Shiseido Retinol Eye Treatment Masks to take any puffiness down. Exfoliation is great for brightening up the skin for a big night. I always use the Renée Rouleau Mint Buffing Beads."
What's your philosophy on beauty?
"For me, it's all about being comfortable in my skin. I've been through so many beauty phases — I used to wear red lipstick every day of my life, and now I rarely wear any at all. But, no matter what my routine is, it has to feel true to who I am and how I want to feel."
When do you feel the most beautiful?
"Definitely at home with my husband, in my pajamas. That might sound sappy, but it's very true!"
Tell me about some of the exciting projects you have in the works.
"I'm juggling a few things at the moment — I just wrapped a pilot with Logan Marshall Green called Quarry and am currently filming Valencia in New Orleans with John Goodman. My latest film with Jeremy Renner called Kill the Messenger came out recently and I was very excited about that. I came out with an album recently with Dan the Automator. We call ourselves Got a Girl and you can follow us on Twitter and Instagram.
"You and your products have been so wonderful to me. Thank you, Renée!"
Read: 4 Celebrity Skincare Secrets Debunked (and Tips on What REALLY Works!)
Which skin care products are best for you? See our nine skin types or take the Skin Type Quiz and get products recommended.
Need expert advice from a licensed esthetician? Schedule a virtual consultation to get customized advice in person, over the phone or online via Skype or Facetime.
For more expert advice check out the blog. Also sign up for our skin tip e-newsletter, follow Renée Rouleau on Twitter and Instagram and join the discussion on our Facebook page. You'll be your own skin care expert in no time. Get the #ReneeRouleauGlow!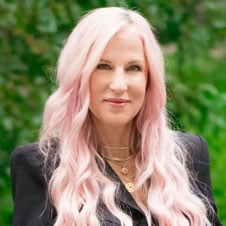 Celebrity Esthetician & Skincare Expert
As an esthetician trained in cosmetic chemistry, Renée Rouleau has spent 30 years researching skin, educating her audience, and building an award-winning line of products. Her hands-on experience as an esthetician and trusted skin care expert has created a real-world solution — products that are formulated for nine different types of skin so your face will get exactly what it needs to look and feel its best. Trusted by celebrities, editors, bloggers, and skincare obsessives around the globe, her vast real-world knowledge and constant research are why Marie Claire calls her "the most passionate skin practitioner we know."