Updated 4/21/18. In magazines or online, you've likely come across an interview with a celebrity who has been asked: "What are your skincare secrets?" They usually share something that seems so simple, and rather effortless, yet, does it really work? Is it really how they look so young?
As someone who works with celebrities giving professional facial treatments, along with teaching them how to care for their skin at home, I know that the secret to beautiful skin is not so easy (or as accurate) as they can make it sound. Here are five common celebrity skincare secrets that I believe are myths.
Do these celebrity "skincare secrets" really work?
1."I drink a lot of water." 
Ellen Pompeo told Allure Magazine
While I will always promote drinking water as being mandatory for your health, did you know that drinking water is the least efficient way to hydrate the skin's surface? This is because it can't make its way to the outermost layers. Instead, it runs through the intestines, gets absorbed into your bloodstream, and then is filtered out by the kidneys. At this point, it will hydrate the cells inside the body but won't make its way to the skin's surface. Hydration levels within the skin have very little to do with drinking water but rather what you are doing (or not doing) topically to treat the skin.
To hydrate your skin:
Always use an alcohol-free toner and leave it damp on the skin. Toners, when used after cleansing, not only remove impure tap water but they are very effective for delivering water to thirsty cells. A good one is Moisture Infusion Toner.
Invest in a good quality serum and use it underneath moisturizer. It's important to know that a moisturizer's main function is to act as a protective sealant to prevent moisture evaporation. However, when a serum is applied underneath, a moisturizer does an incredible job at locking in the active ingredients from your serum deep within the skin. Great ones to use are Skin Drink Concentrate and Firm + Repair Overnight Serum.
To keep your skin hydrated, it's crucial that you're not doing things that are damaging your skin's protective barrier. You can read what those are here.
2."I don't wear a lot of makeup. I try to let it breathe."
Kerry Washington told Refinery29
I hear this celebrity skincare secret often. For starters, the skin can't perform the functions of respiration, so there is no worry there. The fact is, wearing makeup for your skin type offers a barrier of protection against harmful UV rays. Daylight given off from the sun is the #1 cause of premature skin aging. It's not genetics, smoking, and, believe it or not, even the passage of time. The sun is the skin's WORST enemy. Most types of makeup contain sunscreen, and, even if it doesn't indicate an SPF number, most have UV-protecting ingredients like titanium dioxide. Based on this benefit from wearing makeup, I never leave my skin bare and never suggest my clients do so either. Please your skin a favor and start wearing makeup NOW to prevent wrinkles in your future. However, when it comes to makeup, stop doing these 12 things to your skin.
3."I have good genes. That's my skincare secret."
Gabrielle Union told Elle
Good genes can definitely play a role in certain characteristics your skin will inherit such as oiliness, skin color, thickness, and more. However, many people (including celebrities) understand that 30% of skin aging is genetics, and 70% is up to you. We know this based on studying how identical twins will age. In theory, they should age exactly the same due to their identical genes, but their lifestyles can make them age quite differently. Things like smoking, drug use (prescription or recreational), sun exposure and so many other factors will play a part and may cause them to not look as identical in their later years. Good genes can help but how you take care of your skin and body every day is what really matters. It's so important to make good choices for your health. Here are 10 skincare rules I swear by.
4."I only wash my skin at night."
Jaime King told Into The Gloss
As I talk about in my step-by-step guide to the perfect morning skin routine, it's important to wash your face in the morning, even though you don't have much on your skin. Having a clean canvas will ensure your daytime products, most importantly being sunscreen, can work its best to protect your skin from environmental damage. Be sure to wash with a non-drying gentle cleanser so as not to strip your skin of water. Moisture Protecting Cleanser is a really nice gel-to-milk formula that my clients really love using in the morning.
5."My skincare secret is always using the same products."
Cate Blanchett told Refinery29
Sometimes the "if it's not broken, don't fix it" approach is something to be mindful of, especially when it comes to sensitive skin like skin types #4, #5 and #9, but I don't entirely agree with this celebrity skin care secret. The reason is that the skin is continually changing. Not only due to your daily lifestyle but also from hormones, seasons and age. It's important to listen to your skin so you can be adjusting as need be. Using the same products day in and day out all year long is not always ideal. I recommended seasonal check-in's with a trusted esthetician or skincare professional so you're always getting what your skin needs. When I created my own skincare line based on nine unique skin types, I also created a collection of 46 products. There is plenty of room within my line to make some minor seasonal changes as needed. Just like we as humans are forever growing, changing and evolving, so is our skin.
I do love when I heard Cate Blanchett saying "I smile a lot. I live a happy life." Now that's a good one.

What are some real celebrity skincare secrets?
Celebrities don't always mention the team of people dedicated to helping them look flawless as well as many of their photos that you see are usually retouched to hide imperfections. Trust me when I say, celebrities have skin just like anyone else. They have dark circles, cystic acne, blackheads, brown spots, and all the rest of the problems we all deal with at some point in our lives. It's just that their careers are often based on their looks, and they spend a lot of time doing whatever they need to do to put their best face forward. So, don't be fooled next time you see a celebrity in a magazine. Their beauty routine is anything but effortless. As someone who works with them, they don't have it easy. The constant criticism they get the minute they look anything less than societies definition of "perfection" is tough. As it would be for anyone. Fame comes with a price, that's for sure.
I do love these celebrity skincare secrets!
Ann Curry told Stylelist that her secret was "redirection." "If I have dark circles under my eyes, I'll wear a bright color on my lips."
Gwyneth Paltrow dishes most of the secrets of success on her website GOOP. "I eat two servings of fish per day and plenty of leafy greens to keep my skin young and radiant."
Kate Hudson told Dailymakeover her secret is "I dunk my face in an ice bath to revive my glow."
Rihanna told InStyle that her amazing skin is down to two key elements, "Rest for my skin." I think beauty sleep is incredibly important!
Demi Lovato (my longtime client) has been religious about taking off her makeup every single night—even throughout all of her teen years.
I hope you enjoyed this post about celebrity skincare secrets and learned a few new things that you can apply to your own skin. Learn more on my blog.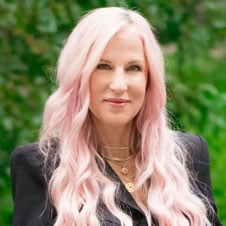 Celebrity Esthetician & Skincare Expert
As an esthetician trained in cosmetic chemistry, Renée Rouleau has spent 30 years researching skin, educating her audience, and building an award-winning line of products. Her hands-on experience as an esthetician and trusted skin care expert has created a real-world solution — products that are formulated for nine different types of skin so your face will get exactly what it needs to look and feel its best. Trusted by celebrities, editors, bloggers, and skincare obsessives around the globe, her vast real-world knowledge and constant research are why Marie Claire calls her "the most passionate skin practitioner we know."