Updated 6/14/19. Many women wear either liquid, cream or powder foundation makeup to even out their skin tone and give it a smoother look. Some wear it every day and others wear it just for special occasions. Since this is considered a beauty staple, it's important to use the right kind of foundation that is most compatible with your skin type so you can get the best skin benefits.
When to Choose Liquid or Powder Foundation
POWDER FOUNDATION
Who it's best for: Normal, oily, combination, sensitive and acne-prone skin, and those who simply don't like anything feeling heavy. (Such as skin types #1, #2, #3, and #4.)
Skin benefits: Powder foundations shouldn't have a pore-clogging effect or leave a greasy residue since they don't use emollients or oils. Powders have a dry feel and have excellent oil-absorbing properties to lessen shine during the day.
The downside of powder foundations is that they don't give as much coverage as liquid foundations. If you have discoloration from breakouts or the sun, you should use a lightweight concealer to create an even-toned look in those areas then apply powder over it.
What to look for: I suggest mineral-based powders since they give a smooth, luminous look to the skin and usually have protective SPF properties. They also don't settle into fine lines and wrinkles as much as traditional talc-based powders.
What to avoid: Talc-based powders, as these may accentuate lines and wrinkles and give a chalky, dull look to the skin.
Tip: Be sure to wash your powder brushes regularly. Once a week is ideal if you're using it daily. Read: How To Wash Your Makeup Brushes
LIQUID FOUNDATION
Who's it's best for: Normal and dry skins (such as skin types #5, #6, #7, #8 and #9), and those who like a dewy look. If your skin is on the oily side and you prefer the dewier finish liquid foundation gives, check out this oil migration test I did. This is a great first step for figuring out if a liquid foundation will cause clogged pores that can lead to breakouts.
Skin benefits: Liquid foundations can fill in lines, wrinkles, and pores, making them less noticeable so the skin appears smoother. They also can provide excellent coverage for post-breakout marks, brown spots and melasma. Especially in drying environments like during the winter months or when flying on an airplane, they offer a layer of protection to help retain moisture in the skin.
What to look for: There have been amazing advancements in liquid foundations, so there are many good ones available. Look for one that is lightweight and contains the ingredients dimethicone or silicone. These do an excellent job making the skin look exceptionally smooth. A liquid makeup should also contain sunscreen to give added anti-aging protection. (However, makeup with sunscreen should NEVER take the place of a sunscreen moisturizer.)
What to avoid: Ingredients such as mineral oil, petrolatum and isopropyl palmitate may clog pores. This is due to size of their molecular structures and the heavy, oily texture they can have. This is especially true when these ingredients are used in large quantities and listed as the first few ingredients of the formula. For oily, clogged-prone skin types, liquid foundations could cause a condition known as acne cosmetica.
Tip: More so than powders, liquids must be an exact color match to avoid an obvious color difference with a demarcation line on the jaw.
What do I wear for makeup on my own skin?
I'm asked this a lot. I'm a skin type #2. On my working days, I wear Laura Mercier Candleglow Soft Luminous Foundation and then I dust the surface every few hours throughout the day with ColoreScience SPF 50 Mineral Powder to ensure proper sun protection. When I'm not working, I'll just use the mineral powder. What's important to me is that my skin appears glowy. Here are my 10 easy tips that guarantee glowing skin.
Is wearing foundation makeup daily bad for your skin?
Absolutely not. The fact is, wearing makeup (appropriate for your skin type) offers a barrier of protection against harmful UV rays. UV rays from the sun are the #1 cause of skin aging. It's not genetics, smoking, and believe it or not, even age. The sun is the skin's WORST enemy.
Most types of makeup contain sunscreen. Even if they don't indicate an SPF number, most have UV-protecting ingredients like titanium dioxide. Based on this makeup benefit, I never leave my skin bare and never suggest my clients to do so either. So do your skin a favor and start wearing makeup NOW, to protect your skin from wrinkles in your future.
Note: Foundation makeup IS NOT a substitute for wearing a sunscreen as your daily moisturizer.
Read Next: These are the best foundations for oily, acne-prone skin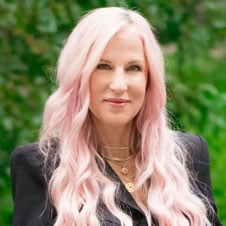 Celebrity Esthetician & Skincare Expert
As an esthetician trained in cosmetic chemistry, Renée Rouleau has spent 30 years researching skin, educating her audience, and building an award-winning line of products. Her hands-on experience as an esthetician and trusted skin care expert has created a real-world solution — products that are formulated for nine different types of skin so your face will get exactly what it needs to look and feel its best. Trusted by celebrities, editors, bloggers, and skincare obsessives around the globe, her vast real-world knowledge and constant research are why Marie Claire calls her "the most passionate skin practitioner we know."