When you're prone to clogged pores and acne, trying out new foundations can be a stressful experience. After all, foundations are notorious for causing closed comedones, which are clogged pores that can turn into acne when they become infected.
Finding the right foundation can be just as complicated as choosing the right skincare products. I can't tell you how often I get the question, "Renée, what's the best foundation for my oily, acne-prone skin?" I've taken it upon myself to do some research in order to bring you, my loyal readers, the answer to this question. The goal of my research was to find the best liquid foundations that are least likely to clog your pores and will provide long-lasting coverage. If you have oily skin, you know this can be a challenge! In this post, I'll share with you our followers' top foundation recommendations, including my top three picks (and how I came to this conclusion).
The Top 10 Foundations For Acne-Prone Skin, According to Our Followers
To begin the process of researching foundations, we reached out to our skincare community on Instagram. We asked our followers to tell us which liquid foundation was most compatible with their oily, acne-prone skin. Here are the top ten recommendations, in order:
My Additional Recommendations
For my own research, I added eight additional foundations that were recommended to me by friends and peers. Here they are, in no particular order:
How I Analyzed Foundations To Come Up With My Top 3
The Oil-Migration Test
The first thing I did to narrow down the pool of foundations was to perform the oil-migration test. While I realize it's not completely scientific, the purpose of this test was to get a sense of how much oil or emollients (slipping agents) were in each formula. I tested all 18 foundations listed above by getting samples and putting a drop of each onto a sheet of white paper. After 24 hours, I flipped the paper over to check for oil rings. The idea is that the extent of migration (aka the size of the ring) can correspond to the percentage of oil in a cosmetic. My intention was to find the foundations that contained fewer emollients, as these would generally be better suited for oily skin. For those who produce oil, you know all too well that when your skin's natural oils mix with the oil and emollients in a foundation, your makeup can vanish fairly quickly, especially in the t-zone. This means foundations with smaller rings would also stay put longer on oily skin. While the oil-migration test was a useful tool, keep in mind that I didn't make all of my decisions based solely on this.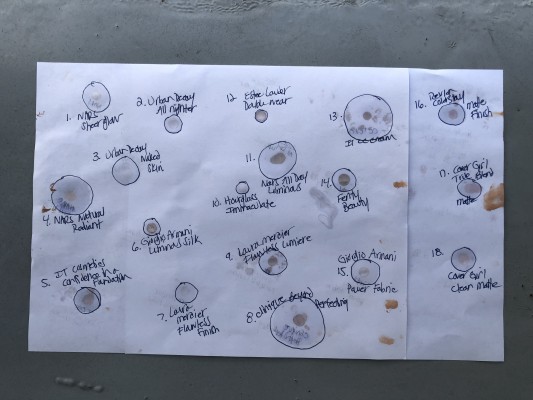 Looking at the Ingredient List
Once I had narrowed the foundations down to a smaller group based on the oil-migration test, I proceeded to look at each of their ingredient lists to see if there were any red flags. As I've mentioned, though, this can be tricky because you can't always judge a product by its ingredient label. Some of these foundations use terms like "oil-free," "non-acnegenic," "non-comedogenic" and "dermatologist tested." While these are all great in theory, it's important to take these labels with a grain of salt. Because these terms aren't very regulated and don't have any official industry guidelines, there's always a chance they can be used for marketing purposes without actually living up to the implications. Everyone's skin is unique (I believe there are nine types of skin), and no product is guaranteed to be successful for everyone.
Patch Testing the Foundations on my Skin
As my third and final step, I tested the remaining contenders on my own skin. While I don't get as many clogged pores since I transitioned from skin type 2 to a skin type 6, I'm all too familiar with how I think a foundation should wear on the skin from my earlier, oily-skinned days. I judged the foundations based on how long they stayed on my skin without slipping, and I looked for ones that dried down well without leaving that dewy, slick feel.
My Top 3 Foundation Picks for Oily, Acne-Prone Skin
After analyzing all 18 foundations, I was able to narrow it down to three that I felt were best-suited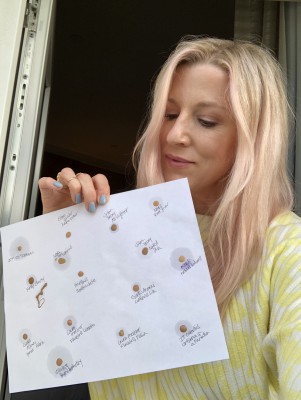 for oily, acne-prone skin. Not only are they less likely to cause clogged pores, but they should stay in place all day on oily skin to ensure you stay covered. Here are my top three foundation picks, in no particular order:
Hourglass Immaculate Liquid Powder Foundation
Giorgio Armani Luminous Silk Foundation
Fenty Beauty Pro Filt'r Soft Matte Longwear Foundation
You'll notice that, based on the oil-migration test, Estée Lauder Double Wear should have been on the top three list instead of Fenty Beauty. But I decided to go with Fenty Beauty despite the fact that it had a larger ring. This was based on the ingredients and how I felt it wore on the skin. I liked that both the Estée Lauder and Fenty Beauty foundations were silicone-based (silicones get a bad rap, but read why I don't think you need to avoid silicones). In the end, though, I liked that Fenty included talc and Nylon-12 in its formulation. Talc helps create a nice, matte feel on the skin, while Nylon-12 is a good oil-absorbing ingredient.
As to what I wear? I currently wear Laura Mercier Lumière Radiance-Perfecting Foundation as it works really nicely for my skin. But during the summer months, I'll use Fenty Beauty Pro Filt'r Soft Matte Longwear Foundation.
Bottom Line
If you're a regular reader of my blog, you know I consider makeup an extension of skincare. In fact, I believe everyone should wear some sort of makeup daily to offer additional protection from the sun and other environmental aggressors. As is the case with skin care, choosing the right makeup for your skin is a very personal process, and there is never any guarantee that a product will work for you just because it works for someone else. Everyone's skin reacts differently, so take your time and be sure to patch test first! Choosing a new foundation can be challenging, but hopefully, this post gives you a good place to start and takes some of the guesswork out for you!
But wait, what about silicone ingredients in foundations? Are they clogging to the pores?
I discuss everything you need to know about silicones in this post.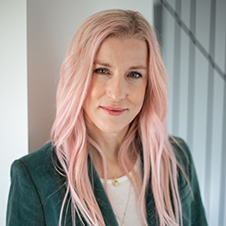 Celebrity Esthetician & Skincare Expert
As an esthetician trained in cosmetic chemistry, Renée Rouleau has spent 30 years researching skin, educating her audience, and building an award-winning line of products. Trusted by celebrities, editors, bloggers, and skincare obsessives around the globe, her vast real-world knowledge and constant research are why Marie Claire calls her "the most passionate skin practitioner we know."