Updated 1/20/21 Clients of all ages and skin types come to me asking how to achieve "glowy" looking skin. There are a lot of filters that can make your skin look radiant these days, but what does having glowing skin really look like, and how can it be easily achieved?
Four Traits of Glowing Skin
Everyone's definition of glowing skin may be different, but here are four traits that I believe give the appearance of a true glow.
1. Small Pores and a Smooth Texture
One of the best ways to achieve this is with exfoliating acids. Exfoliating acids work to remove dry, dead skin cells from the surface of your skin to reveal fresh new cells. These fresh cells reflect light better than dry, dull cells, to help give the skin a radiant look. For a smooth, bump-free texture, look for products containing salicylic acid (like BHA Clarifying Serum or Pore + Wrinkle Perfecting Serum). These will do double-duty by both clearing pores and exfoliating away dead skin cells.
Can't seem to get rid of bumpy, congested skin? Read my complete guide to clearing clogged pores.
2. Good Blood Circulation 
Having good circulation under the skin will give the skin a rosy, dewy look and prevent it from looking sallow. You can easily increase blood flow to the face by giving your skin an at-home facial massage. Immediately after applying moisturizer at night, close your hands to make fists and use your knuckles to gently massage the skin in small, circular motions for two minutes. This helps stimulate blood flow to the skin and bring new nutrients (as well as a vibrant glow) to skin cells. Getting a professional facial usually includes a face, neck, and shoulder massage, which will also encourage proper blood flow.
You can also increase circulation with this bedtime trick, which helps increases oxygen flow and brings new nutrients to the cells.
From a product standpoint, use products with stimulating ingredients such as those found in Energy Boosting Toner or Mint Renewal Cleanser. This will help restore a healthy flush and give a beautiful glow.
3. An Even Skin Tone
This means an absence of both sunspots and dark post-breakout marks. This is much easier said than done and can take some time to achieve, but there are things you can do. One of the best ingredients for improving hyperpigmentation is vitamin C. Vitamin C helps to suppress melanin activity, which gives a fading effect. It's also important to wear sunscreen every day! This will keep existing hyperpigmentation from getting darker and will help prevent new discoloration.
If you have stubborn discoloration that never seems to go away, it may be a condition called melasma. Read these helpful tips.
If you get breakouts, read how to fade acne marks.
4. Moisture In The Skin To Give A Natural Sheen
This one is all about having healthy moisture levels in the skin and keeping your skin's protective barrier intact. If your barrier is compromised (most often by using harsh products or over-exfoliating), it means your skin has little invisible cracks and light won't bounce off the skin as well. (Glowing skin means light-reflective skin!) Read how to fix a damaged moisture barrier.
If you're an oilier skin type, consider yourself lucky as you'll need less help with this. Your skin naturally has more moisture because your oil acts as a form of protection to retain water in the skin cells.
Skin Prep for Glowing Makeup
It's hard to talk about makeup without talking about skincare. While makeup is a great way to achieve gorgeous, glowing skin, you need to use the right skincare products first to create a flawless canvas. Here's how I like to prep my own skin for a bright, radiant complexion.
Use An At-Home Skin Peel 
If you want a glow, it's crucial that you remove all dryness from the surface of your skin to create a smooth-as-glass canvas for makeup. Ten minutes with Triple Berry Smoothing Peel on your face gives it instant radiance. For best results, apply a moisturizing mask after you've rinsed off the peel to ensure the newly revealed cells get nourished. Once the mask is rinsed off, seal in moisture with a moisturizer for your skin type.
Makeup That I Love for Glowing Skin
Now let's talk about the magic of makeup. The right makeup can enhance your features and give your skin a beautiful glow—especially when you're in need of a little boost. Here is what I am currently using on my own face, especially when I'll be attending a special event or have a photoshoot.
A Brightening Primer Under Liquid Foundation
These days, I'm loving the no-makeup makeup look where your natural skin shines through, so my go-to foundation is Chanel Ultra Le Teint Foundation. Sometimes before I apply it, I'll use the By Terry Cellularose Brightening CC Serum in the color Immaculate Light. It gives a really nice sheen to the skin but doesn't make me look like a disco ball.
This may come as a surprise, but up until my early forties, I only ever used powder foundation because liquid foundations would break out my oily, breakout-prone skin and clog my pores. These days I don't seem to have that issue, but I know many people do. Here's my list of the best foundations for oily, acne-prone skin.
A Brightening Powder
Once the foundation is blended in, I dust my entire face lightly with Too Faced Candlelight Glow using a big brush. Too Faced offers two shades: Warm Glow and Rosy Glow. I like how Rosy Glow looks on my fair skin the best, but Warm Glow is nice, too. The thing I really like about this powder is that it doesn't make the skin look overly shiny, rather it gives just a touch of shimmer.
I also like using Chantecaille HD Perfecting Loose Powder which works well, too.
Strobe For a Glow!
After that, if I really want to glow, I will use a small brush and dust a tiny bit of Makeup Forever Star Powder along the bridge of my nose, forehead, chin, and the tops of my cheekbones for a strobing, highlighting effect. A little goes a long way with this product, so I use it sparingly but it gives a great look to my face. I like to watch tutorial videos on YouTube for new makeup techniques, but strobing gives an amazing look (when done correctly) and so easy to do.
Contour Under the Cheeks
I then do a little contouring with a neutral bronze color using MAC blush under my cheekbones to slim out my face slightly. Temptalia has a great tutorial for contouring.
A Pink Blush on the Cheeks
The finishing touch is Benefit Dandelion blush applied to the apples of my cheeks to give the final, rosy glow. I have used this forever and love it but sometimes I'll switch it up and use Hourglass Ambient Lighting blush.
Overall, the look is bright, luminous, and glowing skin that gets me a lot of compliments. A final thought about makeup: we all get in a rut with our makeup so I really encourage you to sit down with a makeup artist and treat yourself to a new, updated look.
Want to see my whole beauty routine from head-to-toe? Read this post.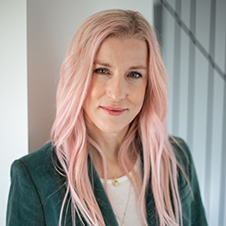 Celebrity Esthetician & Skincare Expert
As an esthetician trained in cosmetic chemistry, Renée Rouleau has spent 30 years researching skin, educating her audience, and building an award-winning line of products. Trusted by celebrities, editors, bloggers, and skincare obsessives around the globe, her vast real-world knowledge and constant research are why Marie Claire calls her "the most passionate skin practitioner we know."