Updated 08/22/23. I've spent more than 30 years working as an esthetician. Before that, I grew up spending time at my grandmother's beauty salon. With so much experience in the industry, I've definitely learned a thing or two about perfecting my own at-home beauty routine. In this post, I'll detail everything I do to look and feel my best. I'll also share a few things I get done professionally (as I know some of you might be curious). Keep reading to see my complete routine, from head to toe!
My Hair Routine
I'm naturally blonde, and I get highlights every two months from Crystal Espinosa at Vibe Collective Salon on the Eastside in Austin, Texas. For the past nine years, though, I've had pastel pink hair, and I do it at home with a color-depositing conditioner. Before I shower, I mix Overtone Pastel Pink Daily Conditioner with a touch of Overtone Pastel Silver Daily Conditioner and It's a 10 Miracle Deep Conditioner. This creates the perfect, subtle shade of pastel pink. Then, after I shampoo with Olaplex No. 4 Bond Maintenance Shampoo, I section my hair and apply the mixture. It absorbs immediately, so I don't have to leave it in for long. Like I said, I've had pink hair for over nine years now, and I absolutely love it!
After showering, I dry my hair with the Dyson Supersonic Hair Dryer. To put it simply, there's just nothing else like it. It's super powerful and dries my hair really fast without feeling like it's drying my hair out. Despite my hair being fine, I still deal with the occasional frizz and flyaways due to my naturally curly hair. I smooth Oribe Supershine Moisturizing Cream over my hair to keep it tamed and shiny looking— and the scent is incredible!
I also get tape-in extensions put into my hair for length and volume.  I started getting this done a while ago, and I really like the boost it gives. Every two months, I'll get them re-done.
Since I don't wash my hair every day, I rely on dry shampoo to keep it looking fresh. My trick is to use it at night. That way, as you're sleeping and your hair is being squished against the pillow, your scalp's natural oils can be absorbed into the powder. I've tried a lot of dry shampoos, but my favorite is Batiste Dry Shampoo. It's a classic and it's not super expensive.
My Eyebrow and Eyelash Routine
I use a DIY eyebrow shaver to shape my brows. Sometimes I'll get them waxed, although I prefer to shape them myself since I've been unhappy with the results before (it's frustrating when they take too much off and make them thinner than I want). I use the Anastasia Brow Definer in the color Taupe, followed by Glossier Boy Brow for color and additional volume. (Pro tip: I had my makeup done by makeup artist Erin Smith. She taught me how to get more volume and tint out of a brow gel by applying it in the opposite direction of hair growth. Basically, back-comb your brows with it. It definitely works!).
As for my eyelashes, I don't want to feel like I always have to wear mascara, so I tint my eyelashes. I have access to the necessary supplies for this since I'm an esthetician, so I'll do it myself, at home. It's a great way to instantly darken blonde lashes, and it lasts for weeks. A lot of estheticians offer this service, but it can vary from state to state. However, when I do wear mascara I use the Benefit They're Real Lengthening Mascara. It's been my go-to for years, as the formula gives a ton of lengthening while leaving my lashes clump-free (and it dries super fast!).
My Dermaplaning Routine
My secret to smooth, glowing skin is shaving my face (yes, you read that correctly). I dermaplane to remove unwanted peach fuzz that comes with age. Not only does facial hair make it difficult to apply makeup evenly but it also prevents light from bouncing off the skin, so it doesn't look as youthful or glowy. To keep my skin smooth and light-reflective, I use a face shaver about every three weeks.
I know some people are scared of dermaplaning, because they worry their hair will grow back darker and thicker, but I assure you it won't. This is just a myth. If shaving actually made the hair grow back darker and thicker, I believe we would have a simple cure for baldness. Read more about how I shave my face. 
My Skincare Routine
Skincare is a massive part of my at-home beauty routine (I am an esthetician, after all!).  To make my undereye lines less noticeable, I swear by using an exfoliating eye serum to gently remove dryness and give the area a smoother look. I use it a few nights a week, and I always follow up with eye cream. A lot of people question the validity of eye creams, but I'm definitely a believer. Eye creams work!
I also get Botox around my eyes and in my forehead to smooth lines. It's absolutely amazing for these areas, and it never looks weird or unnatural. Genetically, I've never had very strong forehead muscles, so I don't have to get too much. I'll go in for a touch-up every two months or so.
As for the rest of my skin, I'm skin type 6 (normal/anti-aging). Most of the products I use are from the Skin Type 6 Collection.
My Morning Skincare Routine
My Evening Skincare Routine
Once a week, I do an at-home facial using the Triple Berry Smoothing Peel (and scrub!). If I break out, the Anti Bump Solution is my go-to spot treatment. (My blemishes tend to form under the skin, so this has always been a skin saver worker for me.) Finally, when I travel, I always keep the Rapid Response Detox Masque in my toiletry bag. This helps keep my skin clear in case of any unexpected travel-related breakouts.
I am extremely diligent about my skincare routine. No matter how tired I am, I'll get my routine done. However, I've been known on rare occasions (such as 4 am after a New Year's Eve party) to skip serum or eye cream. Life happens, no sweat. 
My Makeup Routine
Most people don't know this, but I used to be a makeup artist at the start of my career. No surprise there—I was the first one of my friends to wear makeup in fifth grade… While I don't go too crazy with makeup, I certainly like to change things up every now and then. I love plopping myself down in a makeup artist's chair, not giving them any direction, and letting them create a new look for me. Makeup should be fun since it's temporary!
For foundation, I use the Haus Labs Triclone Skin Tech and I love it. After applying foundation, I like to apply the Chantecaille HD Perfecting Loose Powder in Candlelight. I'm all about making the skin look glowy, and this one looks glowy yet still natural.
For eye makeup, I like Charlotte Tilbury cream shadows as well as Glossier Lid Tints. They're easy to apply and blend. When I'm in a rush, the Armani Beauty Eye Tint Long-Lasting Liquid Eyeshadow is great for quickly swiping across my lids and blending in with my fingertips. It's a beautiful pop of color while still looking sheer and natural due to its creaminess. The Rose Gold shade is my staple!
For blush, I just recently switched to a cream blush. After years of dealing with oily skin prone to clogged pores, I never imagined I'd be making the switch from powder. But now, at 53, I've really been liking the glossy, long-lasting effects of Neen's Going Rouge Cheek and Lip Cream. I have almost every color they make, but Bang is probably the one I use the most. If I do decide to use powder blush, I go for Benefit's Dandelion Brightening Blush. In the summer, I'll add Hourglass Ambient Lighting Bronzer for a warmer, bronze look.
For lips, I love using Jouer Essential Lip Enhancer. I've been loving the sweet mint flavor, but it comes in vanilla as well. Learn more about how to care for your lips and keep them looking plump!
My Neck and Chest Routine
I wish I had taken better care of the skin on my neck and chest when I was younger. I didn't really think about it, but once I was in my early 40s I started to see changes, so I made it a priority. That meant proper sunscreen application and regular exfoliation and moisturization. I definitely have sun damage on my chest as you can in this post. (And if you look closely, you can see the result of my broken collar bone that occurred when I was 19!)  I'm considering having some professional laser treatments done on my chest to even it out. I'll wait until fall to do this.
My Dental Routine
I use three toothbrushes because, after my face, my teeth are my top priority when it comes to my at-home beauty routine. In the morning I remove my Invisalign retainer and brush it, along with my teeth, using a soft toothbrush. Then, I brush my teeth a second time using a sonic toothbrush and a toothpaste formulated for sensitivity. Finally, I'll use a dense toothbrush on my tongue. In the evening, I brush with my sonic toothbrush, brush my tongue with my dense toothbrush, then pop in my Invisalign retainer.
I bleach my teeth at home once a month with stuff I get from my dentist's office, and I keep up with dental cleanings every six months. I take incredibly good care of my teeth since I really value a good smile.
My Hand and Nail Routine
As an esthetician, everyone always says, "You must have the softest hands since they're in creams all the time." Years ago, when I was performing skin treatments full time, I never found that to be the case. They were in water (using a facial bowl) as much as they were in creams, so they'd get really dry.
I have always used hand cream at night to counteract dryness. However, I only use those that aren't heavy or greasy. The reason for this is that I sometimes sleep with my hands on my face. In the past, I've had issues with hand creams clogging my pores when they transfer onto my face. I coined the term "hand cream acne" because of this. It's definitely something that can cause issues for some people. The hand creams I use include Aesop Resurrection Aromatique Hand Balm, Lano Rose Hand Cream, and Weleda Replenishing Hand Cream. I feel that these offer long-lasting moisture and softness. 
I once had filler put into the tops of my hands by Dr. Sam Lam in Dallas. I did this because my hands had gotten veinier with age. Since my hands were on display a lot (people love taking pictures of my hands on their faces during a facial), I wanted them to look good. It made my skin look a little plumper so the veins were less noticeable. This was my first-ever time getting filler! While it has since worn off, and I haven't done it again, I would definitely consider getting it done again! 
As for my nails, I've always kept them polished. That's because, early on in life, my dad told me to never have chipped nail polish. That stuck with me, so I've always taken good care of my nails. I did my own nails for many years, but have recently loved visiting Yun at Lacquer Salon in north Austin. I go in for one every two and a half weeks like clockwork. They're a total gamechanger, with my latest set looking especially dazzling.
My Body Care Routine
I have a little bit of keratosis pilaris (little bumps on the back of my thighs). It becomes more noticeable in the winter. I'm also conscious of the fact that the natural exfoliation process slows with age and that the skin retains less moisture. Because of these two factors, dry skin can be a problem. So, I regularly use both physical and chemical exfoliants on my body just like I do on my face. A few times per week, I scrub the skin on my body with a scrubbing mitt or a dry body brush. Then, a few nights per week, I'll apply this Smoothing Body Serum under body lotion. This one-two punch of exfoliation, followed by moisturizer, keeps my skin smooth and bump-free. I'm currently loving Weleda Body Lotion when I want something light and Visha Face To Feet Balm when I'm looking for a heavier texture. 
I'm particularly obsessed with keeping the skin on my body even-toned. What I mean is, if I bump my leg and get a little cut that leaves a mark once it heals, I go into high gear to get the red mark/dark spot to go away as quickly as possible. I'll dab on a product like the Post-Breakout Fading Gel a few times a week. It definitely expedites the fading process. 
My Foot Care Routine
Aside from regular pedicures, I stay on top of keeping my feet soft—especially my heels. I'm prone to hard calluses, so I have to be diligent. Once a week, I use a foot buffer to remove dry skin. Every other night, I slather on Egyptian Magic Cream or Aquaphor Healing Ointment and sleep with socks. Just like the face, feet need moisture, too. Applying cream has made a huge difference. 
There you have it. That was a rundown of my extensive at-home beauty routine (along with a few professional treatments I get). Being in the beauty industry as well as the public eye means I definitely stay up on my routine. I enjoy it and I have fun doing it. After all, it's all about self-care and making time for yourself! 
Next, find out how often you really need to get a facial.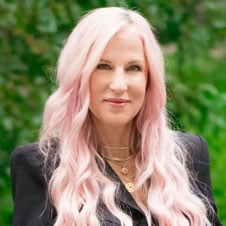 Celebrity Esthetician & Skincare Expert
As an esthetician trained in cosmetic chemistry, Renée Rouleau has spent 30 years researching skin, educating her audience, and building an award-winning line of products. Her hands-on experience as an esthetician and trusted skin care expert has created a real-world solution — products that are formulated for nine different types of skin so your face will get exactly what it needs to look and feel its best. Trusted by celebrities, editors, bloggers, and skincare obsessives around the globe, her vast real-world knowledge and constant research are why Marie Claire calls her "the most passionate skin practitioner we know."