How and why does our skin become dull?
As the skin ages, everything tends to slow down. This includes cell metabolism, blood circulation, oil production and the natural exfoliating process of the skin. The result? Skin that feels and looks sluggish and dull and doesn't have an overall brightness. In addition, pigment cells rise to the surface with age, so the skin develops brown spots which cause the skin to not look even-toned.
No worries—there's a lot that can be done to counteract dull skin. In this post, I'll share my favorite expert tips to get your skin looking fresh and glowy in no time.
How do I reduce dull skin and get a healthy glow?
Start by gauging your skin's circulation with the pinch test
When the skin is free of makeup, take your thumb and forefinger and gently pull out the skin on the apples of your cheeks. Gently (not to the point where you feel pain) pinch the skin quickly five times.
If no pinkness shows up, your skin is more than likely under-circulated and you'll need to increase blood flow. If your skin is a little pink, your skin has good, proper circulation. You'll still want to keep that going, though, since this will slow down with age. However, if the skin is bright red, more than likely your skin is over-circulated. This means it has plenty of blood circulating near the skin's surface.
To get the glowing skin you want, the goal is for your circulation to be right in the middle, not too much but also not too little.
Use products with stimulating and energizing ingredients
Since circulation can be impaired with age, skin care products with ingredients such as peppermint, vitamin B12, niacinamide and ginseng root extract work to improve blood flow activity to bring a fresh radiance. When applied topically, they may dilate the blood vessels, allowing the skin to accommodate more nutrient-rich blood.
With continued use, you should notice the skin looking brighter and less dull, with a natural glow from within. Depending on your skin type (take this Skin Type Quiz), I recommend Energy Boosting Toner, Luxe Mint Cleansing Gel, Mint Buffing Beads and Rosemary Mint Cleansing Milk.
Hang your head upside down for three minutes a day
Speaking of circulation, give your skin a boosted glow with my favorite trick.
Only use low-foaming, sulfate-free cleansers to wash your face
Cleansing your skin in the morning and at night is essential for optimal skin health. However, you need to pay attention to the type of cleanser you use.
Many foaming and gel-based cleansers are formulated with ingredients like sodium lauryl sulfate, sodium laureth sulfate or ammonium laureth sulfate which are surfactants. These are cleansing agents that cut oil from the skin. While you do need to remove oil from the skin, these sulfate ingredients are simply too strong and will strip water from the skin after every washing. This leaves the skin feeling tight and creates unnecessary irritation. This eventually leads to a damaged moisture barrier that contributes to your skin's dull, dry appearance since cells take on an opaque look and cause the skin to not be as light reflective.
When it comes to cleansing, the rule is–more lather, more drying; less lather, less drying. Be sure to look for cleansers labeled as 'sulfate-free' and ones that don't have a shampoo-like bubbly lather. Furthermore, bar soaps are an absolute no-no. Read why here. Recommended cleanser: Moisture Protecting Cleanser is a great choice since it's both sulfate-free and low-foaming.
Repair your moisture barrier so the skin will appear light reflective
When you want the skin to have the look of a radiant glow, you want to make light bounce off of the skin. This is known as 'light reflection.' If your skin is dry and flaky, it means you have a damaged moisture barrier. When this happens, your skin develops tiny, invisible cracks that allow not only moisture to escape but also allow light to penetrate. This prevents light from bouncing off the skin's surface so the skin will not have that 'lit from within' look. Instead, you end up with that undesirable dullness we all dislike.
Aside from using only gentle cleansers, you have to take steps to repair your skin's dryness and close up these cracks. The best way to do this is by using the RIGHT type of moisturizer.
To repair dry, flaky skin and make dull skin glow, look for the following emollient barrier-repair ingredients when choosing a moisturizer.
Borage Oil
Bois De Rose Oil
Carrot Oil
Evening Primrose Oil
Cranberry Oil
Ceramides
Linoleic/Linolenic Acids
Squalane
Linoleic Acid
Tocopheryl Linoleate
Phytosterols
Shea Butter
Sunflower Oil
Soybean Oil
Safflower Oil
Jojoba Oil
Sweet Almond Oil
Canola Oil
Sesame Seed Oil
These ingredients will correct both the lack of oil and lack of hydration deep within your skin and actually repair the skin's lipid moisture barrier to make your skin moist, supple, smooth…. and light reflective. It's a fact that hydrated skin is healthy skin, so start looking at your ingredient labels to find the perfect moisturizer for your dry, flaky skin. Recommended moisturizer: Glow Enhancing Creme.
Use a face oil but use it correctly
Especially during winter when the humidity is low and the air is dry, moisture is dramatically depleted from the skin. One of the very best ways to prevent moisture evaporation and keep your skin looking radiant is to apply a treatment oil over your night cream.
The reason why you want to put it on as the last step in your night regimen is that oils have the largest molecule, more so than any other skin care product. Because of this, oil acts like a top coat or a sealant so that everything underneath (your toner, serum, and moisturizer) stays in the skin. Recommended oil: Pro Remedy Oil.
Practice deep breathing
Not only does it help to lower blood pressure and decrease stress, practicing deep breathing will allow oxygenated blood to flood your system to get your dull skin to glow.
How to breathe deeply to encourage glowing skin:
Breathe in slowly until your lungs fill up completely
Hold your breath for 10-15 seconds
Let ALL of the air out slowly, as this removes carbon dioxide and cellular wastes from the body
Practice this as often as you can during the day
Be sure to use the right type of exfoliating products and use them regularly
The quickest, easiest way to instantly brighten the skin is to use an exfoliating product. By dissolving and removing dry surface cells, you instantly reveal fresher, brighter, plumper cells that reflect light and give the skin a smoother look.
There are many types to choose from so read my beginner's guide to using exfoliants. This will ensure you're using the perfect exfoliating products for your skin type. Of course, Triple Berry Smoothing Peel gives an INSTANT glow and is one that should be used weekly! You can take this Skin Type Quiz to get the best exfoliants recommended.
Use a skin brightener daily
Since pigment cells rise to the surface with age, brown spots and sun spots can make the skin look dull. One of the benefits of a natural skin brightener is its ability to sedate melanin activity to fade stubborn discolored marks. My favorite type is a vitamin C serum using the ingredient magnesium ascorbyl phosphate—a proven brown spot lightener. Recommended skin brightener: Vitamin C&E Treatment.
Understand that makeup can work miracles
If anyone knows how to fight dullness and give skin a radiant glow, it's the makeup artists in Hollywood that work with red carpet celebrities. I work with a lot of these makeup artists since we share clients, and they have taught me their tricks of the trade. In general, they rely on primers under foundation, brightening powders and strobing sticks for radiant skin. Search YouTube or Instagram and you'll quickly learn how they perform their skin-glowing magic.
With a little extra effort, you can certainly brighten up the look of your dull skin. Oh, and don't forget about using a well-formulated retinol product. This is most definitely a game-changer for getting smoother and more even-toned skin. Read my beginner's guide to using retinol or prescription retinoids. Enjoy your #ReneeRouleauGLOW!
One final thought. I believe having glowing skin and brighter-looking skin are two different things. Of course, we all want both. Read how to get brighter skin.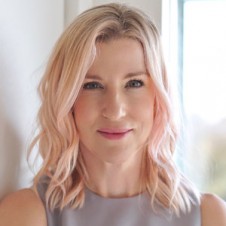 Celebrity Esthetician & Skincare Expert
As an esthetician trained in cosmetic chemistry, Renée Rouleau has spent 30 years researching skin, educating her audience, and building an award-winning line of products. Trusted by celebrities, editors, bloggers, and skincare obsessives around the globe, her vast real-world knowledge and constant research are why Marie Claire calls her "the most passionate skin practitioner we know."