Updated 09/10/23. My clients often ask, "How do I get glowing skin?" While there's no single definition for it, I tend to think of it as skin that has good blood flow, which brings out an inner radiance. In this post, I'll share a trick I use every day to guarantee glowing skin. It's super simple, and it only takes two minutes!
My 2-Minute Trick for Glowing Skin
Less oxygen and fewer nutrients are delivered to the skin as it ages. Research shows that by the time you reach 70 years old, you have about 40% fewer blood vessels in your face compared to when you were 20 years old. Fewer vessels mean less nutrient-rich blood and oxygen are being brought to the skin. The result? A dull, tired-looking complexion.
To fight the effects of aging, and to guarantee glowing skin, I use a simple trick. I hang my head upside down for two minutes every day. You can do this against a wall in a handstand or in a downward dog, like in yoga. I simply hang my head over the side of my bed. After just two minutes, a slight redness appears in my skin. In the long run, it has helped me boost and maintain a 'lit-from-within' glow.
This trick is especially helpful for those with olive and medium skin tones. Those with fair skin tones often find their skin has a natural redness, and oftentimes, the goal is to reduce redness.
The Best Products to Use for Glowing Skin
When people ask me how to get glowing skin, I tell them to try my daily trick, as well as increase circulation through physical exercise, facial massage, and skincare products that are formulated to stimulate blood flow. As for the latter, I recommend the following:
Mint Renewal Cleanser: I use this cleanser every day. Along with natural beads and peppermint oil, it contains panthenol and lactic acid, so it feels hydrating and refreshing on the skin.
Energy Boosting Toner: This is a hydrating toner with ginseng root extract, which is a stimulating ingredient, and trehalose, which is a powerful antioxidant.
Triple Berry Smoothing Peel: This is the best chemical peel to use at home for brighter and smoother skin. Pair with the Triple Berry Smoothing Scrub to physically lift away loosened skin cells and minimize flakiness.
Moisturize as the final step in your routine. I recommend using one that's formulated to give a light-reflective effect, like the Glow Enhancing Creme. You can follow it up with a brightly colored blush to give an instantly radiant effect.
Next, see the makeup tips I love for guaranteeing a glowing complexion.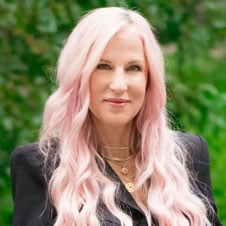 Celebrity Esthetician & Skincare Expert
As an esthetician trained in cosmetic chemistry, Renée Rouleau has spent 30 years researching skin, educating her audience, and building an award-winning line of products. Her hands-on experience as an esthetician and trusted skin care expert has created a real-world solution — products that are formulated for nine different types of skin so your face will get exactly what it needs to look and feel its best. Trusted by celebrities, editors, bloggers, and skincare obsessives around the globe, her vast real-world knowledge and constant research are why Marie Claire calls her "the most passionate skin practitioner we know."