Updated 10/11/14: For the past several years, I've been tending to the skin of celebrities on my quarterly visits to Los Angeles, and one celebrity who I've had the pleasure of working with is the lovely Amanda Crew of HBO's Silicon Valley. I recently interviewed Amanda about her life, career and skin and beauty secrets. She is so fun and down-to-earth. I'm happy to not only have her as a client, but a wonderful friend, too.
What's your typical beauty routine? 
"I wash my face every morning and every night with a Renée Rouleau cleanser and then apply her toner and moisturizer. I'm also trying to be better about wearing sunscreen daily, especially since I live in L.A., where even on a cloudy day, your face is getting damaged from the sun. I have super sensitive skin, and Renée Rouleau Daily Protection SPF 30 is the only SPF I've tried that didn't cause an allergic reaction or breakouts (and I've tried a lot of sunscreens). Because I have to wear such heavy makeup when I'm working, I try to stay away from wearing foundation in my everyday life. My everyday look is a super-quick makeup job — just a bit of Givenchy mascara, a little blush (Benefit's Dandelion Blush is my favorite for a casual day), and my all-time favorite eyebrow pencil by Anastasia. Seal it with some Burt's Bees tinted lip balm, and I'm set!"
What beauty tip(s) do you live by?
"My biggest beauty tip would be exfoliation, exfoliation, exfoliation! After a lifetime of almost no breakouts, I started having some pretty embarrassing ones and learned that if you don't exfoliate, your skin has a hard time shedding the old skin and therefore clogs your pores and causes zits (hooray!)."
What's the weirdest beauty trend you've tried?
"Probably ironing my hair in high school with an actual clothes iron on an ironing board. This was before they came out with ceramic straightening irons. I'd always have super-straight hair and a big crease in the back of my head where I couldn't reach the iron properly. The boys loved it!"
What three beauty products can't you live without?
"Renée Rouleau Night Time Spot Lotion: This one is awesome for drying out zits over night! Added bonus: White dots all over your face equals guaranteed laughs with the boyfriend.
Bumble and bumble Thickening Dry Spin Finish Dry Spray: This stuff is magic for day-old hair. It adds some texture to limp locks, and it makes your hair smell fresh!
Kerastase Reflection Chroma Reflect Deep Radiance-Enhancing Masque: About a year ago, I had my hair stripped of all its color for a movie (tip* never do this). As a result, my hair was super-damaged. I tried everything to revitalize my hair, and this mask was the only thing that really worked!
Renée Rouleau Triple Berry Smoothing Peel: I love using this mask to get rid of dead skin. Your skin feels baby smooth after, and it's great for sensitive skin like mine. I use it before special events. P.S., it smells amazing!"
How do you prepare your skin for a big event?
"Have I mentioned how much I like to exfoliate? Doing an exfoliation mask (like Triple Berry Smoothing Peel) the night before is my favorite way to have fresh and bright skin for an event. Whenever possible, I try to get a professional to do my makeup, because the idea of putting together a flawless look intimidates me. I like to be open to a makeup artist's ideas on the look they want to create, but I always ask to keep my foundation pretty lightweight and luminescent."
Who is your beauty icon and why?
"There is something so incredibly beautiful about Lauren Hutton. I have a slightly stalker-like fascination with her (totally not creepy). I think it's her essence that is beautiful to me. The woman has gone on so many adventures in her life, seen so many things, and you can see it on her face and in the way that she carries herself. She embodies everything that says 'woman' to me."
What fall beauty trend are you most excited to try?
"I really want to be adventurous and try the berry lip. There's something so delicious-looking about it (maybe the name is just fooling me), but I love the bold yet feminine quality about it."
You have some exciting projects you are working on. Tell us a little about your upcoming movie Jobs as well as your TV series Silicon Valley.
"Jobs was an exciting project to be a part of, because I think Steve Jobs' story is incredibly inspiring and fascinating. The script had me hooked from page one, and Ashton Kutcher really put everything into this role. I was honored to be a part of bringing Steve Jobs' story to life.
Silicon Valley is a half-hour dark comedy for HBO created by Mike Judge (Office Space, Beavis and Butt-Head). It follows a group of young, socially awkward, undeniably genius software developers who are trying to make it in Silicon Valley. I play Monica, the right-hand woman for one of the biggest start-up companies in SV. She's independent, intelligent, and sassy."
What's your favorite way to relax with such a busy work schedule?
"I like to relax by doing really dorky things like bake mini-doughnuts and cook vegetarian dishes. I also just learned to sew and find it quite therapeutic (nerd alert!). My all-time favorite way to relax is reading craft/recipe blogs, although sometimes I get so inspired with ideas that I'm no longer relaxed, just excited. You can sometimes find these inspirations on my own blog, another way for me to relax!"
Have you learned any special products or tips from makeup/skin-care professionals on the job?
"A great tip I learned from a makeup artist was to apply your under-eye concealer (and all under-eye creams) with your ring finger, because it isn't as strong as your others. This way you won't damage the sensitive skin under your eye!
Another great tip I learned from Renée is to leave your alcohol-free toner damp on your skin before applying your moisturizer. I always thought you were supposed to let it dry first, but if you put your moisturizer on while the toner is damp, it will seal all the hydrating ingredients into your skin."
(Photo credit: Joshua Schultz)

See Amanda Crew profiled on Refinery29 as an "HBO breakout star".
Which skin care products are best for you? See our nine skin types or take the Skin Type Quiz and get products recommended.
Need expert advice from a licensed esthetician? Schedule a virtual consultation to get customized advice in person, over the phone or online via Skype or FaceTime.
For more expert advice check out the blog. Also sign up for our skin tip e-newsletter, follow Renée Rouleau on Twitter and Instagram and join the discussion on our Facebook page. You'll be your own skin care expert in no time. Get the #ReneeRouleauGlow!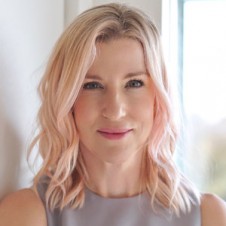 Celebrity Esthetician & Skincare Expert
As an esthetician trained in cosmetic chemistry, Renée Rouleau has spent 30 years researching skin, educating her audience, and building an award-winning line of products. Trusted by celebrities, editors, bloggers, and skincare obsessives around the globe, her vast real-world knowledge and constant research are why Marie Claire calls her "the most passionate skin practitioner we know."