Updated 10/14/20 When I started writing this blog back in 2009, my intention was to educate others on how best to care for their own skin by separating facts from fiction. What was revealed to me over time, though, was that many estheticians from around the globe have used my information as continuing education in their own esthetics practices. Because of this, I've written posts exclusively for estheticians.
If you're considering becoming an esthetician or are just getting started in your career, here are some helpful tips for having a successful career in esthetics.
What tips do you have for a new esthetician right out of school?
It is a fact that a large percentage of people who go through the effort and investment of attending and graduating from esthetics school will never end up practicing esthetics or will do so only for a short time. I believe this is because they could not find a job or if they did, the job was not the right fit for them. My advice is to explore every option for employment, but be sure to only apply for a position that best suits your style and personality.
What jobs are out there for estheticians?
What I love about being an esthetician is that there are many options for places of employment. There are day spas, hair salons that have a skin treatment room (this is where I got my start), skincare spas, hotel spas, cruise line spas, medical spas, department store spas associated with a skincare line, resort spas, and more. If you prefer not to be a service provider, there are still many options. You can become a representative for a skincare line that is sold to department stores, medical offices, or spas so you would provide education and training classes to your various accounts, as well as work at trade shows. You can work in a retail environment selling a line at the department store counter (they LOVE hiring estheticians) or other beauty retailers. You can also become an independent contractor and be on-call to work at various spas or even be a freelance esthetician. It is also possible to become an educator and work as a teacher at your local esthetics school. Another option is to become an entrepreneur and develop your own skincare line.
What I love most about a career as an esthetician is that it offers a very flexible schedule. Many places allow part and full-time schedules so if you have another career or have children, this is ideal. I have employed many estheticians who were once full-time and now work part-time after having children. One size does not fit all when it comes to being employed as an esthetician, so be sure to do your research.
How can an esthetician build a clientele?
It truly takes a long, long time to really build up a good, repeat clientele. The reason is that you will not connect with every client, and not every client will connect with you. Being an esthetician is a relationship-based profession. My best tip for this is to mimic their personality. If they are not much of a talker, then don't talk their ear off. You have to be a chameleon with every client.
Try paying close attention to body language. Asking specific questions on your client intake form that gives you insight into their expectations will go a long way. One of my favorite questions is "What are your goals for today's visit?" I then provide various options they can check off on the form ranging from "stress relief" to "I want to learn how to care for my skin." Depending on all that they select, I will make sure to create an experience that gives them exactly what they ask for. I will also discuss their goals during our consultation to make sure I have complete clarity. Having a client leave getting exactly what they wanted will help build the relationship and ensure they will come back to see you again.
Another way to build a clientele is to give out free skin treatments. When you have an empty schedule, your goal is to fill it with clients. And waiting around for them to shell out money for a skin treatment that is often considered a luxury will leave you with an empty room and time on your hands. Make some really nice gift certificates and gift it to your friends, family, and anyone you come in contact with that you feel would be a good fit for you. Let them experience the services you provide at no charge because the more faces you can get your hands on, the more they can spread the word for you. Many of them may love the results and want to come back as a paying client. At the end of the appointment, give them a few of those free gift certificates and ask them to give it to their friends who they think would be a good client for you. Who would not love giving the gift of beautiful skin? Hands down, word of mouth with a referral will trump any other advertising or marketing opportunity. If you work on this strategy long enough, and you give a treatment focused on managing expectations, you will no longer have an empty schedule. I promise.
How can I give the best service possible?
I would like to expand more on the consultation portion of the service because I believe this is so important and often overlooked by many estheticians. The information I gain from asking my clients questions about their skin and having them share their concerns is essential for problem-solving. This is the biggest area of weakness for so many estheticians. They are so focused on giving the actual skin treatment without really knowing what the client's concerns are. Aside from the questions I mentioned above, here are some others to ask after reviewing their client intake form. I find these really insightful in understanding my client and his/her skin so the best results can be focused on. I love to analyze their skin, and these questions open up great conversations:
What are your top three skin concerns in order of priority?
Is today a good, bad, or normal skin day for you? (This is important because if they say "this is a really bad day for me", you need to understand what they personally consider to be bad.)
Do you consider yourself to have sensitive skin? Give me specific examples of how your skin acts sensitive? (Everyone will say their skin is sensitive, but you need to know exactly their type of sensitivity.)
How oily or dry is your skin?
If your skin is dry, do you actually get flaky or is it more of a tightness that you experience?
What type of blemishes do you get most often (cysts, pustules, papules, whiteheads/closed comedones)?
Where on your face do you get the majority of your blemishes?
When it comes to caring for your skin at home, do you like a very simple routine like cleanser and moisturizer or do you like to add in additional products to make a more comprehensive routine?
Prior to coming and seeing me, what have you done with your skin both at home or professionally? What kind of results did you get?
What are your specific goals for your visit today?
How can I get my clients to reschedule?
It is very challenging to get a client to commit to another appointment so you must give them reasons why they really need to. To do this, you must make a game plan for every clients' skin at the end of the appointment. Simply saying "It would be great if you could come back in four weeks," may not yield results with re-booking. You must give them a reason why they should come back. Laying out a specific game plan about what you are going to do to their skin next will be an incentive to come back in. It is for this reason that I often do not do the same treatment again on their second visit. Excitement is created for the next visit with a different focus.
You must also sincerely believe that coming in regularly will give them the results they desire with their skin so you can convince them that it is not just a nicety, but rather a necessity. This means you must practice what you preach. If you are not being the recipient of esthetic services yourself, then it will be harder to re-book your clients.
What is your favorite skin equipment to use on clients?
This is really a personal decision. It depends on what you like, what you feel works well, and what gives your clients the best results. I personally love skin peels, with my favorite being 30% salicylic acid for acne. I also invested in Bio Brasion equipment and are loving the results it gives for discoloration and brightening. (Look at this incredible before and after photo.) I also like using both microcurrent and ultrasound, and always recommend investing in a good quality steam machine. I'm always experimenting with new treatments. I'm like a mad scientist but this is what keeps it exciting! When it comes to the basic tools, I personally have always avoided the big machines that have five or seven functions in them (facial brush, high frequency, steam, etc…). If one function breaks, you have to send the entire machine back to get fixed so I prefer to have all of them separately. Many machines are individual now but the multi-function machines are still used, especially by European estheticians.
How do you select estheticians to work for you? What type of estheticians do employers (or spa managers) look for?
It can be very challenging for new estheticians right out of school to get hired. Yes, they have the energy and excitement and are ready to dive right into their new career, but most employers want people who are experienced and have a clientele they can bring to the practice. For new estheticians, you must be open to all ways to get experience to build your resumé and be more attractive to certain employers. In my company, we first and foremost look for who would be a fit into our culture. To do this, we use a personality profiling survey that allows us to understand an esthetician's skill set. This takes the guesswork out of knowing what kind of esthetician they will be by how they interact with clients and co-workers. We want an esthetician who is employed with Renée Rouleau Skin Care to have a long, successful career, and understanding their personality from the get-go is essential to determine if they will thrive in our company.
But in general, I would say that managers judge a lot based on what is on a résumé. If someone has a new job every six months, this might be a red flag that they are unstable. Along with a résumé, attach a personalized letter saying why you want to work at that particular place and why you are a good fit. Selling yourself and putting in the extra effort by singing your own praises is a good way to set yourself apart from the other résumés.
Do you have any skincare book recommendations?
I enjoy skincare books by Mark Lees and "Cosmetic Chemistry" by Florence Barrett Hill. Here's a picture of a few of my favorite books that I posted on Instagram. 
Any final thoughts you would like to share?
Being an esthetician can be an amazing career choice. It most certainly has been for me and my employees. I have been on both sides; working for someone and working for myself and have enjoyed every minute of it. But with anything, it is hard work, dedication, and a commitment to learning and growing—to make you the best esthetician you can be.
I hope you found this post helpful. I have so many estheticians telling me on Twitter, Instagram, and Facebook how they have learned more from me than any other source of knowledge, including school, trade shows or their current employer.
Recently, I had the privilege of being interviewed by skincare industry expert Lori Crete. Lori is a licensed esthetician, spa owner and founder of the Esthetician Mentor™, which is a program dedicated to helping other beauty business owners and professionals around the world become more successful and profitable.Though I haven't used her services personally, I do know people who have and they speak very highly of her expertise. After all, there is limited business support out there for estheticians so it's a great service that she's offering. (For continuing education about all things skin, my blog with over 1600 posts is an incredibly popular resource for both consumers and estheticians.) When she reached out to me, she said I was her #1 most requested person to interview. Wow! What an honor. I was happy to chat with her because sharing knowledge is such a huge passion of mine, especially because I have thirty years of hands-on experience as a celebrity esthetician, skincare formulator, spa owner, and skincare expert. Thank you, Lori!
Listen to the full interview with Lori. (Click the play button to the right of my photo.)
Lastly, it's important that you pronounce the word of your chosen professional correctly. It should sound like es-theh-tish-in not esda-tish-in.
Read: Five Estheticians Rules I Live By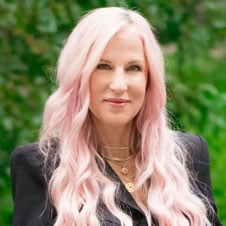 Celebrity Esthetician & Skincare Expert
As an esthetician trained in cosmetic chemistry, Renée Rouleau has spent 30 years researching skin, educating her audience, and building an award-winning line of products. Her hands-on experience as an esthetician and trusted skin care expert has created a real-world solution — products that are formulated for nine different types of skin so your face will get exactly what it needs to look and feel its best. Trusted by celebrities, editors, bloggers, and skincare obsessives around the globe, her vast real-world knowledge and constant research are why Marie Claire calls her "the most passionate skin practitioner we know."