Brown spots, hyperpigmentation, large pores, wrinkles, and breakouts are common skin conditions that we'll all experience at some point. Getting smoother, clearer more even-toned skin is a priority for many. Bio Brasion is a procedure that is the next generation of microdermabrasion and works on all complexion types, including those with acne, sun damage, rosacea, and sensitive skin. As you can see from the before and after photos of my friend, Natalie, it delivers some serious results for improving the look and texture of the skin.
Here is more information about this advanced procedure, as well as information down below about Natalie's skin condition and the treatments she received to get her brown spots and discoloration lightened. Here goes!
What is Bio Brasion and How Does it Work?
Featuring both wet and dry technology, Bio Brasion is a crystal-free, low-suction, abrasion system that uses gentle vibration with customized levels of exfoliation. Unique, interchangeable tips are slowly passed across the skin's surface up to three times to painlessly lift off the outermost dry, damaged layers of the skin, revealing the healthy layers of the skin beneath.
Watch Renée performing Bio Brasion on YouTube.
Step 1: PEEL is the first abrasion pass over the skin. It uses a wet AHA/BHA (mild acid) hydra foam to effectively dissolve and loosen superficial dry skin cells.
Step 2: TARGET is the second abrasion pass. It features a customized spray serum that is applied to the skin to penetrate corrective ingredients deep within the dermis where they will be most effective.
Step 3: BUFF is the final abrasion pass and it gives a final polish to freshly exfoliated skin.
Next: After the Bio Brasion, your provider can do a mild chemical skin peel customized for your skin type to provide additional results.
What Skin Type is Bio Brasion Recommended For?
Bio Brasion is safe for any skin type (including red and sensitive complexions) and it delivers immediate results with noticeable improvements to the skin texture and appearance. It is far superior to traditional microdermabrasion. There's no downtime and each procedure works progressively, delivering increased skin correction with additional treatments. Added bonus—it can also be used to treat chest and body areas and help with keratosis pilaris.
How Many Treatments Do I Need?
While one treatment will deliver benefits, results will vary. A minimum of six treatments is suggested for those seeking skin correction.
Read: How To Find A Reputable Esthetician Or Skin Professional In Your Area.
What Was Done on the Client's Skin
Natalie is a friend of mine, and I selected her as a model for this new treatment since I knew of the struggles she was having with increased brown pigmentation (made worse from both the hot Texas summers, as well as a prescription medicine with discoloration listed as a side effect).
Natalie had a series of ten Bio Brasion Brightening Treatments at our Plano spa, which is no longer in operation. Her course of treatment was the Bio Brasion treatment followed by a vitamin C peel. Occasionally, Natalie would experience some dryness and light peeling on her skin for a few days after a treatment, but the side effects were minimal and didn't interfere in Natalie's busy life as a teacher, wife, mother and CrossFitter.
She also was extremely diligent in using her recommended Renée Rouleau skincare routine at home, which definitely contributed to her amazing results. Natalie is a skin type #6 (see all nine skin types) and followed the regimen faithfully, which was a big part of her achieving results. A few key products in skin type #6 that helped significantly to get her discoloration lightened are the Advanced Resurfacing Serum, Pore + Wrinkle Perfecting Serum, Vitamin C&E Treatment and Daily Protection SPF 30. Of course, the other products in the routine also helped to keep her skin balanced, moist and healthy.
Results from the Bio Brasion Treatment will vary for each client because every person's skin is different. While Natalie has had exceptional results, there is no guarantee that your skin will respond in the same way with the exact same treatments she had. Brown spots and discoloration are extremely challenging to lighten. If you currently experience this, then you know what I mean. For some clients, we will recommend you get a prescription skin lightening cream to help expedite the results. Natalie did not have to get a prescription lightener and I credit Natalie's commitment to using the products faithfully at home as a big part of the improvement she has seen with her skin. After all, she was only with us for thirty minutes once a week and the remaining days of the week were left up to her. I cannot stress the importance of using well-formulated, high-performance products at home. Be sure they're made exclusively for your skin type.
With proper home care and a Bio Brasion Brightening Treatment performed every two months, Natalie will be able to keep up the results from her series of treatments.
Other Professional Treatments for Brown Spots
I do want to mention this. I have heard so many stories through the years about people having laser skin procedures to get rid of their skin discoloration. This was something that Natalie was considering when she first came up to me at CrossFit one day. I told her, as I would tell anyone, "For anyone prone to pigmentation, some laser treatments can be very invasive when performed and have considerable downtime with redness, burning and peeling of the skin. You take a chance that the shock of the treatment can actually wake up pigment cells and make the skin even more discolored. The benefit with a series of Bio Brasion treatments is that it's a controlled exfoliation with minimal downtime so you're breaking down discolored skin cells without running the risk of it back firing." I cannot tell you how many people I have met over the last 10 years who have had a bad result with laser treatments, and even deep chemical peels. You have to be so careful when you're dealing with skin types with a lot of natural melanin activity. Note: This treatment is excellent for darker skin tones.
Let me also make one quick comment on the before and after photos. I am a HUGE skeptic when it comes to before and after photos put out by skincare and cosmetic companies. It's so easy with computer technology along with lighting to enhance the 'after' photos to make the skin look so much better. When I've taken classes at UCLA, we have studied this very subject. It's simple to do and sadly, so many companies do it. Trust me when I say, we did absolutely nothing to these images or use lighting tricks to enhance the photos. While we took the photo in the same location, they do look a bit different since the 'after' ended up being taken a bit closer and it was sunnier and more natural light was coming in through the windows. It was hard to get them exactly the same. These pictures are the real deal. Honest. If you're seeking clearer, brighter and smoother skin, I highly encourage you to have a series of treatments performed. Your skin will look amazing. You can also get expert advice by scheduling a
virtual consultation
.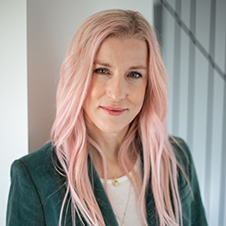 Celebrity Esthetician & Skincare Expert
As an esthetician trained in cosmetic chemistry, Renée Rouleau has spent 30 years researching skin, educating her audience, and building an award-winning line of products. Trusted by celebrities, editors, bloggers, and skincare obsessives around the globe, her vast real-world knowledge and constant research are why Marie Claire calls her "the most passionate skin practitioner we know."