For those who choose to remove their body hair, it can sometimes seem like there's no such thing as a perfect option. Shaving can lead to bumpy, irritated skin (razor burn, anyone?), not to mention it's time-consuming. Waxing is more efficient, but requires a certain amount of hair re-growth and, for some people, can lead to pesky ingrown hairs that leave discoloration behind.
For those who struggle with both these options, laser hair removal can offer a solution. While it's not without its own drawbacks, it can eliminate many of the issues associated with traditional hair removal and give people the results they're looking for. In this post, I'll answer all your pressing questions about laser hair removal with the help of Madalaina Conti, a New York-based, licensed esthetician specializing in laser hair removal, inflammatory skin conditions, and integrated wellness. I'll also share my own experience with laser hair removal—let's dive in!
How Does Laser Hair Removal Work?
According to Madalaina, there are a few different types of lasers for hair removal. The most common are Alexandrite and Nd:YAG. 
Alexandrite lasers basically work by picking up the contrast between the pigment in the hair versus the skin, meaning they work best on people with fair skin and dark hair (light brown to black). For the same reason, Alexandrite lasers aren't suitable for darker skin tones (this would be Fitzpatrick skin types 4-6).
Nd:YAG lasers, on the other hand, work by passing light energy directly under the follicle. The light energy turns into heat, which weakens the follicle and causes the hair shaft to detach and shed. Over time, the absence or weakening of the follicle reduces hair growth. Since Nd:YAG lasers don't rely on contrast, they're a great option for those with darker skin tones.
(Fun Fact: Dr. Fitzpatrick created his eponymous scale to help dermatologists gauge a patient's risk for skin cancer, but he was also the one to get Tretinoin FDA-approved for wrinkles and anti-aging. When I first started my career, I was lucky enough to meet him and witness this process firsthand!)
Does Laser Hair Removal Work on Blonde Hair?
If your hair is white, grey, or very light blonde, laser hair removal may not be a good option for you. Both Alexandrite and Nd:YAG lasers are ultimately attracted to the pigment in the hair, and this is how the energy source gets directed. If there is little to no pigment in the hair, the lasers will have a much harder time targeting it successfully. 
There have been advancements that make it easier to target blonde or light hair. One is laser dyeing, which involves artificially dyeing the hair to "trick" the laser. Another is long pulse lasers, which may be safer for those with blonde hair. Even with these options, keep in mind that laser hair removal often isn't as effective for light hair as it is for darker hair. Be sure to consult with your provider before committing, and make sure they're being upfront about reasonable expectations.
How Many Sessions of Laser Hair Removal Are Needed?
"In my experience," says Madalaina, "this can vary pretty drastically depending on the device and the client. More classic machines usually require eight or more sessions, and I find machines like mine that use a blend require around six for best results." She added that the treatments are usually spaced four to six weeks apart for the face, underarms, or bikini, while the rest of the body typically requires six to eight weeks of downtime in between. This is to ensure that the area being targeted is at the right stage of hair growth. Otherwise, treatments aren't as effective.
Are Touch-Ups Required?
Madalaina notes that touch-ups will depend on the client's hair type as well as the device used. It's also a matter of preference and depends on how fastidious someone wants to be. Madalaina says most clients only require one or two touchups per year, but some prefer to come in more often. "The great thing about shaving versus waxing is that you can shave in between and it won't mess up the hair growth cycle," she says. "This means you can stay smooth between appointments and don't have to go through the awkward growth stage required with waxing." 
Does Laser Remove ALL Hair? What Are Realistic Expectations?
The short answer is no. I myself first tried laser hair removal in 2005, and I distinctly remember being told, "You can throw away your razor, you'll never have to shave again." This was definitely an over-exaggeration, but these days, practitioners are a lot more upfront about setting realistic expectations. I tried it again three years ago, and I would say it permanently removed about 90% of my hair (which is pretty great!). Now, it's sometimes referred to as laser hair reduction instead.
While laser hair removal doesn't remove 100% of hair, it can be life-changing. It significantly reduces hair growth (meaning most of the hair won't grow back at all), and the hair that does remain is thinner and very sparse. This makes it a lot more manageable and means that shaving is easier and much less frequent. Another bonus? Aside from virtually stopping ingrown hairs in their tracks, laser hair removal fades old discoloration caused by ingrowns and inflammation. The result is much smoother, brighter skin overall, even after just one session. 
According to Madalaina, the only way to permanently remove all hair is through electrolysis, which she notes is a painful and tedious process.  
What's the Best Time of Year to Get Laser Hair Removal?
The best time of year for laser hair removal is fall or winter. I always tell my clients that this is the best time of year for professional treatments in general, and the reason is that you're less likely to get sun exposure. Many treatments make the skin temporarily more photosensitive, and laser hair removal is no exception. The recommendation is usually that you avoid any sun exposure on treated areas two weeks before AND after your appointment. 
Learn why winter is the best time of year to get rid of brown spots (and how to do it).
What Are Prep and Aftercare for Laser Hair Removal Like?
Before Your Appointment
As I mentioned, preventing sun exposure to the areas you're getting treated is critical both two weeks before and after your appointment. You'll also want to check with your provider about discontinuing active products like exfoliating acids and retinol, and topical prescriptions like tretinoin or hydroquinone (Madalaina says this can vary depending on the device). If you're using Accutane for acne, you'll want to wait at least a month after your last dose to get laser hair removal. Again, be sure to check with your provider for specific instructions.
Madalaina adds that you'll want to shave the areas that are going to be treated the night before your appointment. "This ensures the most effective treatment since we want the light energy to have easy access to the follicle instead of having to waste energy on surface hair growth (which could also burn)," she says. "I find shaving the night before to be the sweet spot because the shave is still fresh, but the skin's had some time to recover. Shaving too close to your appointment time can sometimes result in extra sensitivity or irritation on the skin."
After Your Appointment
After your treatment, Madalaina says it's best to avoid any heavy sweating or moisture for about 24 hours. "Skip the intense workout, swim, or sauna to avoid irritation," she says. If you're experiencing some discomfort, a brief, cool shower can be used to soothe post-treatment.
When it comes to laser hair removal aftercare, the most important thing is hydration. I always recommend that clients use something gentle without fragrance or drying alcohol. It's also best to use something you've tried before and know you won't react badly to. Remember, skin is super raw after being exposed to the heat of a laser, so it needs to be babied. You can use a thick cream like Phytolipid Comfort Creme, which has calming plant extracts as well as moisturizing lipids to help restore the skin barrier. Alternatively, you can use an oil like Pro Remedy Oil, which has a blend of 12 oils rich in omegas and antioxidants. 
Focus solely on hydration for the first three to four days. After this, you can add shaving or exfoliating to your routine to help slough off dead skin cells and allow hairs that are detaching to shed through the surface. I find physical scrubs really effective for this, but make sure you use a scrub with rounded particles to prevent any tearing or scratching of the skin. 
How to Find the Right Provider for Your Treatment
Before booking a treatment, book a consultation. The machines used for laser hair removal are powerful, and used incorrectly (or on the wrong person) they can cause damage. It's important to find someone skilled who takes the time to answer all your questions.
"I would recommend looking into the type of laser that best describes your skin and hair type and then doing some research on the laser your prospective provider carries," says Madalaina. "I always find word of mouth to be the most reliable, so if you can, ask those around you to gauge honest experiences! I also tend to like smaller, more specialized studios vs. larger chains. Lasers are powerful, attention to detail is everything, and you should feel that you are getting a personalized experience. Good providers will always go out of their way to gain in-depth knowledge of your routine and goals to maximize your experience. They'll walk you through expectations, ensure you are comfortable and will be happy to answer all of your questions! Having a specialized laser or advanced certification is always a plus." 
My Experience With (and Honest Review of) Laser Hair Removal
I got laser hair removal on my underarms and bikini area three years ago, and at that point, I'd been waxing them for 25 years! What I always hated about waxing (other than the pain) was the fact that I had to let everything grow out for a few weeks between waxes. This meant I had about one week of smooth skin, and then I was stuck with stubble for another three or so. There can definitely be some awkward hair growth between the first few treatments of laser hair removal, but as Madalaina pointed out, you can shave. Eventually, that awkward re-growth stops almost altogether. 
I had ten treatments in total and, as I mentioned, it removed about 90% of my hair. I have a combination of blonde and dark hair in the areas that were treated, so the blonde didn't really get picked up by the laser. Still, this hair is so thin and light now that I don't even go for touch-ups, and I barely even have to shave anymore.
I do want to say that results can still vary greatly person-to-person. There's a chance I had a leg up since some of my follicles were already shot from so many years of waxing, plus I was 50, and hair growth naturally slows down with age. That said, I'm really happy with the results and definitely prefer it to the waxing I was doing all those years. I'm able to think about it a lot less, and it's one more thing I don't have to worry about!
Next up, if you get regular waxes, read my fail-proof guide to preventing ingrown hairs.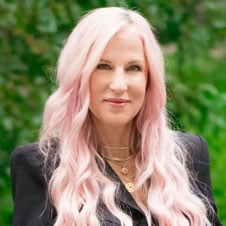 Celebrity Esthetician & Skincare Expert
As an esthetician trained in cosmetic chemistry, Renée Rouleau has spent 30 years researching skin, educating her audience, and building an award-winning line of products. Her hands-on experience as an esthetician and trusted skin care expert has created a real-world solution — products that are formulated for nine different types of skin so your face will get exactly what it needs to look and feel its best. Trusted by celebrities, editors, bloggers, and skincare obsessives around the globe, her vast real-world knowledge and constant research are why Marie Claire calls her "the most passionate skin practitioner we know."