Updated 12/17/18. During my travels, I will sometimes have the pleasure of meeting other amazing estheticians. Once such esthetician/massage therapist is Celena who I met in St. Croix. From a very young age, she had a clear vision of her career goal — to be an esthetician in exciting and exotic locations. I loved her passion so much, and I thought my esthetician readers would particularly enjoy her story and her career tips!
Meet Celena Votel
Celena grew up in Florida and started her career in esthetics at the age of 18. Now, at the age of 35, she has been an esthetician for 15 years, a massage therapist for 14 years and a nail technician for 5 years. In addition to pursuing her career in esthetics, Celena has a deep desire to travel the world. She discovered that by pairing her skincare knowledge with massage therapy, she would be able to seek employment at high-end resorts and cruise ship spas. She generally works two peak seasons (summer and winter or sometimes the entire year) and then off a season (6-8 months) to travel.
Over the course of her career, Celena has been employed at establishments all over the world: Alaska, Bermuda, Virgin Islands, Europe, Florida, Hawaii, Washington and more. Celena's personal goal is to visit all 7 continents by the age of 30 and to visit 100 countries by the age of 40. Currently, she has visited 7 continents and 80 countries! Working in a spa has given her the opportunity to get closer to these goals, as has the flexibility of a job in esthetics.
Celena's Top Tips for Traveling Estheticians
1. Do your research
Find out when the season starts at your destination and plan to be there a month beforehand for hiring. Don't come right at the start of the season, or the positions will already be filled. If you are fresh out of school, be persistent and consider getting a foot in the door with a front desk position.
Research necessary qualifications like licensures, visas, etc. Getting these necessary items can sometimes take weeks or months, so be prepared! Licensing from state to state can be expensive and time-consuming, but it's a worthwhile tradeoff for the big picture. I usually have a few licenses active at once and then let them lapse if I think I'm done with that state. Once you have held one license consistently for 5 years, reciprocity becomes a much easier process.
Look at the destination's website to learn about the spa. The size of the spa will give you an idea of the demand and whether or not you will be a good fit. Look at the treatments they offer: Do you do any of them? Do you do any treatments they don't have? What seems to be the overall feel of the spa? These are all things to consider when applying. Also, being able to mention details about the spa in an interview will impress potential employers.
Weigh the whole picture. Pay attention to the length of treatment times, amount of walk-in traffic, seasonality, booking order and atmosphere. These can all affect how much you make and how much you enjoy the experience in the end.
2. Get a second license
This will make you more employable. I highly recommend having a second license either as a massage therapist, nail technician, lash technician or makeup artist. If you are set on being solely an esthetician, focus on resorts that cater to weddings and consider finding a second part-time job to supplement your paycheck. Coolworks.com is a good website for seasonal jobs.
Consider the CIDESCO license. It's something I get asked about a lot. Because it doesn't really help with the red tape surrounding visa application, my advice is to work in the states then use the money you've saved up to travel.
3. Make sure you have availability and ask questions
Don't be afraid to call the spa and ask the manager questions. It's all about research so a good manager should be able to provide helpful insight.
Be aware that most of the time, your availability is more of an advantage than your experience!
Use social media outlets like Facebook to seek out current or past employees and send them a message about what it's like to work at the location you're considering.
Ask about seniority and which order therapists get booked in as this may affect you.
If the position is on-call, ask about the rules.
4. When moving, try not to sign a long lease at first
When you first relocate, try to find a short-term lease at a hotel so that you can work a few weeks and understand your budget. Then decide if you want to rent an apartment or stay in an extended stay hotel. Airbnb is also a great option. If you are not planning on driving to work, make sure you live close enough to walk or take public transportation.
5. Start at a seasonal resort
Making a big lifestyle move like becoming a traveling esthetician can be intimidating, so if you're still unsure I suggest starting at a seasonal resort. Seasonal resorts have a heavy season, like summer or winter, followed by a slow season. This allows you to leave for a period of time without quitting. They often offer employee housing and just take rent and utilities out of your paycheck, which makes it easier to budget. You'll also rarely need a car when working at one of these resorts. Another perk is that spas at seasonal resorts tend to be so busy that it cuts out the seniority that dictates booking order at most spas. Overall, working at a seasonal resort is a great way to save because the cost of living is low and you'll be too busy to spend your money.
Jobs for Traveling Estheticians
Cruise Ships
Cruise Ship Benefits: The number one benefit is travel! You also have the opportunity to work with people from all walks of life and don't have to spend your money on food or rent.
Cruise Ship Challenges: On cruise ships, there is high pressure from management to sell retail products, so if you're not good at sales, it can be stressful. A hundred-hour work week is also not uncommon! Finally, you cannot work on a cruise ship with an esthetician license alone. My advice is to get a second license in either nails or massage.
Resort Spas
Resort Spa Benefits: Working at a resort spa gives you the chance to really get to know an area. It feels like a working vacation! As I mentioned, resort spas usually have high and low seasons lasting about 8 months. This will give you just enough time to enjoy the area without getting bored.
Resort Spa Challenges: The destination might not always live up to your expectations. That being said, it can be both scary and exciting to move somewhere you don't know anyone, but it's still worth the risk! You can always move again.
Ranches
Ranch Benefits: You can save a lot of money because food and bills are included, and there aren't many places to spend money nearby.
Ranch Challenges: Most ranches are in isolated locations and the number of coworkers will be limited.
Retreat Centers
Retreat Center Benefits: You are usually able to attend classes at a discounted rate, and will have the opportunity to learn from like-minded people interested in a holistic approach to wellness.
Retreat Center Challenges: Retreat centers usually don't pay as well as resorts.
Day Spas
Day Spa Benefits: You will have the opportunity to build a roster of regular clientele and to establish yourself on a team.
Day Spa Challenges: Like cruise ships, day spas often expect you to be a salesperson and to sell a certain number of products. Day spas book in order of seniority, so you will start at the low end of the totem pole. There also tends to be more staff drama during the slow season.
Ski Resorts
Ski Resort Benefits: During the peak season, ski resorts usually offer employee housing and a winter pass.
Ski Resort Challenges: There is a small window of time when working at a ski resort is lucrative, and you don't get time off for the holidays.
Q&A With Celena
Q: What are your upcoming plans?
A: I'm moving to Scottsdale, Arizona this winter and then plan to walk the English coastline (630 miles!) all of summer 2019.
Q: How has your life changed since I interviewed you for this post back in 2012?
A: In 2014, I got married to a chef who is now traveling this lifestyle with me. We met at one of my jobs!
Q: Any other thoughts you'd like to share with my readers?
A: In general, my formula is simply to live below my means (I try and live off a budget of 15% of what I make and save the rest for travel). I absolutely love the flexibility and freedom of this life; I like that I can take as many months off as I want after working really hard for it; just last year, my husband and I traveled the South Pacific for 8 months! I think that the constant stimulus helps me hone my skills and keep them current and ever-changing.
Change is scary, but you don't want to look back and wish you had done things when you had the chance. You won't always have all the answers when you move and you will never have enough money to feel 100% comfortable doing it, but sometimes you just have to take a leap of faith and hope for the best! I have truly enjoyed everywhere I have worked, some more than others but each was an amazing experience. I have learned so many different techniques from therapists I have worked with over the years and they have been key in furthering my education. You only have now and tomorrow isn't a guarantee, so get out there and start living!
If anyone wants to reach out to Celena personally with questions, email her at celenavotel@gmail.com
Want to learn more about being an esthetician?
Read: The Pros and Cons of Being an Esthetician
Read: My Tips for Having a Successful Career as an Esthetician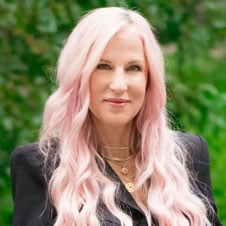 Celebrity Esthetician & Skincare Expert
As an esthetician trained in cosmetic chemistry, Renée Rouleau has spent 30 years researching skin, educating her audience, and building an award-winning line of products. Her hands-on experience as an esthetician and trusted skin care expert has created a real-world solution — products that are formulated for nine different types of skin so your face will get exactly what it needs to look and feel its best. Trusted by celebrities, editors, bloggers, and skincare obsessives around the globe, her vast real-world knowledge and constant research are why Marie Claire calls her "the most passionate skin practitioner we know."