Updated 03/17/23. Whether or not you're someone who enjoys winter, there's no denying that's it's a tough time for our skin. Even here in Austin, Texas, we're starting to move into colder temperatures. This means that moisture levels in the air are starting to drop and, on top of that, running the heat indoors means the air in your home will be dry as well. This can lead to dehydrated skin through a process called osmosis. What happens is that the surrounding air, which now contains less moisture than your skin, will actually start pulling water out of your skin to compensate.
To address this loss of hydration, you may need to switch up some of your usual products (on that note, check out the best winter skincare products). Here's everything I'm using this winter to keep my skin hydrated, glowy, and smooth. And by the way, this post is in no way sponsored! I'm not paid to promote any of these products. It's all stuff I really love to use!
My Favorite Winter Shower Products
I consider my showers a ritual and try to turn them into relaxing me-time whenever possible. One of my favorite ways to do this is with luxurious, minty scents that awaken my senses and make my shower feel like a spa. When the days start to get dark and cold, this is a huge pick-me-up!
I love to use a good body scrub a few times a week to polish away dry, dull skin on my arms and legs (this is definitely a bigger issue for me during the winter months). I like this one because the sea salt used to give a physical exfoliation really does a great job without having to use a lot of product. I certainly would never use something this aggressive on my face, but on the body, it really buffs away dryness while waking up the circulation. The added oils leave my skin feeling really moist, dewy and refreshed.
I love a long, luxurious shower that feels like a spa experience, and I use this mist to create just that at home. I mist this all over the shower before I hop in and as everything heats up, the aroma of the eucalyptus starts to circulate. It really wakes me up in the mornings and gives me a great boost of energy and happiness. It's the power of aromatherapy—something I'm a big believer in.
FYI, I also love giving this mist as a gift during the holidays. Anyone I've ever given it to absolutely loves it! I also leave on in my guest bath so any visitors can get a cool shower experience. 
I switch up my shower gels all the time because I like variety, but this one will definitely be my go-to this winter. I need my shower gels to be sulfate-free so they don't dry out my skin. I also like them to have a decent amount of lather and a great scent.  This one checks all the boxes. 
My Favorite Winter Face Products
Harsh winter weather can make it difficult to keep your skin looking and feeling its best. Like I said before, this means that you'll likely have to adapt your routine. Here are a few products I'm loving to keep my skin glowing, hydrated, and calm this season.
The best thing about being a skincare formulator is that I get to design products I personally enjoy using! The Mint Renewal Cleanser is definitely one of those products. I love using this product (and it even got this rave review from The Cut). I formulated it because I wanted a cleanser that would instantly wake up my skin. This is especially necessary when it's cold outside and my skin is looking a little dull. 
I'm really proud of this cleanser and its unique formulation that addresses multiple causes of dull skin: biodegradable jojoba beads exfoliate dry, dull skin, peppermint oil helps stimulate blood flow (the scent is also a great pick-me-up when days are short and dreary!), and panthenol binds moisture to the skin. The last thing you want in winter is to be left feeling tight or dry! 
Particularly on nights when it's really cold, it's beneficial to apply face oil over your moisturizer as the final step in your skincare routine. Because facial oils have larger molecules than your other skincare products, they act as an occlusive. This means they seal in your other products and help prevent moisture loss.
I love this oil because it's lightweight yet a heavy-hitter when it comes to skin benefits! Rosehip and cranberry seed oils offer antioxidant benefits while safflower seed and evening primrose oils provide essential lipids for moisture barrier support. Just make sure you know how to correctly apply facial oil.
Since the skin around the eyes is very thin and has few oil glands, it's extremely susceptible to dryness. In fact, this is often the first area to be affected by the dry winter air. The result is that fine lines around the eyes become much more visible, so it's really important to be diligent about using an eye cream during the winter months.
I formulated this one to not only provide excellent moisturizing benefits but also to provide peptides that help support the skin's firming structures. I'm often asked, "do eye creams really work?" I always answer yes! I'm a big believer. 
My Favorite Winter Body Products
At the risk of sounding like a broken record, winter body care comes down to one thing: hydration. I swear by these body products to stave off dry, itchy body skin.
I love this body lotion so much that I actually use it year-round! My requirements for a body lotion are that it contains really good moisturizing ingredients without being too rich and that I love the smell. This one definitely ticks all those boxes—it's lightweight but very hydrating thanks to ingredients like shea butter, jojoba oil, and glycerin, and the rose oil adds a heavenly scent!
While I use my Weleda lotion year-round, I like to kick it up a notch in the winter by applying this body oil on top of my body lotion. It's the same concept as using an oil on your face—when used as the last step, it creates a seal to prevent moisture evaporation. What I like about this particular body oil is that it doesn't leave the skin feeling greasy. I hate going to bed feeling like I'm greasing up my sheets. This oil sinks into my skin really well.
In the wintertime, this is my go-to hand cream. I use it every night before I go to bed as the last step in my beauty routine. It uses lanolin, milk, and vitamin E to hydrate the skin. Without fail, it leaves my hands feeling soft and hydrated when I wake up in the morning. I wash my hands fairly often (especially these days), so I need something pretty powerful. Otherwise, I develop little cracks on my fingertips. This cream prevents that from happening.
I like to keep my beauty game strong from head to toe, and that means never neglecting my feet! It's easy for feet to become dry in the winter, so I make an effort to wear socks around the house to retain moisture in the skin. At night, I slather my feet in Aquaphor and put on cotton socks while I sleep. This makes a huge difference and keeps my feet soft. I used to have really dry heels that would crack a lot during winter because I never moisturized my feet at all. Once I started practicing this habit, I saw HUGE improvements. 
Speaking of Aquaphor, you may have heard of slugging, a trend that involves slathering your face in Vaseline or other petrolatum-based products. Read my thoughts on this popular trend!
My Favorite Winter Beauty Products
Finally, here are some of my favorite ways to update my beauty routine during winter to accommodate my skin's needs.
I'm a fan of the no-makeup makeup look. I really like a lightweight foundation that enhances my skin but doesn't completely cover it up. As someone who has had oily skin most of my life (less so now, but some habits have stuck with me!), I never like to use a foundation that feels heavy or thick on my skin. At the end of the day, I never want to feel greasy. I switch to this foundation in winter because it has more moisturizing ingredients that I feel protect my skin from dehydration, yet the finish is still lightweight, sheer, and beautiful.
A lot of us struggle with dry lips come wintertime, and to combat this I love this lip balm. I personally love minty things (like the Mint Renewal Cleanser), so this flavor is naturally a win in my book. I want something that has staying power and will last, but I also want something with a nice texture that doesn't feel sticky. This lip balm has all these qualities! I use it year-round but find that I need to apply it more often in winter. Learn more about how to treat and prevent dry winter lips.
So there you have it! I hope you enjoyed reading this post and that it gave you some inspiration for updating your own winter beauty routine. Want to know more about the beauty products I swear by? Check out my head-to-toe beauty routine or read about what I owe for looking younger than my age.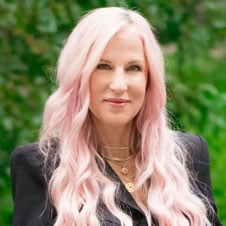 Celebrity Esthetician & Skincare Expert
As an esthetician trained in cosmetic chemistry, Renée Rouleau has spent 30 years researching skin, educating her audience, and building an award-winning line of products. Her hands-on experience as an esthetician and trusted skin care expert has created a real-world solution — products that are formulated for nine different types of skin so your face will get exactly what it needs to look and feel its best. Trusted by celebrities, editors, bloggers, and skincare obsessives around the globe, her vast real-world knowledge and constant research are why Marie Claire calls her "the most passionate skin practitioner we know."