August 17, 2019 was a huge day for me. Not only did I turn fifty (it's the halftime show of my life), but I'm also celebrating twenty-three years of my company, Renée Rouleau Skin Care. (Yes! Both my business and personal birthday are on the same day. Back in 1996 when I started my company, I was following direct orders from my astrologist…something about all the stars being aligned were going to ensure my business was a success—and it worked!)
Whenever I tell someone my age, there is often a look of disbelief. Many people think I'm in my mid-thirties, which is always a nice compliment to hear. This is because I don't feel my age, nor do I always act it, so it's nice to know that I don't quite look it either. When I reflect back, I can think of 12 main things that I believe have contributed to people thinking I look a bit younger than my age. Here goes.
1. Growing Up in the Midwest, I Didn't Get Much Sun as a Child
Hands down, exposure to daylight and direct sunlight is the number one cause of premature skin aging. Every UV ray that touches the skin adds up over time. I grew up mostly in the Midwest where summers were short and winters were long, so there wasn't a lot of opportunity for hanging out in the sun. Plus, my parents weren't really beach or boat people, so our vacations didn't revolve around fun in the sun. When it comes to actual hours spent in the sun, I have probably had significantly less than a lot of people. That said, I did do the baby oil thing in the late 70s (as everyone did) and spent some time under suntanning lamps and beds in the 80s. Oh, the painful sunburns on my fair skin! In fact, my chest still shows damage from a bad burn I had once.
2. During High School, I Was Body Conscious and Never Wanted to be Seen in a Bathing Suit
Less beach time equals less sun time. Once I hit tenth grade, I started becoming more self-conscious about my body. I had gained weight and didn't consider myself thin so when it came to doing things that required wearing a bathing suit, I wouldn't go. And if I did, I would hide under an oversized t-shirt, which guarded my skin against the sun. While I had no reason to be so self-conscious in hindsight, this worked in my favor for not having exposed my skin to harmful UV rays.
3. I Got Serious About My Skin Early On
Since becoming an esthetician at age nineteen, I have been very diligent about my skincare routine and have practiced good habits for so many years now. I truly believe this has been really key in how my skin has aged. People always look for a quick fix, magic cream or miracle laser treatment when it comes to their skin, but it's definitely a marathon and not a sprint. Good habits will pay off, and if you put time and energy into something you will be rewarded in the end!
Read: The Ten Skin Care Rules I Swear By

4. I Started Wearing Sunscreen Daily at Age Twenty-Eight
Nowadays, many teenagers now know to start wearing sunscreen in their moisturizer every day. But back when I was in my teens, there was no awareness of the benefits of sunscreen at all. In fact, having a suntan was a sign of good health. Eventually, I learned otherwise and developed a sunscreen that was compatible for my breakout-prone skin and started using Weightless Protection SPF 30 every single day. I will say, though, that I wasn't really aware of how important it was to apply sunscreen generously back then, so I'm sure my light application wasn't giving the full effects. I now load it on to both my face and my neck and I still use this same exact sunscreen 22 years later as my daily moisturizer. It's my absolute favorite.
Read: The RIGHT Way to Apply Sunscreen to the Face and Neck
5. I Was an Early Adopter to Exfoliating Acids
It was 1992 and I was twenty-two years old when I first got my hands on a glycolic acid cream. I fell in love with the skin-smoothing results immediately (although my skin got burned a few times since these formulas were new to the market, and learning to stabilize their pH correctly was still a bit challenging). Later on, lactic acid and salicylic acid would come onto the scene to give additional benefits above and beyond what glycolic could offer. Now, after several decades of using acids faithfully about three nights a week, I am fully convinced this has improved my skin's texture dramatically, kept pigmentation under control and made my pores appear smaller. These days I'm using Pore + Wrinkle Perfecting Serum since I'm a skin type #6, but my line has many different acid formulas. Take this Skin Type Quiz to see which one is best for you.
6. I Sleep Strategically on a Pillow to Prevent Wrinkles
As an esthetician who has been four inches away from faces for the past thirty years, I've learned to see things about people's lifestyles in their faces. One example is being able to see how people sleep—particularly side sleepers. You can often see a crease in their faces (usually after the age of forty) since it is thought that when you squish your face, it's like ironing wrinkles into your skin. I have made a real conscious effort to sleep in a certain position so as not to squish my face unnecessarily.
7. I Have Been a Regular User of Retinol Because I'm Convinced of Its Magical Powers
As you can read in this post, I personally knew one of the dermatologists who was instrumental in getting the prescription Vitamin A (called Retin-A) FDA-approved for the treatment of wrinkles. I'm happy that retinol is finally now getting the buzz it has long deserved because I was aware of its benefits long ago and started using it when I was 37. I wish I had started using it earlier actually, but back then, it was to be used once the signs of aging showed up. Nowadays, we know it's great for prevention and can actually slow down visible signs of aging before they appear. Either way, I'm now thirteen years in with my retinol use and I have seen an incredible improvement in the size of my pores and the texture of my skin. I'm a believer, and you should be, too. 

8. I Have One of the Three Genetic Traits Known to Make a Person Look Younger Longer
While I wish I had all three, I only have one—but I'll gladly take it! The trait I have is that I have good fat cells in my face, which gives my face a natural volume. I have yet to put fillers in my face and I have my dad's side of the family to thank for their genetics. Find out what the other two traits are.
9. I Get Botox Between My Eyebrows and Around My Eyes
There's no doubt that Botox works. There's a reason why it's more popular than ever. For me, I'm lucky that my forehead stays looking pretty smooth because, genetically, I don't have big muscles in my forehead. When I make expressions there, it doesn't show a lot of deep wrinkles. However, we're all fairly equal around the eyes and a lot of squinting and smiling leads to fine lines and wrinkles in the area. We know that eye creams play their part in keeping the eye area smooth, but at a certain point, Botox can be a great complement for giving an even smoother look. I get Botox done about every four months, and it makes a big difference.
Pro Tip: Acid exfoliators are a staple of any well-rounded skincare routine, but a lot of people overlook the eye area when it comes to exfoliating! This step is super important for building collagen and keeping fine lines at bay, plus it will help your eye cream penetrate better and work harder. I like to use Overnight Eye Serum, which is formulated for the sensitive skin around the eyes.
Read: Thinking About Getting Botox or Fillers? Read This First
10. I Wear Face Makeup Every Day
As I discuss in this post, I think of makeup as a form of skincare in that it provides additional protection from the sun and the environment. During the day, sunscreens wear off and degrade with the skin's natural oils. I believe having either a liquid foundation or a mineral powder on my face every day has significantly helped slow down signs of UV-related aging.
11. I Make Healthy Lifestyle Choices
What becomes more apparent with age is the lifestyle choices one has made. For me, I drink alcohol in moderation, I don't smoke cigarettes, I eat a fairly healthy diet that is high in antioxidants, I exercise to stay fit and to keep good circulation in my body and I focus on getting lots of beauty sleep. I'm not perfect by any means and definitely indulge here and there for the sake of fun. But for the most part, I would say I live a healthy, happy life. In addition, I try not to sweat the small stuff and keep a positive, happy outlook on life.
12. I Have Pastel Pink Hair and Never Get Stuck in a Rut With My Makeup and Clothing Choices
I embrace my individual style and have found a look that works for me. I feel it's fun and fresh, and I'm always changing things up and keeping an open mind to avoid getting stuck in a rut. Variety is the spice of my life. It always has been and will always be.
All in all, I wholeheartedly love my age and fully embrace fifty now that it's here. (See how I spent my 50th birthday weekend!) Growing older is truly a privilege! As many of you may know, my husband's life was cut short last year when he passed away from a very short battle with cancer. While I am moving forward as he wanted me to, it sure brought me a perspective that has forever changed my view on life. There is so much to celebrate, and you can keep up with me on my personal Instagram. But for skincare stuff, be sure to follow our company Instagram.
I have so much to be grateful for—including you, my blog reader and embracer of all things Renée Rouleau Skin Care! Thank you for the trust you have in me to guide you to understanding your unique skin type and how to best care for it. I am here to serve in any way I can.
If you want to learn more about my skincare philosophy, watch this interview with Caroline Hirons.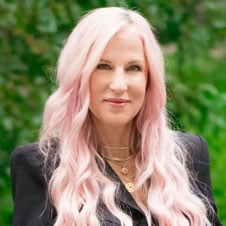 Celebrity Esthetician & Skincare Expert
As an esthetician trained in cosmetic chemistry, Renée Rouleau has spent 30 years researching skin, educating her audience, and building an award-winning line of products. Her hands-on experience as an esthetician and trusted skin care expert has created a real-world solution — products that are formulated for nine different types of skin so your face will get exactly what it needs to look and feel its best. Trusted by celebrities, editors, bloggers, and skincare obsessives around the globe, her vast real-world knowledge and constant research are why Marie Claire calls her "the most passionate skin practitioner we know."