Updated 10/16/17. This may come as a surprise, but did you know the second cause of wrinkles is sleeping? After sunlight/UV exposure, squishing your face into a pillow for approximately 2,500 hours per year is like ironing wrinkles into the skin. In fact, by the time someone is in their mid-40s, I can usually look at their face, neck, and chest and determine if they are a side or back sleeper! Trust me, it shows. If you're someone who wants a free way to prevent premature wrinkles on your face (me!), you might want to consider giving serious thought to how you lie on your pillow at night. Sleeping on your back has certain benefits, as does sleeping on your side. I will go into each of these positions and how they affect your skin.
As demonstrated in the photo above, this is how I sleep. I'm a side sleeper for the most part. Technically, this position isn't the greatest (but no position really is), because you're squishing your face and exacerbating the nasolabial fold wrinkles that come with age. These are the deep creases also known as the "parentheses" lines that run from the nostril to the corner of the mouth. Every time you smile or laugh, they're enhanced. To counteract this, I purposely sleep with an extra firm pillow and strategically position my head so the lower half of my face is literally off the pillow. Therefore, doesn't flatten out like a pancake.
The second benefit of being a side sleeper is that my neck isn't positioned like I'm looking down (as it would be if I slept on my back). This helps prevent deep horizontal wrinkles that result from folded skin on the neck. It also helps prevent sagging from being in a double chin position. (This is now called "tech neck," since we look down at our phones all the time.) Read all of my favorite tips for caring for the skin on your neck and chest.
One downside of sleeping on my side is that I'm prone to "sleep cleavage." These are the lines you get on your chest from the skin folding together. I know that I can wear a sports bra and put a sock between my breasts to prevent this. You can also now buy products that are specifically designed to prevent this. Both of these options, though, require lots of effort that I'm just not willing to put forth.
Now, of course, I may toss and turn throughout the night. Who knows what happens to the position of my face on the pillow once I'm truly asleep. However, when I turn out the lights, I know that as a side sleeper I'm geared up for the best possible sleep position. And I will say, that for someone in her late 40s, my nasolabial fold wrinkles aren't very deep at all. I'd like to think that paying attention to my sleeping habits—with my face somewhat off the pillow—has played a part. I do have another favorite tip for creating a fuller face with more volume. It's one that I enjoy practicing regularly. Click here and press play to watch 🙂
As for being a back sleeper, just like sleeping on your side, it has its pros and cons. These are the opposite of the ones mentioned previously.  If you sleep on your back, your face and chest won't be as squished. However, you will compromise your neck area with the downward looking position.
As for using a silk pillow case to sleep on, the theory is that your skin is less likely to fold and crease when you sleep on a slippery fabric. I can totally buy into this and I probably should look into getting one, but it just hasn't made it on my to-do list.
As an esthetician with 25+ years of hands-on experience working with clients, I know that preventing wrinkles with good lifestyle habits is far easier and less expensive than trying to erase them with dermal fillers or cosmetic surgery. This is why you should also wear a well-formulated sunscreen 365 days a year. Hands down, daily use of sunscreen is the #1 most effective way to slow down the skin aging process. A generous application of sun protection (ideally a minimum of SPF 30) will dramatically reduce the formation of lines, wrinkles and brown spots. It also, of course, prevents skin cancer.
Finally, my popular skincare blog is loaded with my expert advice to help you achieve smooth and healthy-looking skin. I hope this post gives you some good things to think about next time your head hits the pillow. Sweet dreams, my beauties!
Which skin care products are best for you? See our nine skin types or take the Skin Type Quiz and get products recommended.
Need expert advice from a licensed esthetician? Schedule a virtual consultation to get customized advice in person, over the phone or online via Skype or Facetime.
For more expert advice check out the blog. Also, sign up for our skin tip e-newsletter, follow Renée Rouleau on Twitter and Instagram and join the discussion on our Facebook page. You'll be your own skin care expert in no time. Get the #ReneeRouleauGlow!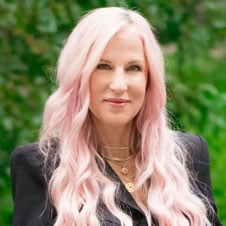 Celebrity Esthetician & Skincare Expert
As an esthetician trained in cosmetic chemistry, Renée Rouleau has spent 30 years researching skin, educating her audience, and building an award-winning line of products. Her hands-on experience as an esthetician and trusted skin care expert has created a real-world solution — products that are formulated for nine different types of skin so your face will get exactly what it needs to look and feel its best. Trusted by celebrities, editors, bloggers, and skincare obsessives around the globe, her vast real-world knowledge and constant research are why Marie Claire calls her "the most passionate skin practitioner we know."