Updated 1/27/21 If at any point this winter you've used the words "dry," "chapped," or "sore" to describe your lips, I feel your pain. I'm somebody who always has to have something on my lips, otherwise, they feel dry. This is despite living in Austin, TX where the temperatures rarely dip below forty-five degrees this time of year! I've also lived in Boston and the Midwest, so I understand all too well how hard it is to keep your lips hydrated in winter when freezing temperatures hit.
In this post, I'll share my best tips for preventing dry lips in winter. Keep reading for plumper pout!
Why Do My Lips Get so Chapped in Winter?
Before I get into remedies for dry lips, let's talk about why our lips tend to get so chapped come wintertime. Cold air doesn't retain humidity very well, so it pulls moisture from its surroundings. Your lips (along with the rest of your skin) lose moisture to the surrounding air more quickly than your body can replenish it.
Add into the mix the fact that our lips have a much thinner barrier than the rest of our skin and don't contain oil glands, and you've got the perfect recipe for cracked, sore lips. Ouch.
How to Prevent Dry Winter Lips
The best defense is a good offense. Set yourself up for success by avoiding bad habits that might cause dry lips in winter.
1. Stop Licking Your Lips
This one is easier said than done, but there are a few really compelling reasons to stop licking your dry lips. Remember how cold air steals moisture from its surroundings? Licking your lips basically makes them a magnet for this, so the more you do it, the more dried out they become. Saliva is also technically an irritant thanks to the digestive enzymes it contains. These can break down your skin's barrier and cause cracking if saliva gets trapped in the corners of the lips, so you're really not doing yourself any favors!
2. Buffer Your Lips Before Applying Active Ingredients
For the best results, it's important to keep using your actives throughout winter. Whether that be exfoliating acids, retinol, or a retinoid, these ingredients can really help keep your skin looking its best when conditions outside are less than ideal. That said, these ingredients can also make any dryness you're experiencing around the sensitive lip area even worse. The solution? Try buffering. Apply a thick lip balm before you apply your active ingredients. You can also apply a thin layer of moisturizer around your mouth to dilute the effects of active ingredients on this thin-skinned area.
3. DON'T Chemically Exfoliate Your Lips
Speaking of active ingredients, please don't try using exfoliating acids on your lips. It's true that when your skin is feeling dry, using acids (responsibly) is a great way to remove dead skin cell build-up. This can actually make it easier for your skin to take in and retain hydration. But your lips are delicate; as I mentioned, they don't have much of a barrier and are already much thinner than the rest of the skin on your face. For this reason, I don't ever recommend using exfoliating acids on your lips.
Read: The Beginner's Guide to Exfoliation
4. Check Your Lip Products for Irritants
This goes for cosmetic lip products as well as lip balms. Are you using lipstick that leaves your lips feeling dry? Are you using lip plumping products or products that give a tingling sensation? This sensation is actually a sign of irritation, and it's definitely something you should try to avoid. Some potential irritants to look out for are menthol, camphor, peppermint, fragrance/parfum, and essential oils.
5. Stop Using Lip Balms With Only Humectants
You've probably heard that ingredients like hyaluronic acid and glycerin are great at hydrating the skin. This is true, but with a caveat—if you apply them in a dry environment without using a moisturizer to seal them in, you'll end up drying your skin and lips out even more. Humectants are ingredients that attract water, but if there's no water in the air for them to attract, they'll start to pull it out of the deeper layers of your skin. The best solution is to use a lip balm that also includes occlusives (more on this soon).
6. Don't Pull Off Dry Skin
When you see flaky skin on your lips, it can be tempting to pull it off. But, as you may have experienced before, this can make the lips bleed because you're removing skin that is still attached to live skin cells. Ouch!
Remedies for Chapped Lips
If you're already struggling with chapped lips this winter and are looking to reverse some of the damage, here are some remedies for smoother lips.
7. Look for Lip Balm With Occlusive Ingredients
I've already talked a bit about humectants and why they shouldn't be the only type of hydrator in your lip balm. If they are included, that's fine, but the key is to look for a lip product that uses occlusive ingredients. Occlusives are anything that creates a physical seal or barrier over the skin. This keeps moisture locked in where you want it and really protects your lips from the elements. Examples of ingredients to look for are shea butter, beeswax, petrolatum, mineral oil, dimethicone, and lanolin.
8. Try a Gentle Sugar Scrub or Soft Washcloth
If you're dealing with flaking and want smooth lips this winter, try using a soft washcloth or gentle sugar scrub with barrier-repairing oils. These are safe ways to slough off the buildup of dead skin so your chapstick can be more effective. If you go the scrub route, sugar is also a natural humectant meaning it can help attract and retain moisture. Just be sure to follow with a nice occlusive lip balm when you're done to seal that moisture in.
Many store-bought scrubs include essential oils, synthetic fragrance, or other potential irritants, so why not make your own? Try mixing white or brown sugar with jojoba or sweet almond oil. Both are readily available, and neither has a strong scent. For even more hydration, you can try adding in a little honey. You can also find a full list of barrier-repairing oils in this post.
9. Protect Your Lips With SPF
Your lips contain fewer melanocytes (melanin-producing cells) than the rest of your skin, which makes them more susceptible to UV damage. A lot of people overlook using SPF on their lips, but it's an important step because it protects them against skin cancer and prevents the breakdown of collagen (which is what keeps our lips looking nice and plump). I suggest looking for a lip balm with a minimum of SPF 20 and reapplying often throughout the day.
Using SPF on your lips is especially important if you're into winter sports, like skiing. In these cases, I suggest using clothing as your first line of defense to protect yourself against the elements.
10. Try Sleeping With a Humidifier
Keeping a humidifier in your bedroom can help address one of the root causes of chapped lips in winter—dry air. By doing this, you won't have to start at square one each morning, making up for lost hydration. This tip is especially helpful if you sleep in a house with central heating since this really zaps moisture from the air.
Read: Six Benefits of Using a Humidifier in Winter
What Are the Best Lip Products for Winter?
It's hard to definitively choose the best lip balms for winter, but hopefully, it will be easier now that you know what to look for! In the meantime, here are a few product recommendations from myself and my team:
Renée
"My go-to chapstick is BITE Beauty Agave Lip Balm. What I require from a lip treatment is that it lasts several hours and never feels sticky or waxy. I like it to feel creamy and luxurious, and this ticks all those boxes. I've heard that BITE is planning on reformulating this product, so I'm curious to see what changes they make. At night, sometimes I use the Laneige Lip Sleeping Mask."
Polina (in-house esthetician)
"I use the Coola Mineral Lip Balm SPF 30 every day. I like it because it doesn't dry out my lips. At night, I use the ORMEDIC Lip Enhancement Complex. It includes some great reparative and anti-aging ingredients. One to three times a week, I also use the iS Clinical Lip Polish for a light exfoliation.
Jasmine (graphic designer)
"I really like La Roche-Posay Nutritic Lip Balm. It's super nourishing and great for sensitive skin."
Ella (content coordinator)
"For daytime, my favorite is the Supergoop Fusion SPF 30 Lip Balm. It's hydrating even though it has sun protection and gives a nice amount of tint and shine (without being sticky). At night, I use Nivea Moisture Lip Care. Simple and effective."
Hansi (social media coordinator)
"I use Fresh Sugar Lip Treatment in Rose. I love the tint, I feel like it makes me look more alive in the mornings. It also never dries out my lips!"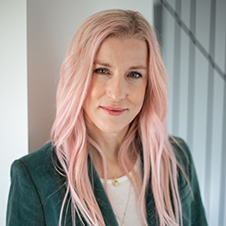 Celebrity Esthetician & Skincare Expert
As an esthetician trained in cosmetic chemistry, Renée Rouleau has spent 30 years researching skin, educating her audience, and building an award-winning line of products. Trusted by celebrities, editors, bloggers, and skincare obsessives around the globe, her vast real-world knowledge and constant research are why Marie Claire calls her "the most passionate skin practitioner we know."