Updated 08/14/23. Is exercise a part of your daily routine? Are you wondering how to care for your skin before and after a workout? Maybe you want to minimize breakouts, reduce redness, or simply make sure that your skin is healthy and hydrated. In this post, I'll share my best pre and post-workout skincare tips for keeping skin calm, clear, and protected, no matter how often you exercise, or which type of workout you choose.
Pre-Workout Skincare Tips
Remove Heavy Makeup
It's more important to wash your face after working out than it is to wash your face before working out because sweat, bacteria, and oil will have accumulated on your skin over the course of your workout. However, if you're someone who wears heavy makeup or a full-coverage foundation, I recommend washing your face before your workout as well. Use a gentle, non-drying cleanser that will thoroughly remove makeup, like Better than Balm. Then, follow up with an alcohol-free toner and a lightweight moisturizer.
As a general rule of thumb, I say eye makeup and lipstick are fine to wear while working out. The same goes for light face makeup. If you're wearing a light foundation, tinted moisturizer, or mineral powder, you may be just fine leaving your skin as is and only cleansing it once you're done exercising.
Apply a Light Moisturizer
If your skin gets really red while working out, you might want to take a look at the moisturizer you're applying beforehand. Heavy moisturizers often contain occlusive ingredients. Occlusives are things like oil, butter, and silicone that seal in moisture. They can also seal in heat, leading to more post-workout redness. The easiest way to remedy this is to switch out your heavy moisturizer for something lightweight and oil-free, like Skin Recovery Lotion.
Apply Sunscreen
Whether it's running, hiking, or biking, many people exercise outdoors. Even if you don't exercise outdoors, it's likely that you'll be exposed to daylight during your workout. In that case, it's important to apply sunscreen before you get going. I use Weightless Protection SPF 30. For additional sun protection, I'll dust an SPF mineral powder over my skin right after (not only will this protect your skin from damaging UV rays, but it will also offer a tiny bit of coverage to even out your complexion).
If I'm doing an intense form of exercise, I'll apply a water-resistant sunscreen. That way, I know my sunscreen will hold up to sweat and humidity. On that note, check out the sunscreen layering technique I use to prevent water-resistant sunscreen from clogging my pores.
Mid-Workout Skincare Tips
Keep Your Hands Off Your Face
This is a simple tip, but an important one nonetheless. Avoid touching your face during workouts, especially when using cardio or weightlifting machines. These machines breed bacteria. If you touch them and then touch your skin, you could be transferring bacteria and unknowingly causing breakouts. Try your best to be aware of this while working out. Once your workout is finished, make sure you wash your hands.
Post-Workout Skincare Tips
Wash Your Face
Once you're finished with your workout, wash your face with a gentle gel cleanser to thoroughly remove oil, sweat, and bacteria. I absolutely love using the Mint Renewal Cleanser for this purpose. It includes peppermint oil, which feels so refreshing on my skin and helps cool me down quickly (summers in Austin, Texas can be rough!).
Any time you wash your face, avoid using a cleanser that contains these four ingredients. These pull water out of the skin's cells, leaving it dehydrated. As I always say, skin cells are like fish in that they need water to survive. The last thing you want to do is strip water out of them.
Cool Your Skin
If you have time, I recommend applying a thin layer of a gel-based mask, like Bio Calm Repair Masque. This will cool down heat-activated skin and infuse water deep inside of it. Store it in the fridge, and it will calm and cool down your skin even faster (trust me, this will feel so good on your post-workout skin!).
If you're prone to clogged pores and breakouts, then try the Rapid Response Detox Masque. It's a cooling gel mask that's formulated specifically for blemish-prone skin. It can even address surface redness, which is especially helpful for post-workout skin.
Soothe Your Skin
Speaking of redness, it's not uncommon for people to see a lot of it in their skin after working out. If this sounds like you, I recommend looking for serums and moisturizers that contain soothing ingredients like white tea, sea whip, azulene, chamomile, and bisabolol (found in the Renée Rouleau Redness Care Firming Serum). These ingredients will help calm the skin, thus addressing unwanted redness.
Moisturize and Protect Your Skin
After your skin is clean and calm, make sure you give it moisture and protection from harmful UV rays. As always, choose a moisturizer that's formulated for your specific skin type (if you're not sure what your skin type is, take the skin type quiz). If it's still daytime, and your skin will be exposed to sunlight, choose a moisturizer with sunscreen or dust on an SPF mineral powder.
Pre and Post-Workout Skincare FAQs
Does Sweat Cause Breakouts?
While sweat doesn't technically cause breakouts, it can create an occlusion of the pores. Translation? It can create blockages which can then lead to breakouts. These sweat-related breakouts are often found in areas where fabric is pressed against the skin for long periods of time. Think hats, sports bras, and other tight-fitting articles of clothing. In fact, these types of clothing can actually cause a "backup" of sweat and oil in the pores.
Try to avoid wearing tight-fitting, non-breathable fabrics for long periods of time. Also try to cleanse your skin as soon as possible after your workout. I recommend using a non-drying, sulfate-free cleanser like the AHA/BHA Blemish Control Cleanser to tackle breakouts. I formulated it with salicylic and lactic acids to exfoliate the skin and keep pores clear.
Should I Wear a Hat, Headband, or Bandana to Stop Sweat from Dripping Down My Face?
For breakout-prone skin types, hats, headbands, and bandanas are not recommended. That's because they can cause the aforementioned "backup" of sweat and oil in the pores. If you like wearing a hat, headband, or bandana, I suggest keeping it further back in your hairline—not directly across your forehead.
Should I Use a Face Mist When I Work Out?
No, I never recommend using a face mist while working out. If you spritz your skin with a water-based mist and you don't apply moisturizer over the top of it, the hydrating ingredients won't be sealed in. The moisture will evaporate out of your skin, leaving it feeling tight and dehydrated. This is the same thing that happens if you use a face mist on an airplane.
If I Wash My Face Before Working Out, Should I Skip Moisturizer?
I never suggest leaving the skin bare after cleansing, because this leads to dehydration. Apply a lightweight moisturizer to help your skin retain water. If you're exercising outside, use a light moisturizer with sunscreen.
Should I Drink a lot of Water While Working Out to Hydrate My Skin?
Since you lose so much water from sweating, it's crucial that you replace it by drinking plenty of fluids before, during, and after a workout. With that being said, research concludes that drinking water is actually the least effective way to hydrate the skin. Skin hydration has much more to do with what you are applying topically than what you're ingesting internally. (Read more about what will and won't hydrate your skin.)
There you have it. I hope these pre and post-workout skincare tips help you keep your skin clear and healthy-looking!
Next, check out my complete health and fitness routine!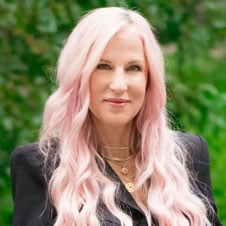 Celebrity Esthetician & Skincare Expert
As an esthetician trained in cosmetic chemistry, Renée Rouleau has spent 30 years researching skin, educating her audience, and building an award-winning line of products. Her hands-on experience as an esthetician and trusted skin care expert has created a real-world solution — products that are formulated for nine different types of skin so your face will get exactly what it needs to look and feel its best. Trusted by celebrities, editors, bloggers, and skincare obsessives around the globe, her vast real-world knowledge and constant research are why Marie Claire calls her "the most passionate skin practitioner we know."