Updated 10/10/22. Since my skincare beliefs are based on 9 Signature Skin Types, I don't believe in a "one size fits all" approach to formulating products. With that being said, sometimes, a product that was formulated for one skin type can end up benefitting a lot of others, too.
That's what happened when I formulated the Rapid Response Detox Masque. Even though it was originally intended to fight hormonal breakouts, it addresses all kinds of other skin issues, too. Because of this, it quickly became one of our best-selling products. Keep reading to learn all of the ways this mask can improve your skin!
The Benefits of the Rapid Response Detox Masque
1. It Can Help Clear Breakouts
Breakouts have a mind of their own and show up wherever and whenever they want. Skin is skin, so this mask can be used wherever your breakouts appear—no matter their type. It can work wonders on hormonal breakouts, cystic acne, period breakouts, and even body breakouts.
It's all thanks to the ingredients. I formulated this mask with tea tree oil, salicylic acid, allantoin, and sodium hyaluronate. Together, these ingredients help clear blocked pores, limit breakout-causing bacteria, and soothe and hydrate the skin. The last part is key. Unlike other traditional acne products, this mask won't dry out your skin or cause excess irritation. Instead, it creates a soothing environment for the skin, while simultaneously lessening breakout activity!
Simply apply a thin layer over your face once a week or every night after cleansing.
2. It Can Prevent Clogged Pores
If you get little bumps that don't look like regular blemishes and don't go away, they could be closed comedones (AKA clogged pores). While the only surefire way to clear pores is through manual extraction, using the right skincare products can prevent them from happening in the first place.
If clogged pores are a concern for you, I suggest incorporating exfoliating acids and the Rapid Response Detox Masque into your routine. The combination of the two will dissolve the bonds that hold expired cells to the surface of the skin (so they don't fall into your pores and block them). It'll also support the moisture barrier, soothe the skin, and reduce blemish-causing bacteria.
You can apply it as needed to prevent clogged pores—either once a week or as often as every day after cleansing.
3. It Can Help Minimize Redness
There are two kinds of redness this mask can address. The first is redness from blemishes. The second is redness from flushing and/or skin conditions like rosacea.
Let's talk about redness from blemishes first. Since this mask is all about soothing and comforting the skin, it can help calm post-breakout inflammation and the redness associated with it. You can use it as a spot treatment. Once a blemish has minimized or gone away, apply a thin layer to the area before you go to sleep. I also recommend using the Post-Breakout Fading Gel a few nights a week for even faster results.
The other kind of redness is caused by over-circulation of the blood, resulting in visible dilated capillaries close to the surface of the skin. These skin types (like Skin Types 5 & 9) are often sensitive and must be treated gently. Since this mask contains soothing and hydrating ingredients, it can safely be used to treat this as well. In fact, we've heard wonderful things from customers who have rosacea. They've said Rapid Response Detox Masque helped reduce redness and calm and comfort their skin.
To help minimize redness, apply the mask once a week or anytime your skin is looking particularly flushed. You can even put the mask in the fridge before you apply it for an extra cooling experience.
4. It Can Calm Irritation
Rosacea is considered a sensitive skin condition, so if people with rosacea can use this mask, so can other sensitive skin types. In fact, I recommend it! If you've used harsh products, over-exfoliated, or are experiencing the initial negative side effects from retinol, this mask can help calm irritation, or, as I say, put the fire out!
Simply apply a thin layer to your skin whenever you're in need of some serious soothing. Again, storing it in the fridge will bring you even more cooling comfort.
5. It Can Reverse Dehydration
Have you ever used traditional acne products that stripped your skin and left it feeling tight and dry? Or, maybe your skin is feeling more dehydrated than usual thanks to the change of seasons. Either way, the Rapid Response Detox Masque is a great solution. Since it contains sodium hyaluronate—the salt form of hyaluronic acid—it can restore water levels in the skin. In fact, you can use it as often as every night to balance the skin and increase hydration.
Other Uses for the Rapid Response Detox Masque
There are a couple of specific situations in which I love using the Rapid Response Detox Masque! These include airplane travel and post-wax skincare. Let's talk about airplane travel first.
Post-Flight
Airplanes certainly don't do your skin any favors. While a lot of people do in-flight masks to keep their skin moist and hydrated, this simply isn't the best method. That's because, when you're in a plane, the dry air pulls moisture out of the skin (this is called transepidermal water loss or TEWL). If you're adding water-based hydration to your skin and not sealing it in with an occlusive (like a moisturizer or oil), you're pretty much fighting a losing battle. The dry air will just pull it back out again.
That's why I recommend waiting until after you get to your destination to rehydrate your skin. After a flight, exfoliate to dissolve dry surface cells. Then, follow up with a hydrating mask. Together, they will return your skin back to a healthy state. I recommend using the Rapid/Peel Duo, which includes both the Triple Berry Smoothing Peel and the Rapid Response Detox Masque.
Post-Wax
This mask is also perfect for soothing post-wax skin—especially if you get tiny bumps, almost like a rash. This is a common inflammation response. Simply apply the mask on clean skin for a few days after waxing. It will help calm and soothe the inflammation. (On that note, read my guide to preventing ingrown hairs after waxing!)
Frequently Asked Questions
How Often Can It Be Used?
Experiment to see how often it works best for you, but it can be used as needed. It's important to know it only needs to stay on the skin for five minutes to effectively fight blemish-causing bacteria. However, you can use it longer to get more hydrating effects.
Is It Possible to Over-Use It?
You can use it as often as you'd like. However, always listen to your skin. The point is to improve your skin and make it feel better!
Will It Make My Skin Purge?
No, it shouldn't. However, for some people, salicylic acid may cause an initial purging effect. If that's the case, keep using it until the skin begins to get clear. Learn more about skin purging.
Does It Help Improve Blackheads?
Yes, it can. Since it uses salicylic acid, it can be beneficial. However, you'll get the best results from this mask when you use it after a deep pore cleansing facial. Learn how to extract blackheads.
I Have Dry Skin. Can I Use It?
Yes, because dry skin can benefit from water-based hydration. Learn the difference between dry and dehydrated skin.
Can I Leave It on Overnight as a Sleeping Mask?
Yes. Many of our customers use it this way. If it makes your skin feel when you wake up in the morning, then go for it.
Next, this best-selling chemical peel is back, and it will brighten and smooth your skin!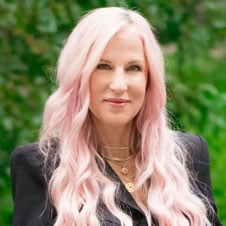 Celebrity Esthetician & Skincare Expert
As an esthetician trained in cosmetic chemistry, Renée Rouleau has spent 30 years researching skin, educating her audience, and building an award-winning line of products. Her hands-on experience as an esthetician and trusted skin care expert has created a real-world solution — products that are formulated for nine different types of skin so your face will get exactly what it needs to look and feel its best. Trusted by celebrities, editors, bloggers, and skincare obsessives around the globe, her vast real-world knowledge and constant research are why Marie Claire calls her "the most passionate skin practitioner we know."