Working in the beauty industry, I've always understood that beauty is more than skin deep. When you feel your best, you look your best. In this post, I thought I'd share some of the things I do to stay healthy, happy, and in shape. Now more than ever, I think it's important for us to focus on taking good care of both our physical and mental health.
How I Stay Healthy, Happy, and in Shape
From workouts and diet to lifestyle, here are some of the things I do on a regular basis to stay looking and feeling my best.
My workouts are…
Varied, just like my skincare routine. I've always alternated different serums at night so my skin can get multiple benefits. I apply the same philosophy to my workouts by changing it up daily. Some of my go-to's are sprint interval runs outside (up and down for 20 mins on a hill near my house), weightlifting, spin classes, bicycle riding, swimming, battle rope classes, and hiking. I'll always work out outdoors when given the opportunity (doused in sunscreen, of course!).
My no-excuse workout when I travel…
Is to walk down the hallway of my hotel room to the stairwell and run up and down the stairs for twenty minutes. Hotel gyms can be too much of a hassle as I find myself sometimes at a loss for what to do when I walk in there. The stairwell is simple but still a killer workout for legs and lungs. I'll also bring bands with me to do strength-training exercises in my room and usually make sure to get in some push-ups as well.
My favorite place to hike in Austin…
Is River Place Nature Trail. It's ninety minutes up and down with 1,800 feet of elevation, so it's a great cardio workout in the woods. When I was training to hike the Grand Canyon a few years back, this trail did the trick.
I've really been missing hiking since COVID started. I think it's what I'm most looking forward to post-quarantine!
My workouts during COVID…
Have really been a boost for mental health. Prior to all this, I was often on a plane one to two times a week.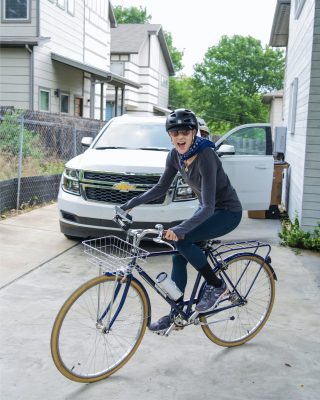 This meant my workout routine would sometimes fall by the wayside. The bright side of quarantine has been that I've been able to get in a lot of exercise and up my workout game. I actually feel like I'm in the best shape I've been in in a long time, and it's a huge stress reliever to boot. 
Right now, I'll often work out twice a day. I like to start with a twenty-mile bike ride in the early morning when it's not too hot yet—there's a quiet bike path near my house that's perfect for this. In the afternoon, I do an at-home workout that includes squats, push-ups, and bands for a full-body workout. This helps build muscle strength after all that cardio.
My favorite way to relax…
Is to go for a swim in Barton Springs in Austin or paddleboard on Lady Bird Lake downtown. Water is therapy for me. I'm sure I was a mermaid in my previous life! 
I never drink…
Coffee. I've had three sips in my life, and it just doesn't taste good to me. Way too bitter for my tastebuds. 
My nighttime wind-down routine…
Involves performing my skincare routine and getting in at least a five-minute stretch. Then, I lay on my bed and hang my head upside down for two minutes. It's my little skin secret to bring a boost of circulation and oxygen from within to the face to keep it looking healthy and bright.
For flexibility and mobility, I…
Stretch every day. I have the ROMWOD app, which has amazing daily stretching exercises that I try to do at least two mornings a week. I feel so good when I do it. Mobility is everything, and it's important to take care of my body between workouts.
Since I've been on so many Zoom calls lately, I like to put my laptop on my bed and stretch for the entire length of the call (when there isn't any video, of course!). Either that or I'll stretch while I watch an episode of a Netflix show. Right now I'm watching Ozark. I love being able to multitask, and stretching keeps me from getting tight or sore between workouts.
When I'm feeling bloated, I will…
Do a forty-minute infrared sauna sweat session. My grandparents were Finnish and they built my family a traditional sauna, so my childhood was spent bathing in there at our summer cabin. What can I say, a good sweat is definitely in my DNA. 
Getting motivated to workout is…
Actually quite easy for me! I love the natural high I get from exercise with all of those happy hormones running through my veins. Laziness can set in when I'm traveling or when it's raining outside, but I'm generally really consistent and always ready to go. I don't do caffeine, so exercise is my energizer.
For a booty pump, I will…
Get my muscles stimulated. I go to a place called Neufit in Austin. They put these pads on my glutes and use a type of electrical stimulation to activate the muscles. This works them harder than I am able to work them myself. I'll be really sore for a few days after I do this. No pain, no gain, baby! 
I treat myself to…
Regular massages. When I'm in Austin, I get a weekly ninety-minute massage with my massage therapist Kalli Wild and when I'm in L.A., I'll go to Wadee Spa for a traditional Thai massage. They call Thai massage "the lazy way to do yoga" because they stretch you into all sorts of positions as well as walk on your back. It hurts so good. 
Since I haven't been able to get massages lately, I've been using a foam roller or a Theragun. It's a great way to loosen up tight muscles on your own.
Music that pumps me up is…
Anything by J Hus, Drake, Burna Boy, or Post Malone. You can find my workout playlist here! 
My favorite quarantine activity…
Has been sitting out on my patio. I had it re-done with all new furniture right before the pandemic started, so spending time out there has been a nice way to get fresh air. I like to take my laptop outside with me to work. I find it so incredibly relaxing.
My diet is…
Generally low carb with lots of protein. There is no shortage of opportunities for eating BBQ in Austin, but I usually go for the smoked turkey instead of the brisket. I eat a lot of veggies and salads, but I also love tacos. I'll usually get it without the tortilla. If I've gone off the rails with my eating, I don't sweat it. I just scale back the next day to reset. Life is all about balance, and I think it's important to enjoy yourself.
My favorite snacks on-the-go are…
Nick's Sticks (turkey sticks), Good Fats peanut butter bars, and nuts. These are always in my backpack when I travel so I can avoid making unhealthy choices when I'm at the airport. But I don't always shy away from grabbing a pack of Haribo gummy bears and Reese's Pieces!
My go-to when I have a sweet tooth is…
Smart Sweets! I also love Oatly strawberry ice cream and a gala apple with a packet of Justin's peanut butter. These are the fairly healthier options for indulging but still hit the spot. 
When I really want to indulge…
You can find me enjoying a large hot fudge sundae with oreo ice cream. Yumm. I have a fire pit on my patio and will often make fires and also love a good smore. But here's the secret. Instead of putting on a chocolate bar, I'll put on a Reese's peanut butter cup. Try it. You'll never go back to a piece of chocolate. 
A supplement I've been taking…
Is vitamin C with bioflavonoids. I've been trying to take extra good care of my health lately to maintain a strong immune system, so I've upped my game with this and am taking it consistently. Fun fact, bioflavonoids may also help prevent broken capillaries. My skin is prone to them, so I love this added benefit. 
What might surprise people about me is…
I was voted "Biggest Appetite" for the girls in high school. I'm an eater, no doubt, and when I splurge, I love every minute of it. However, at age fifty, I'm probably the fittest now that I have been in a long time. I think that's mainly because I value my health, and looking and feeling is a top priority. Being in the public eye, I definitely feel a little pressure to stay disciplined.
I hope you enjoyed reading a little bit about my health and fitness routine! I really do believe in taking care of myself from the inside out. My grandmother lived until 103 and was dancing on her 100th birthday. I would like to follow in her footsteps. If you're interested in more, I recently turned fifty and wrote about my secrets and good habits that I believe have helped me look younger than my age. 
Keep up the great work everyone! Focus on progress, not perfection!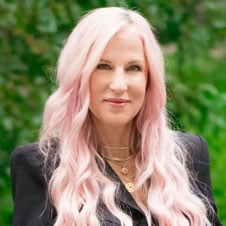 Celebrity Esthetician & Skincare Expert
As an esthetician trained in cosmetic chemistry, Renée Rouleau has spent 30 years researching skin, educating her audience, and building an award-winning line of products. Her hands-on experience as an esthetician and trusted skin care expert has created a real-world solution — products that are formulated for nine different types of skin so your face will get exactly what it needs to look and feel its best. Trusted by celebrities, editors, bloggers, and skincare obsessives around the globe, her vast real-world knowledge and constant research are why Marie Claire calls her "the most passionate skin practitioner we know."