Updated 07/10/23. Do you feel as if your sunscreen is clogging your pores? Well, the truth is that it very well could be. For many people, regularly wearing water-resistant sunscreen (which they choose over non-water-resistant formulas to hold up to heat and sweat) can cause clogged pores, bumps, and breakouts.
In this post, I'll share the unique sunscreen layering technique I use to prevent clogged pores, along with a few important sunscreen removal tips that can also make a big difference. Since I'm someone who gets clogged pores pretty easily, I developed this process for my own skin. It's worked very well for me, and I hope it's a success for you, too.
My Unique Sunscreen Layering Technique
It's only four steps, but my sunscreen layering technique can keep your skin smooth, clear, and protected!
Step 1: Apply a Non-Water-Resistant Sunscreen That's Compatible With Your Skin Type
Water-resistant sunscreens are notorious for including oily ingredients that tend to block pores, so you don't want this kind of sunscreen touching your skin first. Instead, you'll want to apply a non-water-resistant sunscreen as your first layer. Make sure that it's one that's compatible with your skin type and one that you'll enjoy wearing.
I love Weightless Protection SPF 30. It's been one of the best-selling products in my skincare line since 2000 because it's perfectly wearable under makeup, doesn't feel greasy, and doesn't cause breakouts. I apply it every single day without fail.
No matter which formula you use, be sure to cleanse, tone, and apply a vitamin C serum before applying sunscreen. Once that's done, apply a generous layer of SPF. The keyword here is generous. Make sure you're applying the correct amount to your face, neck, and chest. After all, it's not so much about the SPF number as it is about how much and how often you're applying it. Trust me when I say one of the worst things you can do for your skin is skimp on sunscreen.
Step 2: Apply a Water-Resistant Sunscreen Over the Top of the First Sunscreen
Give the first sunscreen time to settle into your skin. Then, seal it in with a water-resistant formula. The idea is that this layer sits atop the skin's surface as a kind of sunscreen topcoat without slipping into (and subsequently clogging) your pores.
When it comes to water-resistant sunscreens, I like using the La Roche-Posay Anthelios 60. I discovered it in France many years ago, and it's now available in the States. I like the way this one feels; it's not too heavy on my skin and doesn't cause any bumps or breakouts. It holds up to sweating and swimming for 80 minutes as long as it's applied generously enough.
Note: per the FDA, sunscreens can no longer be labeled as "waterproof," so you'll see "water-resistant" instead.
Step 3: Blot Your Skin With a Tissue
This step might seem simple, but it's important. Blotting your skin with a tissue removes surface oil and tackiness that water-resistant sunscreen might leave behind. Essentially, it de-greases the skin and prepares it for the final step in my special sunscreen layering technique.
Just be sure to use a light touch during this step. Don't swipe or rub at the skin, as this could remove some of the sunscreen you just applied. It's best to gently blot the skin, instead.
Step 4: Apply a Water-Resistant Sunscreen Powder
Applying a layer of powder sunscreen over the first two sunscreens ensures your skin is really protected from the sun. It can also keep your skin from feeling cakey or greasy. For this step, I like using the ColoreScience Brush-On SPF 50. It comes in a self-dispensing brush, but since it's being applied over a slightly tacky, water-resistant sunscreen, the bristles can get a little clumpy. So, I'll pour a little out into the palm of my hand and pat it on my skin using a toning cloth or cotton round.
Since SPF powder uses titanium dioxide and zinc oxide physical blockers, it's a great last step to make the sun's rays bounce off the skin's surface. It's also incredibly easy to reapply. Simply dust it on every 90 minutes. It will even hold up to sweat and swimming since mineral powders tend to be water-resistant. You might actually see sweat and water bead off while the powder stays put.
Read the pros and cons of physical vs. chemical sunscreens.
Why This Sunscreen Layering Technique Works
This technique offers UV protection from both chemical and physical sunscreens. It also ensures that the UV protection you're getting will hold up to sweating and swimming. Not to mention, it won't clog your pores or cause breakouts—that is, as long as you're removing the sunscreen properly (but more on that in a minute).
I want to mention that just because I'm recommending that you use an SPF 30, 60, and 50, that doesn't mean your skin is getting a combined SPF of 140. The scientific community is unsure of what SPF number results from layering sunscreens. With that being said, it's all about how generously and regularly you're applying sunscreen.
How to Properly Removed Layered Sunscreen
Proper sunscreen removal is everything when it comes to preventing clogged pores and breakouts, especially for Skin Types 1-6. These skin types are already prone to clogged pores, so it's absolutely essential that you cleanse thoroughly and use skincare ingredients that will help disrupt the blemish cycle.
Step 1: Cleanse Your Skin With a Lightweight Cleansing Lotion
The type of cleanser you choose is SO important. You need to use a cleanser that contains lightweight emollients (oils), instead of a water-based cleanser. This is because water-resistant sunscreens contain emollients that are designed to repel water. If you use a water-based cleanser to remove a water-resistant sunscreen, it won't break it down properly, which means you won't be cleansing your pores properly.
I like using a cleansing lotion, like Vitamin-Infused Cleansing Emulsion, or a modern balm, like Better Than Balm. Apply either to DRY skin and gently massage it for 60 seconds. After that, wet your fingertips and massage it through again. Then, rinse it off. The most important part comes next. Wipe the skin with a gentle washcloth. This will lift away everything you just dissolved with the cleanser.
Step 2: Treat Your Pores to a Cleansing Mask
If water-resistant sunscreen is clogging your pores, your skin will really benefit from a pore-cleansing mask. You'll want to find one that contains salicylic acid, like Rapid Response Detox Masque. Salicylic acid is a BHA (beta hydroxy acid). It's oil-soluble, so it can penetrate the pore lining to clear trapped debris that can lead to bumps and breakouts. Apply the mask to clean skin and leave it on for 15 minutes to reap all the benefits.
Step 3: Apply a Toner and Antioxidant Serum
After rinsing off the mask, apply an alcohol-free toner. Then, apply an antioxidant serum. Since your skin's natural antioxidant supply has been depleted from being outside (this is the case even if you applied a vitamin C serum in the morning), you want to restore it. This could mean applying a vitamin C serum again, or another antioxidant-rich serum, like Firm + Repair Overnight Serum.
Step 4: Finally, Apply an Oil-Free Moisturizer
At this stage, there have been a lot of emollients on your skin, from the water-resistant sunscreen to the cleansing lotion or balm, so you'll want to hydrate your skin with something lightweight and oil-free. I recommend using Skin Recovery Lotion. It will help boost your skin's water levels and keep it plump and hydrated.
There you have it! Your skin is now properly cleaned and cared for. What's more is that you won't have to worry about a backlash of clogged pores, bumps, and breakouts. This process works really well for my skin, and I hope it works for yours, too.
Next, read up on 7 ways to prevent summer sun spots.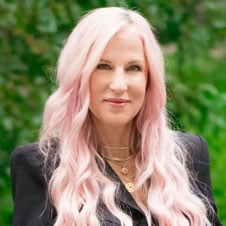 Celebrity Esthetician & Skincare Expert
As an esthetician trained in cosmetic chemistry, Renée Rouleau has spent 30 years researching skin, educating her audience, and building an award-winning line of products. Her hands-on experience as an esthetician and trusted skin care expert has created a real-world solution — products that are formulated for nine different types of skin so your face will get exactly what it needs to look and feel its best. Trusted by celebrities, editors, bloggers, and skincare obsessives around the globe, her vast real-world knowledge and constant research are why Marie Claire calls her "the most passionate skin practitioner we know."