Updated 06/24/22. I'm often asked, "What is your BEST skin tip? If there was only one thing I should do, what would it be?" My answer would be to wear sunscreen each and every day. However, most people already know that, so I'll share my next best skin tip. Here it goes—wash your face with a non-drying, low-foaming, and sulfate-free cleanser. Yes, that's right—I recommend avoiding sulfates in skincare products!
Despite all the awareness around skincare, this is one thing that many people still don't get right. I think it's because most people focus more on leave-on products like serums, masks, and moisturizers, and they just don't pay as much attention to their cleansers. While it's certainly important to invest in high-performance leave-on products, you should never skimp on your cleanser or use any old sulfate-based formula. Keep reading to learn why!
Why Is It So Important to Use the Right Cleanser?
Make no mistake—your cleanser can make or break your entire skincare routine. If you wash your face with a cleanser that has the wrong ingredients, a high pH balance, and a high lather, it will instantly strip the surface of your skin and cause dehydration. When this happens, every product you use afterward (including serum and moisturizer) has to do major repair work to put hydration back into the skin.
Learn the difference between dry and dehydrated skin.
It makes no sense, right? The goal should be to cleanse your skin gently to maintain proper hydration levels. That's true even for breakout-prone skin types. Many traditional blemish-focused cleansers are too harsh and drying, so they can actually contribute to the problem rather than fix it. That's why I formulated my blemish-prone cleansers to be gentle and effective. Take the Rapid Response Detox Cleanser, for instance. It targets excess oil and blemish-causing bacteria without stripping the skin.
What Common Cleanser Ingredients Should I Avoid?
If there is one ingredient I recommend avoiding (or, rather, a category of ingredients) it's sulfates. Sulfates in skincare are foaming agents that are used in cleansers to lower the surface tension of water. The reason I recommend avoiding these ingredients is that they're too harsh and can end up stripping the skin of moisture.
1. Sodium Lauryl Sulfate
This is one of the most common sulfates in skincare products. And actually, of all the sulfates, I consider it to be the most harmful to the skin, especially when it's used in high percentages. It can cause damage to the skin's moisture barrier, resulting in extreme water loss. In some cases, it can even cause eczema flare-ups.
2. Sodium Laureth Sulfate
While it sounds similar to the aforementioned sulfate, this one is actually a bit milder. However, I still don't recommend using it. There are better foaming agents out there that don't deplete moisture from the skin.
3. Ammonium Lauryl Sulfate
Ammonium Lauryl Sulfate is often recommended to formulators to use in low-pH cleansers. Even though the pH of cleansers that contain this ingredient is low, they can still be too stripping for the skin. So, I recommend avoiding this ingredient altogether.
4. Ammonium Laureth Sulfate
You may have already guessed it, but Ammonium Laureth Sulfate is a milder version of Ammonium Lauryl Sulfate. Even though the '-eth' in the name means it's milder, there are much better cleansing agents available that don't strip the skin.
What Cleanser Ingredients Should I Look For?
First and foremost, it's important to choose a cleanser that's listed as sulfate-free. You'll find that these cleansers won't foam up as much as those that contain sulfates, so they may take some getting used if you've previously been using a sudsy cleanser. And on that note, just because your cleanser doesn't foam, it doesn't mean your skin isn't being cleaned. The fact of the matter is that you don't need suds to effectively clean your skin.
As for which ingredients you should look for, I have some suggestions. The following ingredients are considered safe and gentle:
Cocamidopropyl Hydroxysultaine
Disodium Lauraminopropionate
Cocamidopropyl Betaine
Disodium Cocoamphodiacetate
Disodium Cocoyl Glutamate
Sodium Cocoyl Amino Acids
Sodium Lauroyl Lactylate
Sodium C14-16 Olefin Sulfonate
Sodium Cocoamphoacetate
Sodium Lauroyl Oat Amino Acids
What About Cleansing Wipes, Balms, and Bars?
If you're a regular reader of my blog, you know that I'm not a fan of cleansing wipes, balms, or bars. Let me explain why that is.
Cleansing Wipes
The reason I'm not a fan of cleansing wipes is that they don't properly clean the skin. Instead, they just smear dirt, oil, and makeup across it. It's the actual rinsing action from water that will remove this residue and effectively clean the skin. At the end of the day, using a cleansing wipe is like applying cleanser to your skin and then not washing it off.
Cleansing Balms and Oils
As for cleansing balms, most of them act more like moisturizers than cleansers. They leave a thick, oily residue on the skin that other products can't penetrate through. For example, let's say you want to apply a serum after you've used a cleansing balm or oil.  Serums are generally made up of small molecules. You don't want to put a small molecule on top of a large one (an oil). Doing so would prevent the smaller molecule from penetrating through, which means your serum won't perform as well as it should. I delve deeper into this in my post on double-cleansing.
I prefer using cleansing lotions since they don't deposit oil. Plus, they rinse off well. However, if you really want to use a cleansing balm or oil, use one that emulsifies, or rinses off the skin well, so there's not a thick, oily residue left behind. Or, use a second gentle, gel cleanser afterward to cut through any residue.
Cleansing Bars
Just like cleansing balms and oils, cleansing bars tend to leave residue behind. That's because they're waterless, so they have low water solubility. Translation? You have to rinse them off very thoroughly with lots of warm water to properly remove them. If they're not properly rinsed off, they can prevent your other products from penetrating and working effectively. You can read more about this in my post on cleansing bars.
The Bottom Line
As I always say, skin cells are like fish in that they need water to live. Keeping your skin's hydration levels intact is key. So, choose your cleanser wisely, avoid sulfates in your skincare products, and your skin will thank you for it!
Next, read up on 10 surprising cleansing mistakes you need to stop making!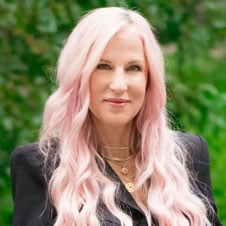 Celebrity Esthetician & Skincare Expert
As an esthetician trained in cosmetic chemistry, Renée Rouleau has spent 30 years researching skin, educating her audience, and building an award-winning line of products. Her hands-on experience as an esthetician and trusted skin care expert has created a real-world solution — products that are formulated for nine different types of skin so your face will get exactly what it needs to look and feel its best. Trusted by celebrities, editors, bloggers, and skincare obsessives around the globe, her vast real-world knowledge and constant research are why Marie Claire calls her "the most passionate skin practitioner we know."