When it comes to the areas that people most focus their anti-aging efforts on, the face would be the first priority. The neck would be second, then the chest, with the hands coming in a close fourth. That being said, most people do neglect the chest area. The upper chest area gets a tremendous amount of sun exposure in a lifetime, which results in brown spots, rough texture, redness, and is oftentimes a popular area for skin cancer.  So here are my tips for caring for this often-exposed area.
Wear Sunscreen Daily
Most people know the importance of wearing sunscreen 365 days a year, so they will apply it to their face, using whatever is left on their fingertips on the neck and maybe extending a little on to the chest. But for most people, if sunscreen is applied to the chest, it is not adequate enough protection as it is not applied generously enough.
How to: When you're out of the shower, remove the top of your bathrobe so you can have the entire upper chest area exposed. Apply sunscreen generously to all areas that will be exposed to sunlight, based on what you'll be wearing that day. (I recommend Daily Protection SPF 30 since it offers powerful UVA/UVB protection.)
After applying a generous coat of sunscreen, dust on a sunscreen mineral powder to not only even out redness and brown spots but also to prevent UV damage.
Read: The Best Sunscreen Mineral Powder To Prevent Wrinkles And Sun Damage
Why You Should Avoid Sunburns on This Sensitive Area
Your skin has a memory, and even one really bad sunburn can haunt you years later. Here's why…
When I was 19, I was at the beach all day and didn't reapply sunscreen. (Yes, I was actually an esthetician at that time, but the awareness of reapplying sunscreen frequently wasn't what it is like today.) Aside from the burn I got on my face, I also got a really bad burn on my chest. While it wasn't so bad that I blistered, it took at least a week for the redness to dissipate. Fast forward 20 years, and when I get out of a hot shower, because of how sunburns damage capillaries and blood vessels, you can see a red area including the bathing suit lines from that really bad sunburn I got 20 years ago. The redness used to only last 10 minutes or so until my body temperature cooled down, but now in the past couple years, due to aging, thinning of the skin and a continued weakening of vessels, the redness is starting to become more visible. That one sunburn from oh-so-many years ago has done permanent damage to my capillaries and the appearance of my skin on the chest.
Get a Professional Treatment
Most skin care professionals (such as estheticians and cosmetic doctors) do provide procedures for the skin on the chest (such as lasers and chemical peels) that when performed in a series of treatments, can help remove redness and brown spots and encourage a more evenly-toned and smoother texture. Consult with your skin care professional. Click here to read more about our skin care services offered in our spas.
Read: Are You Neglecting Your Neck? Try This 3-Step Treatment At Home
Exfoliate Often
The skin on the chest tends to be less sensitive than that on the neck or face, so you can exfoliate more often than you would be able to on those other areas. Choose an at-home peel with acids that dissolve and encourage the removal of sun-damaged cells. My Triple Berry Smoothing Peel is an at-home peel, and while I suggest only using it 2-3 times a month for the face, you can definitely use it weekly on the chest to enhance the results. A facial scrub like Mint Buffing Beads can be used twice a week on the chest in circular motions is also recommended to intensify the results of an acid or chemical peel. Tip: Using an exfoliating scrub on the chest just as you enter the shower is far easier than attempting to use it while at the sink.
Hydrate with Anti-Aging Ingredients
Since the skin on the chest suffers from a lot of wear and tear, just like the face, it too needs its share of skin-plumping, antioxidant-boosting ingredients. Be sure to extend your nighttime moisturizer to the chest area, and for extra anti-aging benefits, use a skin-firming serum underneath your moisturizer.
Read skin tips for those in their 20s, 30s, 40s, 50s, and 60s.
Cover Up With Mineral Powder
SPF-containing mineral powders (like the one I personally use from ColoreScience available for purchase here) are extremely beneficial not only for giving extra sun protection but also since they are slightly tinted, they do a great job to make the skin appear more even-toned.
Be sure to be mindful of the chest area because you want your chest area to look as great as your face and neck. Following these simple tips, you can be sure it does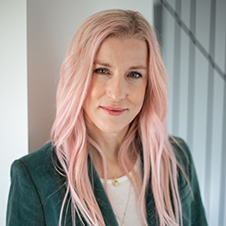 Celebrity Esthetician & Skincare Expert
As an esthetician trained in cosmetic chemistry, Renée Rouleau has spent 30 years researching skin, educating her audience, and building an award-winning line of products. Trusted by celebrities, editors, bloggers, and skincare obsessives around the globe, her vast real-world knowledge and constant research are why Marie Claire calls her "the most passionate skin practitioner we know."