Updated 08/20/21. You should be washing your face with a non-drying, sulfate-free cleanser twice a day, every day. If not done correctly, you could be inadvertently holding yourself back from your best skin. So, without further ado, keep scrolling to see eight common cleansing mistakes I see people make, plus easy fixes for each one.
Cleansing Mistake #1: Using a Cleansing Brush and Pressing Too Hard
Have you ever applied an exfoliating acid serum or vitamin C serum and felt it sting the skin on your cheeks? This may be due to an aggressive cleansing method. The culprit is usually a sonic cleansing brush (although a washcloth or facial scrub could also cause this if you're not careful).
When the bristles of a cleansing brush are rubbed over the face, they lift off dry skin and any makeup that's attached to those cells. The one area that tends to get brushed too aggressively is the cheeks, and that's for two reasons. The first is that they're front and center on your face, so when you look in the mirror, they garner the most attention. The second reason is due to bone structure. The cheeks protrude, making the skin more taught, which naturally gives the brush the ability to work deeper in this area. This can be true for the forehead and the chin, too. Pressing too hard will over-exfoliate the skin and could potentially lead to redness and irritation.
Pro tip: Be mindful if you use a cleansing brush. Make sure it's being evenly getting distributed over the face and use very light pressure. Don't grind it into the skin—ouch! The same goes for using washcloths and facial scrubs. Gentleness is key.
Cleansing Mistake #2: Washing Your Face with a Cleansing Oil or Balm
Have you ever used one of these types of cleansers and felt like your skin was silky smooth after you rinsed it off? This is because oils were deposited onto the skin so, in theory, it's acting more like a moisturizer than a cleanser. The problem with that is any products applied afterward won't be able to penetrate through the oils and, therefore, won't work as efficiently.
For example, let's say you want to apply a serum after using a cleansing oil or balm. Serums are generally made up of small molecules. You don't want to put a small molecule on top of a large one (an oil). Doing so would prevent the smaller molecule from penetrating through, which means your serum won't perform as well as it should. I delve deeper into this in my post on double-cleansing.
Pro tip: I prefer using cleansing lotions, like the Vitamin-Infused Cleansing Emulsion since they don't deposit oil. Plus, they rinse off well. However, if you really want to use a cleansing oil or balm, be sure to use one that emulsifies, or rinses off the skin well, so there's not a thick, oily residue left behind. Or, use a second gentle, foaming cleanser afterward and cut through any oil residue with a baby washcloth.
Cleansing Mistake #3: You Wait Too Long to Apply Your Next Product
You have a one-minute window after washing your face before moisture evaporation occurs. Moisture evaporation leads to dehydration through a process called transepidermal water loss. (FYI, there's a difference between dryness and dehydration). To avoid this, immediately apply an alcohol-free toner. Leave it damp, then proceed with a serum or moisturizer. I call this the "Golden Minute Rule," and it's imperative to maintain adequate moisture levels in the skin.
Pro tip: After you finish washing your face, apply your next product quickly. Whether it's an alcohol-free toner or a serum, have it nearby and ready to go. On that note, here's the perfect step-by-step morning routine and step-by-step evening skin routine.
Cleansing Mistake #4: You Use a Cleansing Wipe to Remove Makeup
Here's the thing about cleansing wipes—despite their name, they can't actually clean the skin (well, not effectively). Instead, they smear debris and makeup across the face. It's the same thing as applying cleanser to your skin and not washing it off. In order to actually clean your skin, you need to use a cleanser with the addition of water to rinse away dirt, oil, and makeup.
Pro tip: Reserve cleansing wipes for rare occasions like camping since no wipe will ever be as effective as a proper cleanser.
Cleansing Mistake #5: You Skip Using Cleanser in the Morning
Your skin doesn't have any makeup on it in the morning and you washed your face the night before, so it's not necessary to use a cleanser in the morning, right? Not so fast. When you wash your face in the morning, you're removing toxins and sebum (oil) that were excreted while you were sleeping. You're also removing remnants of your nighttime products. This means that your daytime products (particularly sunscreen) have a clean slate to work as effectively as possible. Learn more about why washing your face in the morning is necessary.
Pro tip: You won't strip your skin of moisture by washing your face twice a day, as long as you're using a gentle, sulfate-free cleanser. If you've had trouble finding a cleanser that won't leave your face feeling dry and tight, I suggest using the Moisture Protecting Cleanser. It has a nice low pH, barely foams, and leaves the skin soft and healthy-looking.
Cleansing Mistake #6: You Don't Use a Washcloth to Help Remove Makeup
Have you ever wiped your face with toner after cleansing only to find makeup on the cotton pad? This is all too common. What you need to know is that cleansing lotions dissolve makeup as they're massaged over the skin. When you rinse your face, some of that makeup is washed away, but it's the actual wiping action from a washcloth or sponge that transfers it off the skin.
Pro tip: Wash your face and follow up with a gentle wiping action using a baby washcloth. Baby washcloths are very gentle, which is why I like them much better than regular ones. Here are step-by-step instructions for washing your face.
Cleansing Mistake #7: You Haven't Invested in a Quality Cleanser
Are you putting your money into leave-on products, such as serums, and skimping on cleanser because you think it's just being rinsed off anyway? This is a thought many people have. It's also where many people go wrong.
I can assure you that if the first product in your skincare routine isn't working effectively, then the rest of your products won't work effectively either. The biggest mistake people make is skimping on a cleanser. They opt for a low-quality one and don't pay much attention to the ingredients. This leads to people using cleansers that are highly fragranced, which leads to unnecessary irritation. Or, they have too many detergents that will instantly rob the skin of oil, which can lead to moisture loss.
Pro tip: Look for a cleanser that is free of common irritants like sulfates, synthetic fragrances, and synthetic dyes.
Cleanser Mistake #8: You Use the Wrong Cleanser for Your Skin Type
Don't let anyone tell you that skin types aren't real. If you're in your '20s and dealing with adult acne, your skin has different requirements than if you're in your '50s and dealing with dryness. One size does not fit all when it comes to the skin. I believe there are nine skin types and you need the right cleanser for each one.
Pro tip: If you're unsure of your skin type, take the skin type quiz to find out. At the end of it, you'll get the perfect cleanser recommended for your unique goals and concerns (along with other product recommendations like toners, serums, masks, and more). It takes all of the guesswork out of curating an effective skincare routine.
Next, read up on everything you need to know about moisturizer.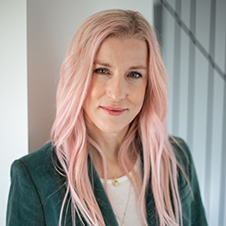 Celebrity Esthetician & Skincare Expert
As an esthetician trained in cosmetic chemistry, Renée Rouleau has spent 30 years researching skin, educating her audience, and building an award-winning line of products. Trusted by celebrities, editors, bloggers, and skincare obsessives around the globe, her vast real-world knowledge and constant research are why Marie Claire calls her "the most passionate skin practitioner we know."