Updated 05/02/22. You might think you know how to wash your face. It's obvious, right? Not so fast. There's actually a correct way to cleanse your skin, and not everybody follows it (or is even aware of it). Keep reading for a step-by-step guide to properly cleansing your skin! Trust me, if you follow these simple steps, you'll get the most out of your daily skincare routine.
How to Wash Your Face in the Morning
First things first. If you're not washing your face in the morning, you should be. Trust me when I say that cleansing your skin in the morning is absolutely necessary! That's because, at night, your skin secretes toxins and sebum. You want to wash these off so your protective skincare products (like vitamin C serums and sunscreen) can work effectively.
Also, nighttime skincare products often contain ingredients that aren't suitable for daytime use (such as retinol and exfoliating acids). These should be washed off each morning to avoid any potential reactions and irritation.
Step 1: Apply a Nickel-Size Amount of Gel Cleanser to DAMP Skin
Always make sure your skin is damp when applying a gel cleanser. That's because water activates the cleansing agents. I suggest dampening your face as well as your fingertips for proper product dispersion.
Step 2: Massage in Circular Motions for 30 Seconds
This ensures you're properly breaking down and removing excess oil and debris. Once you've massaged the cleanser into your skin for 30 seconds, it's time to rinse. Make sure you rinse well so there's no residue left behind.
Step 3: Wipe Your Skin (Optional)
This step is optional, but it can help remove any remaining debris or residue. Plus, it offers gentle physical exfoliation (the keyword here is gentle). Don't use anything abrasive. Instead, reach for a facial sponge or washcloth. Personally, I like to use baby washcloths, because they're more gentle.
Step 4: Follow Up With an Alcohol-Free Toner
After cleansing, you have 60 seconds to apply your next product before moisture loss occurs. I call this the "Golden Minute Rule," and it's one of the easiest ways to care for your skin. I recommend using an alcohol-free toner for a number of reasons (five reasons, to be exact), but one of them is to give your skin a quick boost of water-based hydration.
How to Wash Your Face in the Evening
Step 1: Apply a Quarter-Size Amount of Cleansing Lotion to DRY Skin
Cleansing lotions work to dissolve makeup, sunscreen, dirt, and debris that have built up on your skin throughout the day.  In this instance, it's important to apply them to dry skin, so they don't become diluted. When they're undiluted, the emollients in the cleanser will attach themselves to emollients used in makeup to properly break them down. The result? Clean, makeup-free skin.
Step 2: Massage in Circular Motions for 6o Seconds
You want to massage cleansing lotions into dry skin for a full 60 seconds. After that, wet your fingertips and massage again for an additional 15 seconds. This will thoroughly break down makeup and sunscreen. After that, rinse well.
Step 3: Wipe Your Skin (Mandatory)
A washcloth or facial sponge is mandatory for evening cleansing. That's because broken-down makeup must be physically lifted off the skin. You'll notice that once you wipe your skin with a washcloth or sponge, the makeup will appear on it.
Please bear in mind that a cleansing lotion won't give you that super "clean" feeling that gel cleansers do, simply because it's a gentler form of cleansing. With that said, if you use a cleansing lotion the way I have suggested, you can trust that your skin will be clean and makeup-free.
Step 4: Follow Up With Your Next Skincare Product
This can be an alcohol-free toner like you used in the morning. It can be a serum, it can be a moisturizer, or it can be all three in succession. However, for people who are prone to breakouts and have worn heavy makeup throughout the day, I recommend using a mask to reset the skin and help control breakout activity.
After cleansing, apply a layer of a pore-clearing gel mask, like the Rapid Response Detox Masque for a minimum of five minutes. (You can leave it on up to 15 or 20 minutes for additional hydration.) Once you rinse that off, proceed with toner, serum, and a moisturizer formulated for your skin type. This mask can be used every night post-cleansing to help keep the skin looking clear.
Cleansing FAQs
Should I Use a Cleansing Oil or Balm?
These types of cleansers usually don't rinse well and can leave a residue of oil on the skin. The oil acts as a barrier, preventing active ingredients in serums and moisturizers from penetrating the skin. This prevents them from working to their full potential.
I prefer using cleansing lotions, like the Vitamin-Infused Cleansing Emulsion since they don't deposit oil. Plus, they rinse off well. However, if you really want to use a cleansing oil or balm, be sure to use one that emulsifies, or rinses off the skin well, so there's not a thick residue left behind. Or, use a second gentle, foaming cleanser afterward to cut through oil residue.
Read more about my thoughts on the double-cleansing method.
Should I Use Cleansing Wipes?
No, cleansing wipes can't properly clean the skin. Instead, they just smear dirt, oil, and makeup across it. It's essentially the same thing as applying cleanser to your face and then not washing it off (you wouldn't do that, right? So why use cleansing wipes?).
Cleansing agents are designed to break down debris, but it's the rinsing action from water that actually removes it. While cleansing wipes are certainly convenient, they won't ever be as effective as using a proper cleanser with water.
What About Sonic Cleansing Brushes?
A sonic cleansing brush has a similar action as a facial scrub. It's using bristles (instead of beads or grains) to lift off dead skin cell buildup. The companies that make these brushes suggest using one every time you cleanse, but this is too much. After all, you wouldn't use a facial scrub twice a day, would you? Exfoliating too often, even with a sonic cleansing brush, will lead to a damaged moisture barrier.
Next, read up on 10 surprising cleansing mistakes you need to stop making!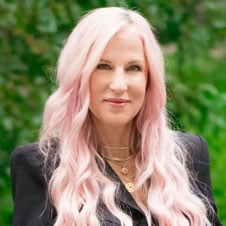 Celebrity Esthetician & Skincare Expert
As an esthetician trained in cosmetic chemistry, Renée Rouleau has spent 30 years researching skin, educating her audience, and building an award-winning line of products. Her hands-on experience as an esthetician and trusted skin care expert has created a real-world solution — products that are formulated for nine different types of skin so your face will get exactly what it needs to look and feel its best. Trusted by celebrities, editors, bloggers, and skincare obsessives around the globe, her vast real-world knowledge and constant research are why Marie Claire calls her "the most passionate skin practitioner we know."