Updated 4/21/17. While the method of washing your face may seem obvious, there is actually a correct way to cleanse. Everyone should understand the importance of cleansers and how to best use them. Following these simple steps will give you the most optimal results!
IN THE MORNING:

Step 1: Apply a nickel-size amount of gel cleanser to damp skin. Always make sure your skin is damp because applying a gel cleanser directly to dry skin makes it too concentrated. Water is what activates the cleansing agents, so in addition to your face, keep your fingertips damp for proper dispersion. See my recommendations for sulfate-free cleansing gels.
Step 2: Massage in circular motions for 30 seconds. Rinse well as it is important you leave no residue.
Step 3: While this step is optional, you can give your skin a final wipe with a gentle facial sponge, washcloth or a baby washcloth.
Step 4: Immediately follow with an alcohol-free toner, an antioxidant serum, and sunscreen moisturizer. Read why it's important to not leave your skin bare for longer than 60 seconds after cleansing.
Is washing the face really necessary in the morning? After all, I just washed the night before? I hear these questions a lot and they are certainly valid thoughts, but cleansing your skin in the morning is truly important. The reason why it's important to wash your skin in the morning is that while you sleep at night, your skin is in repair mode and will secrete toxins and sebum, which can prevent your morning products from working most effectively. When you wash your skin in the morning, you're removing any oil and your heavier nighttime products so that your daytime products (particularly SPF moisturizer) can get into the skin better, since it will have a clean slate. Also, the nighttime products that are on your skin often times contain ingredients that are suitable for evenings (not day) use, such as acids and retinol. These should be cleansed from the skin in the mornings to avoid any reactions or potential irritation.
For red, sensitive skin:  It is never advised to use hot water when cleansing, as this can weaken capillary walls, resulting in long-term redness.  Always use lukewarm or, ideally, cool water. If you wash your face in the shower, make sure you change the temperature when cleansing your face.
For tired-looking skin: If your skin doesn't get pink easily, it's helpful to use fairly warm to hot water to cleanse the skin, as heat will dilate the blood vessels allowing the skin to accommodate more nutrient-rich blood. For an additional boost of brightening, use Mint Renewal Cleanser to revive circulation in the morning.
IN THE EVENING:

Step 1: Apply a cleansing lotion directly onto dry skin, using a portion the size of a quarter. Cleansing lotions work to dissolve makeup and oil, dirt and debris that have built up during the day. In this instance, the key is applying the cleansing lotion to dry skin first so that it doesn't get diluted. The emollients in the cleanser will attach themselves to the emollients used in liquid foundations to properly break them down for effective makeup removal. Recommended cleanser: Vitamin-Infused Cleansing Emulsion. (Be sure to remove eye makeup first. Read how to properly remove eye makeup.)
Step 2: Massage in circular motions for 60 seconds over dry skin. Next, wet fingertips and work through again for 15 seconds. This breaks down the makeup thoroughly.  Rinse well.
Step 3: A washcloth or facial sponge is mandatory for evening cleansing.  In the morning, a facial sponge or a washcloth is optional, but by evening, broken down makeup physically needs to be lifted off the skin. You'll notice that once you wipe over the skin with a washcloth or sponge, the makeup will then appear on the cloth. (For stubborn foundation makeup, you may want to cleanse a second time.) Please bear in mind that a cleansing lotion won't give you that super "clean" feeling like gel cleansers do because it is a gentler form of cleansing.  Trust me, if you use a cleansing lotion the way I have suggested, your skin will be clean and free of makeup.
Step 4: For those who are prone to breakouts and clogged pores, and if you've worn a heavy layer of liquid foundation makeup during the day, you'll want to do a mask to reset the skin to prevent problems from occurring. After cleansing, apply a layer of an anti-bacterial, pore-clearing gel mask like Rapid Response Detox Masque for a minimum of five minutes. (You can leave it on for up to 15-20 minutes to give additional hydration.) Rinse off and proceed with toner, serum and a moisturizer for your skin type. If you wear makeup daily, Rapid Response Detox Masque can be used every night post-cleansing to keep the skin looking clear.
What about other types of cleansers? Avoid the use of cleansing creams that are tissued off. This type leaves a residue of oil and creates a barrier that doesn't allow for absorption of active ingredients in your serums and moisturizers, which will prevent them from working at their full potential. Some of these are made with petrolatum or mineral oil, which are not healthy for the skin. I'm also not a fan of using cleansing oils for the same reason. They leave unnecessary residue on the skin.
Are cleansing wipes okay to cleanse the face? No. I believe they are not the best choice for healthy skin. Why? Cleansing wipes don't effectively clean the skin. Instead, they just smear dirt, bacteria, oil, and makeup across it. Essentially, it is like applying cleanser to your face and then not washing it off. The cleansing agents are designed to break down debris, but it's the rinsing action from water that actually removes it. They are easy and convenient, but nothing will ever be as effective as proper cleansing with water.
What about using a sonic facial brush, such as Clarisonic? I definitely have an opinion on this. Simply put, a sonic cleansing brush has a similar action on the face as a facial scrub. It's using bristles (instead of beads or grains) to lift off dead skin cell buildup and any possible makeup that could be attached to those cells. The companies that make these brushes suggest you one every time you cleanse, but common sense implies that using a facial scrub twice a day would be way too much, right? Exfoliating too often causes a whole host of problems that are not helping your skin AT ALL. You can read all of my thoughts about this here.
For more information about cleansing, read these 9 cleanser do's and don'ts.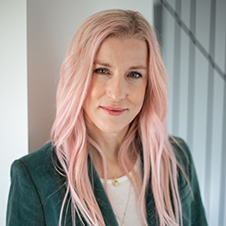 Celebrity Esthetician & Skincare Expert
As an esthetician trained in cosmetic chemistry, Renée Rouleau has spent 30 years researching skin, educating her audience, and building an award-winning line of products. Trusted by celebrities, editors, bloggers, and skincare obsessives around the globe, her vast real-world knowledge and constant research are why Marie Claire calls her "the most passionate skin practitioner we know."