We all have women in our life that we look up to and aspire to be like. For me, here are a few that I truly admire. 
Actress, Lisa Rinna. I have known Lisa for many years now, ever since I met her in the green room in Dallas at channel 8 when we were both appearing on TV. (I was sharing skin care tips and Lisa was promoting the play "Chicago", in which she was performing.) Since then, I see her regularly in Los Angeles and give her facial treatments on my quarterly visits there. One of the many things I admire about Lisa is her ability to constantly reinvent herself. In life, we all get into a rut both emotionally and physically, and can often give up on ourselves. Not with Lisa. She is constantly learning and growing and trying new things to better herself and her life. For example, even though Lisa is a seasoned actor, she recently went back to take acting classes to freshen up her skills. "Why not?" she says. She even wrote a book about reinventing herself which she shares her secrets for getting your best life. I love the conversations Lisa and I have about life, girl power, husbands, family, balance, business, aging, careers, Hollywood, and all things beauty. I adore her to pieces and I always get such a bounce in my step after seeing her. She's so nice, a true optimist with a passion for people and living life to the fullest. See some of Lisa's favorite skin care products.
Singer, Demi Lovato. Where do I even begin with Demi? This girl has been through everything and back and has come out a survivor and a warrior. I have been Demi's esthetician since she was 17 and I have seen her emotional struggles along the way, which she has been extremely candid about publicly. From drinking and drugs to self harm and an eating disorder, she was really in a bad place for quite some time. Add on the pressures of being a child star and a genetic predisposition to addiction, it hasn't been easy for her. With the support of her family and her own personal desire to better herself, Demi has come out a fighter and is clean and sober and on the top of her game. For Demi, it's all about making good choices. She doesn't put herself in any situation or surround herself with people who aren't anything but a positive influence in her life. (Shouldn't we all be doing that?) She doesn't go to the clubs and stays out of the young Hollywood scene. She is first and foremost focused on living her best life in a healthy way. At 21, she's staying strong and is such an inspiration, both to me and her millions of fans around the globe. When I asked her how she overcame her demons, she simply says, "I was willing to do the work." Bravo to you, Demi. Read how Demi cares for her skin.
My grandmother on my mother's side. My grandmother was both a hairdresser and the owner of her own beauty salon. When I grew up, I saw a strong woman who was an entrepreneur in a profession that was focused on making people look and feel their best. She loved working with people and her client's loved her. She was also a hard-working business owner. It was her influence that got me to enter into the beauty business when I was 18 and I am forever grateful to her. She passed away shortly after I moved to Texas in 1996, but she did give me my first dollar when I opened Renée Rouleau Skin Care Spa. (For those who don't know, there is a tradition from long ago where you would frame the first dollar you had been given when you opened your doors for business. So it was her who gave me mine. So sweet.) I definitely get my friendly disposition from this side of the family and my mom is also someone whom I admire. She is one of the warmest and caring women I know.
My grandmother on my dad's side (Grandma Rouleau) is also someone whom I admire greatly. One of the reasons is because she is now 101 and is still alive and well! I went to her 100th birthday party last year and was in awe of how well she is doing. She's always been a straight shooter and tells it like it is. She's no-nonsense and is a really strong woman. She has an incredible work ethic like my father. She just rolls up her sleeves and gets stuff done. I get my business smarts and ambition from this side of the family. I can only hope to be dancing and celebrating the way she did on my own 100th birthday. No walker needed!
Author, motivational speaker, blogger, and entrepreneur, Danielle LaPorte. I heard of Danielle online ten years ago for a consulting service that she used to have that offered a unique way of finding your true self via a personality profile that she developed. I loved what she was about so much that I flew her into Dallas to offer a seminar for my clients and colleagues. From the moment I met Danielle, I knew that she had that special magic. The fire in her belly, the insight she has for understanding humans and how their minds works, and her fierce desire to improve the lives of women is so inspiring. She's technically like Oprah in that she's all about empowerment, but with her own unique twist and the incredible power of her words. If you're in need of a serious shot of inspiration and don't already know about her, you need to check her out. Go Danielle! (Note: She's also been a loyal user of Renée Rouleau products for many years, and her skin is gorgeous.)
The reoccurring theme among all of these women is their inner strength. They are fighters. They never give up, no matter what. They keep on truckin'. Moving onward and upward. They are less talk and more action. They are not just dreamers, but they are doers. They make their mark and I can only hope that I make mine. My favorite slogan is one that Nike says so simply. JUST DO IT. What are you waiting for?
Follow me on Instagram for a sneak peek into my world.
Read: My Makeup-Free Skin at Age 44
Read: Renée Rouleau Mentors a South African Female Entrepreneur
Which skin care products are best for you? See our nine skin types or take our Skin Type Quiz and get products recommended.
Need expert advice from a licensed esthetician? Schedule a virtual consultation to get customized advice in person, over the phone or online via Skype or Facetime.
For more expert advice check out the blog. Also sign up for our skin tip e-newsletter, follow Renée Rouleau on Twitter and Instagram and join the discussion on our Facebook page. You'll be your own skin care expert in no time. Get the #ReneeRouleauGlow!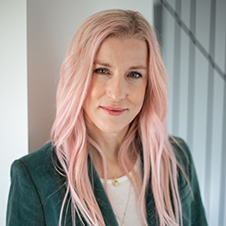 Celebrity Esthetician & Skincare Expert
As an esthetician trained in cosmetic chemistry, Renée Rouleau has spent 30 years researching skin, educating her audience, and building an award-winning line of products. Her hands-on experience as an esthetician and trusted skin care expert has created a real-world solution — products that are formulated for nine different types of skin so your face will get exactly what it needs to look and feel its best. Trusted by celebrities, editors, bloggers, and skincare obsessives around the globe, her vast real-world knowledge and constant research are why Marie Claire calls her "the most passionate skin practitioner we know."