Festival season is upon us, and Coachella is definitely the place to be for music, art, fashion, celeb sightings—and some serious fun. However, the heat, sun and dry climate of the California Desert can seriously disrupt perfect skin vibes. As an esthetician, I'll share my favorite skin-saving tips and product recommendations to ensure you look your best for all those festival photo ops!
Four essential concerns when traveling to Coachella Music Festival – or any other outdoor dry, warm-weather activity:
Preventing breakouts and bumps, exacerbated by heat, oil and makeup
Protecting skin from the sun to prevent a damaging tan or burn
Keeping skin hydrated to prevent TEWL (trans epidermal water loss) so it can stay looking smooth and supple
Keeping skin looking refreshed, even after partying into the wee hours of the morning
Before you go:
Discontinue use of any strong exfoliating acid serums—such as glycolic, lactic or salicylic acid—two days beforehand. If your skin is exfoliated often (which is normally a good thing), the lack of protective cells on the skin's surface may cause it to be more prone to moisture evaporation. In addition, well-exfoliated skin can act or look more sensitive when exposed to heat and sun. The goal is to keep the skin calm and inflammation to a minimum.
Discontinue use of any product with retinol or retinoid one week beforehand. These ingredients may cause the skin to act or look more sensitive to the heat and sun, too.
If you're not currently using an antioxidant serum in your routine, now is the time to start since UV light and the environment deplete the skin's natural antioxidant supply. It's important to load your skin with all those important vitamins so it can stay healthy-looking from within. Firm + Repair Overnight Serum is the one I suggest to my clients since it delivers potent antioxidants for the ultimate infusion of nutrients.
Increase your intake of vitamins A, C and E by eating broccoli, spinach, citrus fruits, bell peppers, berries, sweet potato and almonds. This will increase antioxidant activity from inside out.
Skin essentials to pack:
Sunscreen – a lightweight lotion formulated for the face, a spray for the body and a mineral 'brush-on' powder for easy reapplication to the face
Powder foundation or a lightweight liquid foundation – less likely to cause congestion and clogging than traditional liquid foundations
Travel-friendly, disposable pads saturated with your favorite alcohol-free toner and eye makeup remover – see my skincare shortcut for making these
Hydrating alcohol-free toner or essence – for my 3-minute moisture surge as mentioned in further on in this post.
Gel or foaming sulfate-free cleanser – these provide a deeper cleaning than cleansing creams, lotions or oils
Daytime vitamin C&E serum – for skin cell protection under sunscreen
Night antioxidant serum – for vitamin-infused repair while you sleep
Skin recovery masque – in the event you have a little extra time, you'll want to re-set your skin from environmental exposure
Lightweight, non-SPF moisturizer to use at night – your skin will desperately need hydration and replenishment
Makeup for eyes, lips, cheeks – avoid potential breakout-causing cream blushes, and instead, use a powder blush
Bandana – to wrap around your nose and mouth to prevent dust inhalation; plus, it's easy sun protection for the face
SPF lip balm – you don't want to burn your lips!
Oral multi-vitamin – to replenish antioxidants internally, since sun and late nights of over-imbibing can deplete your body's natural supply
HOW TO prevent bumps and breakouts:
Choose your makeup wisely. Did you know that a combination of liquid foundation makeup, cream blush, sweat and increased oil secretion from the heat can cause acne cosmetica? This is when you get a blockage in the pores that leads to bacteria growth, resulting in whiteheads (comedones) and blemishes (pustules and papules). It's quite common for people wearing a full face of makeup when out in the hot Coachella sun.
Avoid using primers and heavy foundations. Instead, opt for a lightweight foundation makeup. I suggest trying the new water/cushion-type makeup; People seem to have good results with Lancome Miracle Cushion or Laneige BB Cushion. However, powder foundations are best since they are far less likely to cause pore blockages—especially if you're prone to breakouts.  If you don't like the matte look from powders, dust on a shimmering highlighting powder for an instant glow.
Gently reduce bacteria from the skin. When the skin is dehydrated, it increases oil production to compensate for water loss. Since more oil promotes the breeding of bacteria, which leads to breakouts, it's important to reduce this un-friendly bacteria both on the surface of the skin AND from within.
Effective ingredients to do just that are manuka oil (leptospermum scoparium) and tea tree (maleleuca alternifolia); I formulated Rapid Response Detox Masque with both of these. This masque is unique in that it's both cooling and incredibly hydrating—unlike most masks for acne that leave the skin feeling dry! For best results, use at night immediately after removing makeup to re-set and balance. This treatment is perfect for a post-Coachella refresh or for using after outdoor fun all summer long!
HOW TO keep skin looking dewy and moist:
Deeply hydrate with a 3-Minute Moisture Surge. This technique is inspired by K-beauty (Korean-influenced beauty practices), and it's important for any situation in which moisture evaporation occurs. Airplanes, dry climate, and going from hot to cold—like from the sun to an air conditioned environment—can make the skin look parched and far from dewy. To slow this process, perform this 3-Minute Moisture Surge in the morning after cleansing your face.
How to: You'll need an "essence," or a hydrating toner (I recommend Moisture Infusion Toner), as you'll need something with both oil and water-soluble substances for superior hydration. (Essences will have a silky, serum-y feel to them whereas regular toners simply feel like water.) First, apply it on a cotton pad or Toning Cloth and wipe over the skin to remove impurities from tap water.
Next, pour a quarter-sized amount of the toner in the palm of your hand. Then, start applying the product in circular motions over the face until you have used up all of the product in your hand. Repeat for a total of three minutes (about five applications).
This works to completely saturate the skin to help with barrier reinforcement for both instant and long-lasting hydration. Moisture Infusion Toner is a great choice because it is loaded with a high concentration of omegas, antioxidants and liposomes; it ensures a deep delivery within the skin resulting in incredibly plump, bouncy and moist-looking skin that lasts. (Note: I always recommend to my clients to do this pre-flight to prevent moisture loss that occurs in the cabin of a plane.)
You MUST wear moisturizer. Some people skip moisturizer, thinking that the hot Coachella sun will make their skin greasy and cause breakouts. The truth is that while the heat CAN increase oil production, wearing a well-formulated moisturizer balances the skin and does NOT directly cause breakouts. I recommend Sheer Moisture Lotion for night; it is intensely calming and moisturizing without feeling greasy or heavy.
HOW TO prevent a sunburn:
Apply sunscreen generously—and often. Wearing sunscreen is a given. A big misconception, though, is that SPF strength depends more on how generously you apply it and less on the number on the bottle. An SPF 50 won't protect your skin very well if you only use it sparingly! You need to apply sunscreen with a heavy hand in order for it to do its job.
Reapply sunscreen using an SPF-infused mineral powder. If you're wearing a full face of makeup, the last thing you want to do is wash it all off and start over with a fresh coat of sunscreen. So how can you easily reapply? Dust mineral powder on the face and neck every two hours over your makeup. ColoreScience makes a really nice one that is so easy to use. Total no brainer when it comes to reapplication.
Use a spray sunscreen on the body. Hands down, the easiest and fastest way to protect skin on the body is to mist a sunscreen onto the arms and legs. Since the mist is fine, application success depends on getting a nice, thorough coat. Always spray when the wind isn't blowing, or go in a tented area to block the wind.
Wear a hat. They are in style and can look so chic—all while protecting your face from the sun's direct rays.
Use an antioxidant serum with both vitamins C and E. A well-formulated antioxidant serum helps protect from harmful free radicals. Plus, researchers found that using a serum with high concentrations of both vitamins C and E under sunscreen provides FOUR times the protection of sunscreen alone. Vitamin C&E Treatment is a must-have. (Check out this cool experiment that I did with an apple to show how a vitamin C serum can prevent oxidation from air and daylight.)
HOW TO refresh your skin the morning—even if you slept with your makeup on:
Long Coachella days and even longer nights means there's a good chance you'll fall asleep without washing your face. That's okay—just wake up and use Rapid Response Detox Masque! As previously mentioned, it's the ultimate cooling, antibacterial treatment to refresh, repair and re-set your skin. Post-cleansing, apply to the face and leave it on for 10 minutes. Rinse well, proceed with a vitamin C serum and sunscreen, and you're back at it for another fun day at the festival.
I know this is all a lot to think about! But if you've gotten this far, I know you're someone who deeply cares about keeping your skin protected and looking its best—at Coachella or wherever in the world you may be. Before a festival or any big event, planning and preparing a bit with your skin's health in mind is worth it. Your skin will sincerely thank you. Have fun!
Which skin care products are best for you? See our nine skin types or take the Skin Type Quiz and get products recommended.
Need expert advice from a licensed esthetician? Schedule a virtual consultation to get customized advice in person, over the phone or online via Skype or FaceTime.
For more expert advice check out the blog. Also sign up for our skin tip e-newsletter, follow Renée Rouleau on Twitter and Instagram and join the discussion on our Facebook page. You'll be your own skin care expert in no time. Get the #ReneeRouleauGlow!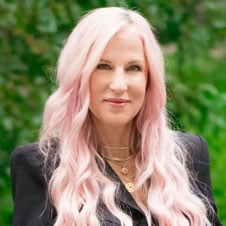 Celebrity Esthetician & Skincare Expert
As an esthetician trained in cosmetic chemistry, Renée Rouleau has spent 30 years researching skin, educating her audience, and building an award-winning line of products. Her hands-on experience as an esthetician and trusted skin care expert has created a real-world solution — products that are formulated for nine different types of skin so your face will get exactly what it needs to look and feel its best. Trusted by celebrities, editors, bloggers, and skincare obsessives around the globe, her vast real-world knowledge and constant research are why Marie Claire calls her "the most passionate skin practitioner we know."