Updated 6/21/17. For those who struggle with breakouts like pustules, cysts and clogged pores, the traditional approach has been to use various anti-bacterial and exfoliating products. Things like salicylic acid serums, peels, cleansers and masks are go-to's for cleaning the pores and improving the skin's appearance. While these all are very effective, there is ONE product that most people neglect during blemishes' important healing phase. This product can make a huge impact in the quest for clearer and more even-toned skin. So what is it?
Sunscreen. Let me explain.
Acne-prone skin types (like skin types #1, #2, #3, and #4) often shy away from sunscreen. Traditionally, formulas feel too heavy on the skin, and some can actually add to breakout activity. But did you know that NOT using SPF daily can make your post-breakout red and dark scars linger for even longer than they normally do? You see, the real problem with those who have acne is not so much the actual blemish. Unless the blemish is a cyst, most breakouts heal in 4-7 days. What's most bothersome is that the discolored scarring from the blemish (worsened if you picked at it!) can linger for 1-2 months after the breakout has healed.
Acne scars result from inflammation within the dermis layer of the skin. That inflammation then triggers pigment cells, which results in red or purple discoloration. When your skin is exposed to UV daylight (in spring, summer, fall and winter), this keeps pigment cells awake and active and prevents a blemish scar from fading as easily. Wearing sunscreen (of course, always use a lightweight, non-pore clogging SPF like this one) protects damaged cells so they can properly heal and recover so the skin can get even-toned much faster.
Simply put, sunscreen plays an important role for acne-prone skin types and if you want your scars to go away as quickly as possible, you must wear it every day of the year. Find a sunscreen formula that is compatible with your skin type (take this skin type quiz to find out), and I promise that your blemish scars will go away much faster. (For an even quicker recovery, I recommend to my clients to dab on Post-Breakout Fading Gel on at night to further encourage the removal of damaged and scarred cells.)
Want to prevent breakouts from developing in the first place? I've got 17 great tips for you. You might also want to read the real reason why you're getting hormonal acne.
Which skin care products are best for you?  See our nine skin types or take the Skin Type Quiz and get products recommended.
Need expert advice from a licensed esthetician?  Schedule a virtual consultation to get customized advice in person, over the phone or online via Skype or FaceTime. For more expert advice check out the blog. Also sign up for our skin tip e-newsletter, follow Renée Rouleau on Twitter and Instagram and join the discussion on our Facebook page. You'll be your own skin care expert in no time. Get the #ReneeRouleauGlow!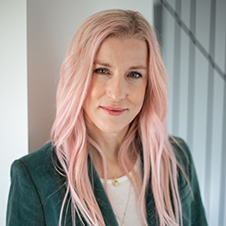 Celebrity Esthetician & Skincare Expert
As an esthetician trained in cosmetic chemistry, Renée Rouleau has spent 30 years researching skin, educating her audience, and building an award-winning line of products. Her hands-on experience as an esthetician and trusted skin care expert has created a real-world solution — products that are formulated for nine different types of skin so your face will get exactly what it needs to look and feel its best. Trusted by celebrities, editors, bloggers, and skincare obsessives around the globe, her vast real-world knowledge and constant research are why Marie Claire calls her "the most passionate skin practitioner we know."