Updated 5/18/18. For adults, much of your acne is probably settled down from your teen years however, you may still deal with monthly hormonal acne. These can show up right before or right at the start of your period. They can show up as cystic acne on the chin area and take forever to go away. Or you may experience regular pustular-type zits. Either way, it's frustrating and leaves you with the challenge of how to deal with them when they only come monthly during your menstrual cycle.
Why does this happen? What can you do to help stop monthly hormonal acne from appearing? In this post, I'll share everything you need to know about why this occurs along with my expert solutions. 
What causes monthly hormonal acne around the time of your period?
Just before the start of a woman's cycle, there is more progesterone in the skin which causes water retention. Because of this, the skin can appear puffier. (If you find yourself bloated and your pants get a little tight, then this surely will sound familiar.) When this occurs, it puts pressure on the pores and creates a narrower pore lining. Additionally, oil can get thicker because of the natural imbalance of hormones during the pre-period hormonal shift. When you have thicker oil trying to get through a narrower opening, this creates the ideal environment where breakouts can now begin.
What can you do to prevent blemishes from appearing?
The key here is prevention. Most of you probably have a plan of attack for when a blemish appears. This usually means bringing out all of your most powerful spot treatment to get them to go away as quickly as possible. However, there is not much awareness for figuring out how to prevent them from showing up in the first place. Here are some things to try to help stop monthly hormonal acne, including cystic acne.
Take vitamin B6 daily one week prior to your period.
This supplement may help ease PMS symptoms by improving metabolic function and hormone metabolism. Vitamin B6 can help the body manufacture neurotransmitters, such as serotonin, which aids in the body's ability to cope with stress. I have some clients who feel this works well for helping prevent their hormonal acne. However, every person's body chemistry is different so you'll just have to experiment.
Modify your skin care routine slightly 4-7 days prior to the start of your period. (Using non-drying products with salicylic acid.)
The idea here is that you want to start creating an environment in your skin where breakouts are less likely to occur. Replace 2-3 products in your current regimen with ones that focus on clearing away bacteria.
My favorite three products with salicylic acid to use to help stop monthly hormonal acne are:
AHA/BHA Blemish Control Cleanser – I recommend using this product just once a day, at night. Since bacteria and oil build up on throughout the day, using this cleanser in the evening provides a beneficial anti-microbial cleansing.
Pore + Wrinkle Perfecting Serum – This serum uses 1% salicylic acid which offers an anti-microbial effect along with exfoliation to keep pores clear and free from bacteria. The addition of glycolic and lactic acids help keep cells turning over so the skin will behave nicely.
Rapid Response Detox Masque – In addition to salicylic acid, one of the key ingredients is lichochalcone, a molecule contained in licorice root extract which offers many anti-acne benefits. It can help starve the bacteria so it can't breed while also helping to control oil production. After all, lack of oil means lack of breakouts. Lastly, it hydrates the skin while soothing hormonal-induced puffiness. This mask is excellent for creating an environment where fewer breakouts are likely to occur around the time of your period. You'll use this every night after cleansing for a minimum of five minutes to clear surface bacteria within the pores while keeping the skin's moisture barrier intact.
For the BEST benefit, using a skin-smoothing exfoliating peel right before applying the Rapid Response Detox Masque. This will allow the active ingredients to work even deeper within the skin and pores.
Learn the benefits of salicylic acid in helping to stop monthly hormonal acne.
Salicylic acid is a keratolytic beta hydroxy acid (BHA) ingredient famous for its ability to help clear out bacteria and remove breakout-clogging cells. It does this without irritating the skin and causing dryness. Drying out the skin will only cause more breakouts by creating surface cell buildup that can keep oil and bacteria trapped in the pore. Plus, adult skin types need to focus on keeping the skin in a healthy, hydrated state to encourage the slowdown of lines and wrinkles. You'll usually find salicylic acid in cleansers, serums, and masks, as well as in acne spot treatments. It's a fabulous ingredient with proven results in preventing the appearance of blemishes. (And it helps with blackheads, too!)

If your period hormonal breakouts are in the form of cystic acne, use Anti Cyst Treatment.
This product is definitely the 'Holy Grail" for cystic acne—both for prevention and for reducing them when they appear. It's well known for being the most effective topical treatment on the market for healing the appearance of cystic bumps. On clean skin at night, apply a thin layer to areas prone to cysts. For the best results, use it right after rinsing off the Rapid Response Detox Masque. The two pack a powerful punch when used the days leading up to your period.
Only treat affected facial areas.
This is an important one. If your monthly hormonal acne usually appears on a certain area of the face, you'll want to use your acne products on that area only. The idea here is that you don't want to give other places on your face something they don't need. No sense in trying to prevent period breakouts on your forehead if they never appear there.
For your regular skincare routine, you'll always want to use products exclusively for your skin type. Take this Skin Type Quiz.
Consider consulting with your doctor.
A gynecologist may be the most beneficial type of doctor to see. They work more closely with women and have a better understanding of hormonal fluctuations. They may check your hormone levels via a blood test and prescribe birth control pills to help balance them. Sometimes a prescription oral medication called Spironolactone can help regulate hormonal imbalances.
Some doctors may take more of a natural approach and may suggest vitamin supplements or offer dietary recommendations. A gynecologist client of mine told me that she has seen a lot of patients experiencing adrenal fatigue. This condition can lead to acne as well as a host of other symptoms. You may want to search the web for more information about it.
Avoid using a sonic cleansing brush the week before your period.
Since acne is an inflammatory disease of the skin, you'll want to be very gentle with your skin. This means NOT rubbing a sonic cleansing brush over the face twice a day. I find brushes such as the Clarisonic, to be very stimulating to the skin and this is not what you want right now. You want to keep the skin in a calm state so set the brush aside leading up to your period. (Read my Clarisonic review because I'm not a fan of using it twice a day no matter what.)
Why do I keep getting blemishes in the exact same place?
Even when a blemish heals up and the infection goes away, some non-infected debris can still remain inside the pore. This creates a blockage that can continue to get re-infected until they are cleared out. The solution is to keep the pores clean with regular facials along with using products with a salicylic acid serum. Using a serum as a part of your regular skincare routine can help tremendously. Here are tips for preventing chin and jawline breakouts.
In summary…
Treat the skin as needed with the use of gentle, calming, pore-clearing, antibacterial ingredients and you just may find that your monthly hormonal acne is a thing of the past.
Read Why Most Acne Spot Treatments DON'T Work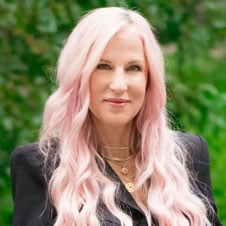 Celebrity Esthetician & Skincare Expert
As an esthetician trained in cosmetic chemistry, Renée Rouleau has spent 30 years researching skin, educating her audience, and building an award-winning line of products. Her hands-on experience as an esthetician and trusted skin care expert has created a real-world solution — products that are formulated for nine different types of skin so your face will get exactly what it needs to look and feel its best. Trusted by celebrities, editors, bloggers, and skincare obsessives around the globe, her vast real-world knowledge and constant research are why Marie Claire calls her "the most passionate skin practitioner we know."