Founder and skin care expert, Renée Rouleau has made it her mission to provide expert advice, tips and tricks and debunking the most common skin care myths. "I'm changing the world–one face at a time." -Renée Rouleau
FIVE MOST COMMON SKIN MYTHS
MYTH #1 SKIN SHOULD FEEL TIGHT AFTER YOU WASH. IT'S A SIGN THAT IT HAS BEEN EFFECTIVELY CLEANED.
TRUTH: If the skin feels tight after washing, it is a sign that the skin has been stripped of all of its water causing surface dead skin cell buildup. Then you have to put your moisturizer on to restore the moisture that you just removed—which makes absolutely no sense! Bar soaps (even if they say that they are moisturizing), high foaming cleansers and anything that leaves your skin feeling tight is an absolute no-no! The most important part of your entire routine is what you wash with. It makes or breaks the rest of your routine. Look for low foaming cleansers that do not contain the ingredients Sodium Laureth/Lauryl Sulfate or Ammonium Laureth Sulfate, so your skin will have a comfortable clean. See our collection of sulfate-free gel cleansers.
MYTH #2 CHOCOLATE AND GREASY FOODS WILL MAKE YOUR SKIN BREAKOUT.
TRUTH: Many people have heard this from time to time, but there is no evidence indicating that they increase breakouts. The foods that most often are linked to breakouts are dairy products (when the breakouts are acne cysts that occur in the chin and jaw area) and citrus foods (when the breakouts are in the cheek area).
Read: Get control of your cystic acne–before it scars your skin!
MYTH #3 THE SUN ISN'T AS STRONG IN THE WINTER, SO SUNSCREEN DOESN'T NEED TO BE WORN.
TRUTH: There are two types of rays that are most important to know about. UVB rays cause your skin to get a tan or sunburn and they are less strong in the winter than summer. UVA rays cause premature skin aging and skin cancer and they are equally as strong from summer to winter so you're still getting UV damage even on a cloudy, rainy day in December. A UVA/UVB sunscreen should be worn 365 days a year, rain or shine, inside or out.
Did you know? 78% of all the sun damage that occurs in a lifetime is from incidental exposure such as driving in your car, working in your home or office near windows and walking to the mailbox. Yet another reason to wear sunscreen like Renée Rouleau Daily Protection SPF 30.
MYTH #4 OILY SKINS DON'T NEED MOISTURIZER.
TRUTH: While you don't need extra oil, your skin still needs water to keep the skin cells healthy and hydrated. When there is no water present, the skin cells die prematurely resulting in dead skin cell build up which causes clogged pores and increased oil production. And drinking water is the least efficient way to hydrate the skin!
MYTH #5 YOU CAN SHRINK YOUR PORES.
TRUTH: Large pores are an indication of how much oil you produced when you were in your teens—the formative years for your pore size. When your skin rapidly pumped out the oil, the walls of the pore stretched wider resulting in larger pores.  Many products will claim to actually shrink your pores, but there really is no way to do this.
The best way to reduce the appearance of the large pores is by exfoliating often. By using a combination of both physical exfoliants (facial scrubs with round grains) and chemical exfoliants (like alcohol-free glycolic acid serums) on a regular basis, will help remove surface dry cells so the opening of the pores are less deep making them look smaller.
THE FIVE WORST SKIN MISTAKES
SKIN MISTAKE #1 USING A BAR OF SOAP TO WASH YOUR FACE.
If you wash your skin with a bar of soap (no matter how much you paid for it), you immediately strip your skin of all its water which instantly creates dead skin cell buildup. Then you have to quickly put moisturizer on to put back exactly what you just took out—makes no sense!  The binders that hold a bar of soap together have a high pH balance making it too drying for most skin types. But they also reverse the benefits from any exfoliants that you're using (AHA's, BHA's and facial scrubs) since those are intended to remove dry skin cells. Bar soaps are a no-no, so look for mild, sulfate-free, low-foaming gel cleansers.
SKIN MISTAKE #2 USING HARSH PRODUCTS TO CONTROL OIL PRODUCTION.
When it comes to skin care products for oily skin, most skin care companies focus on products that simply remove the oil by using strong, harsh and dehydrating ingredients. While it will give you an immediate 'tight' feeling, it then creates a backlash hours later with an increase in oil production.
The amount of oil your skin produces is directly tied to the hydration levels in your skin. Oily skins don't need additional oil (which is why oil-free lotions are suggested) but you still need water in the skin. When the skin doesn't have the water it needs, the skin attempts to balance itself by producing more oil (by stimulating the nerve endings) to compensate for the lack of water. To lessen oil, choose gentle, sulfate-free, low-foaming cleansers, avoid alcohol-based toners and always use moisturizer. Read: Five ways to reduce oil production in skin.
SKIN MISTAKE #3 NOT USING AN ALCOHOL-FREE TONER AFTER EVERY WASHING.
Toners are misunderstood. Most people aren't really sure what they do and they often don't use them because the alcohol is irritating. Toners without alcohol are a perfect way to give your skin the water and hydration it so desperately needs. Your skin cells are like fish. They need water to live and without water they die prematurely resulting in unhealthy skin—not to mention dry skin cells. Use an alcohol-free toner every time after you wash, but make sure to leave it damp before applying your serum or moisturizer to seal in the hydration. All of the Renée Rouleau toners are alcohol-free.
SKIN MISTAKE #4 OVER-EXFOLIATING THE SKIN.
Exfoliation is extremely beneficial to the skin by reducing clogged pores, blackheads and breakouts, removing surface dry skin cells, softening the appearance of fine lines, making large pores appear less noticeable and encouraging new, healthy skin cell growth. But when it comes to exfoliation, less is more. If you use facial scrubs, acids, enzymes and get professional microdermabrasion and chemical peel treatments too often, you can really damage the health of the skin. By over-exfoliating, you damage the natural protective barrier of the skin resulting in dry, red, flakey, and irritated skin which can accelerate aging due to chronic and prolonged inflammation. It is suggested to use a mild alcohol-free glycolic acid/AHA serum for seven nights on, seven nights off followed with moisturizer and a mild, round-grained facial scrub twice a week in the shower. Both chemical exfoliation (acids) and physical exfoliation (scrubs) should never be over used.
Read: Is the Clarisonic brush harmful or helpful to the skin?
SKIN MISTAKE #5 PICKING AT YOUR SKIN.
Getting blemishes is a fact of life. While there are many things you can do to prevent them, it's really important to treat them properly once they appear—and this is where many people go wrong. For the most part, a blemish will only last 5-7 days, but a post-breakout red or dark scar from picking at a blemish can show for months. The only time you should extract a blemish is when a visible whitehead has come to the surface of the skin. This infection does want to get out, so you can gently remove it. But if you pick at something that is deep under the skin, you'll only make it worse—and an oozing scab is a lot more difficult to cover with makeup than a closed bump!
FIVE SKIN CARE TIPS
SKIN TIP #1 CLEAN YOUR COSMETIC BRUSHES REGULARLY.
Bacteria and oil can build up on your cosmetic brushes leading to clogged pores and break outs. using a mild liquid dish soap and cold water, carefully wash out your brushes and rinse thoroughly. Comb the bristles to prevent tangling, stand upright in a glass and put out in the sun to destroy bacteria and dry them quickly.
SKIN TIP #2 AVOID THE FOLLOWING INGREDIENTS IN SKIN CARE PRODUCTS:
• Mineral Oil & Petrolatum (pore-clogging, leads to breakouts and closed comedones)
• SD Alcohol 40 (the "bad" alcohol commonly found in toners-extremely drying)
• Isopropyl myristate & Isopropyl Palmitate (may cause blackheads)
• Synthetic dyes (can be a skin irritant)
• Sodium or Ammonium Lauryl Sulfate in gel cleansers (will dehydrate the skin)
• Synthetic fragrances (the #1 cause of allergic reactions to products. Listed as "Fragrance" or "Parfum" on the ingredient listing)
• Apricot kernels, or seed/ shell powders (naturally made particles found in facial scrubs can scratch and irritate the skin causing bacteria to spread)
SKIN TIP #3 TO REDUCE UNDER EYE PUFFINESS, AVOID EATING SALTY FOOD AT NIGHT.
Avoiding salty foods can definitely help prevent facial puffiness when you wake up in the morning. Excessive sodium causes water retention resulting in excessive swelling of the eye tissue. If you are trying to avoid puffiness of the face (especially before a special event), it's best to avoid salty foods at night and drink a lot of water to flush your system.
Read: Do cucumber slices on the eyes help reduce puffiness?
SKIN TIP #4 AVOID SLEEPING ON YOUR SIDE.
Did you know that sleeping is the second cause of wrinkles? One surprising cause of premature wrinkling on the face and décolleté (chest) is sleep or more precisely, the position of the body during sleep. To prevent the crepes between the breasts, marionette lines around the mouth and wrinkles around the eyes, try to get in the habit of sleeping on your back. After the sun, sleeping on the side is like ironing wrinkles into the skin. This means that on average, you're spending more than 2,500 hours per year potentially reversing the positive effects of your anti-aging skin care treatments.
SKIN TIP #5 ALWAYS WASH YOUR SKIN AND MOISTURIZE AT BEDTIME.
Did you know that the skin on your face is one of the dirtiest parts on your body from unintentionally touching it all day long? Cleansing your skin at night will reduce oil and acne-causing bacteria resulting in clearer skin. Also, while you sleep, your skin is at rest allowing regeneration to occur, so it's important to cleanse, tone and moisturize your skin for optimum skin repair and healing. Too tired to wash your skin at night? Perform your nighttime skin routine at 7:00 or 8:00. Earlier is better than never!
Read: Five reasons to wash your face at bedtime.
Which products are right for your skin? Check out our nine skin types.
Sign up here to receive expert skin tips in your email box!
For daily skin care tips, read our Beautiful Skin Blog, follow Renée on Twitter and like ourFacebook page.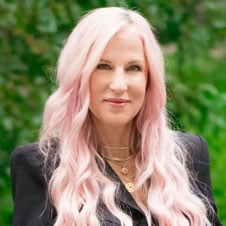 Celebrity Esthetician & Skincare Expert
As an esthetician trained in cosmetic chemistry, Renée Rouleau has spent 30 years researching skin, educating her audience, and building an award-winning line of products. Her hands-on experience as an esthetician and trusted skin care expert has created a real-world solution — products that are formulated for nine different types of skin so your face will get exactly what it needs to look and feel its best. Trusted by celebrities, editors, bloggers, and skincare obsessives around the globe, her vast real-world knowledge and constant research are why Marie Claire calls her "the most passionate skin practitioner we know."