Of all the types of acne someone can get, cystic acne is both the most frustrating to treat and can be the most damaging to the skin. Acne cysts can cause scarring because it stretches and damages the surrounding tissue deep within skin leading to indentations and red, dark or purple marks. (Read: How Can I Fade My Acne Scars?)
What is cystic acne? Hard, painful blemishes that develop deep within the skin, often appear on the chin or jawline and can linger for weeks.
Here are solutions for acne cysts:
Do not pick. Despite being sore, you'll never get that infection out.  If you attempt to, you'll most certainly have a scar that will linger for months. The rule is: If a whitehead does not form (which they never do if it's a true cyst) then hands off! (Read: Are You Guilty Of Picking At Your Skin?)
Prevent cysts by cutting out your intake of dairy. When you develop cystic breakouts, specifically on the chin, jaw line and neck area, it might be a sign that you're getting more dairy in your diet than your body can tolerate. Your skin acts as an excretory system to get rid of things that your body is not in agreement with, so when you eat too much dairy (and since dairy is naturally harder to digest) it comes out in the form of cystic blemishes in the lower area of the face…
The best way to determine if your acne cysts are directly related to your intake of dairy is to completely cut dairy out of your diet for two weeks. If you don't develop any new cysts and you normally would have by now, then this might solve your problem! It doesn't mean that you cannot eat any dairy at all.  Slowly introduce dairy back into your diet, and if you start breaking out again, that's your body's tolerance level.
Treat the cyst immediately. Dab on Renée Rouleau Anti-Cyst Treatment as soon as the cyst forms and it will dramatically reduce the infection and cut the healing time, at least by half. The longer the cyst has time to develop, the more you'll increase your chances of scarring the skin. You need to put the fire out—fast!
Apply ice to reduce inflammation. If you don't have a bottle of our Anti-Cyst Treatment, applying ice to the cyst can help take down swelling to reduce soreness.
Read: How To Get Rid Of A Blemish Fast
Prevent cysts from appearing. Our amazing Anti-Cyst Treatment can also be used to prevent new cysts from forming. When used twice a week on areas prone to cysts, you may find they won't show up at all! How to use: Perform your regular night time routine and then using a damp tissue, wipe the area clean where you are prone to getting cysts. Apply a thin coat of Anti-Cyst Treatment to the area and let dry. This can be used every night for severe cases (those who get new cysts appearing daily), but if you're only getting them occasionally (once a week), twice a week should do the trick. If you're prone to getting them during your cycle, use it three days before.
Optional: Get a cortisone shot. It can certainly work well, but who has the time to wait around at a doctor's office? Plus, some people can experience injection atrophy, where the skin indents from the cortisone and can take up to 9 months to naturally fill back in.
Read: Eye Makeup Remover That Won't Make Eyes Sting
Read: Is Your Skin Fading? Tips To Get The Glow
Which skin care products are best for you? See our nine skin types or take the Skin Type Quiz and get products recommended.
Need expert advice from a licensed esthetician? Schedule a virtual consultation to get customized advice in person, over the phone or online via Skype or Face Time.
For more expert advice check out the blog. Also sign up for our skin tip e-newsletter, follow Renée Rouleau on Twitter and Instagram and join the discussion on our Facebook page. You'll be your own skin care expert in no time. Get the #ReneeRouleauGlow!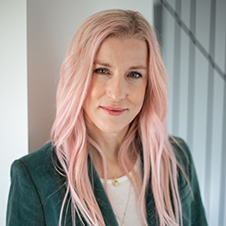 Celebrity Esthetician & Skincare Expert
As an esthetician trained in cosmetic chemistry, Renée Rouleau has spent 30 years researching skin, educating her audience, and building an award-winning line of products. Trusted by celebrities, editors, bloggers, and skincare obsessives around the globe, her vast real-world knowledge and constant research are why Marie Claire calls her "the most passionate skin practitioner we know."