How should I prepare my skin for exercising? Is it best to not wear makeup?
Prior to working out, you should wash your skin with a mild gel cleanser, followed with an alcohol-free toner and lightweight, oil-free lotion. You always want to use toner and moisturizer because bare skin (skin without moisturizer) will dehydrate causing dead skin cell buildup which can lead to breakouts, dullness and unhealthy skin. Read: Never Leave Your Skin Naked. It's important that you have the skin free of foundation makeup prior to working out to avoid potential blockage of the pores. (Eye makeup and lip gloss are fine to wear.) If you really feel the need to wear foundation makeup, try mineral-based powders which are sweat-resistant and won't clog the pores.
Read: Does Sweat Cause Acne?
What about wearing headbands or hats?
Headbands and hats, when worn directly across the forehead, are not recommended as they can cause a backup of oil and perspiration in the pores resulting in little clogged bumps or breakouts. Try to keep your headband further back in your hairline, but not directly across the forehead (especially if you're prone to having problematic skin).
How should I care for your skin after working out?
For oilier skins, wash with a non-drying gel cleanser as this will help to thoroughly remove oil, toxins and sweat. Avoid cleansing gels that contain Sodium Lauryl Sulfate or Ammonium Lauryl Sulfate as these ingredients will dry the skin. (All of the Renée Rouleau gel cleansers are sulfate-free.) Wipe your skin with an alcohol-free toner and apply a moisturizer or sunscreen. If you have a lot of redness in the skin after your workout, apply Azulene Gel Mask to help calm the skin and taking the pressure off the capillaries.
If you're prone to breakouts, it's beneficial to use a gentle, anti-bacterial cleanser like AHA/BHA Cleansing Gel to rid the skin of dirt, sweat and bacteria.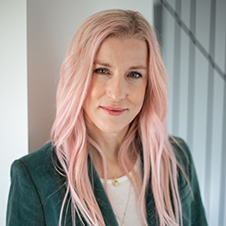 Celebrity Esthetician & Skincare Expert
As an esthetician trained in cosmetic chemistry, Renée Rouleau has spent 30 years researching skin, educating her audience, and building an award-winning line of products. Trusted by celebrities, editors, bloggers, and skincare obsessives around the globe, her vast real-world knowledge and constant research are why Marie Claire calls her "the most passionate skin practitioner we know."