Updated 2/1/18. For many young women, taking birth control pills are a part of a daily routine. Beyond the obvious benefits of these tiny pills, for some, they can also greatly affect the skin with various positive and negative side effects. While birth control pills can improve certain conditions like acne, for others it can actually increase breakouts and cause brown patches on the skin. Here's some important information you need to know if you're currently on the pill or are considering taking it.
What are birth control pills doing to my skin?
Birth control pills may be potentially lessening breakouts.
The pill can have a positive effect on breakouts for many women, so it may be worth considering if you believe your breakouts are hormonal and all other efforts to reduce acne have not helped. There are fluctuations in androgen hormone levels right before and during a woman's period that can stimulate sebaceous glands to produce excess oil. Since oil encourages bacteria, along with dead cells in the pore lining, this can cause breakouts to occur. The pill can help reduce breakouts due to their effect on natural hormonal balance. (Read how to prevent adult hormonal breakouts.) Many of my clients have found that going on the pill, or simply making a change in the one they are currently taking, can reduce acne and occasional hormonal breakouts. Some examples of FDA-approved birth control pills that seem to lessen breakouts include Ortho Tri Cyclen, Yaz, and Estrostep; but your doctor can help to determine the best course of action. This is a great post that discusses the various birth control methods and how they might affect the skin.
Birth control pills may lessen hair growth reduction.
There is a condition called hirsutism, which is the growth of dark, coarse hair for women on the face, back, and breasts. This occurs when the ovaries produce excess androgens. Birth control pills may reduce the androgen production to lessen hair growth in these unsightly areas.
Birth control pills may increase brown patches and skin discoloration.
A common complaint I've seen from clients taking birth control is the development of brown patches above the upper lip, making it look like a mustache. These dark patches can also appear on the forehead and lower cheeks. This pigmentation comes on so gradually that many women don't even realize its happening until it's there. (To note, there are plenty of women who take birth control pills who never experience pigmentation.) If you are someone who experiences this side effect, talk to your doctor about changing the dosage or other forms of birth control as this can help it disappear over time. While there are steps you can take to help fade it, as long as the pill is in your system, it's difficult to get it to go away completely.
To help fade brown spots and patches due to taking birth control pills, treat the area with exfoliation and natural skin lighteners by following these three steps.
1. Exfoliate often.
The best combination is to use an exfoliating acid serum several times a week to dissolve and digest pigmented cells. Then, a physical exfoliator such as a facial scrub or sonic cleansing brush can lift off those cells. You can also use a product containing retinol, as this too will help stimulate cell turnover to get discoloration to appear lighter. With exfoliation, however, be sure to follow the instructions for usage because you don't want to over-do it and cause potential irritation. Read the beginner's guide to exfoliation as well as the beginner's guide to using retinol or prescription retinoids.
2. Use a pigment lightening product.
Using a fading serum or cream daily can help fade pigment significantly. There are many on the market, some over-the-counter and some available by prescription. I recommend for my clients to start with a gentle, natural product and one that contains the vitamin C active ingredient, magnesium ascorbyl phosphate. This is a proven melanin suppressor to put pigment cells asleep and lighten stubborn discoloration with continued use. Just remember, it's important to address brown patches as soon as possible. Since skin cells have a memory, the longer the skin pigmentation is present, it may not try to fade it as efficiently as time goes on. Sometimes, a topical skin bleach prescription is needed, but this is a really good place to start.
3. Get professional chemical peels or Bio Brasion.
Without a doubt, the right home care products can make a dramatic difference in the skin but getting quicker results requires treatments from an esthetician or skin care professional. Peels and Bio Brasion are my go-to treatments for those wanting to fade discoloration. As you can see from this picture, the results are quite impressive. Photofacials and other laser treatments can be effective, too so consult with a trusted skin care professional.
As a licensed esthetician, I work closely with my clients to determine the best course of action to get their skin looking its best by managing the side effects of birth control pills. I hope you have found this information helpful.
Do you breakout during 'that time of the month'? Read the real reason why you're getting monthly hormonal acne.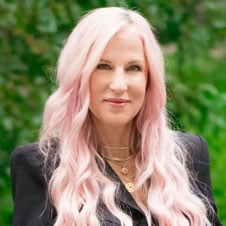 Celebrity Esthetician & Skincare Expert
As an esthetician trained in cosmetic chemistry, Renée Rouleau has spent 30 years researching skin, educating her audience, and building an award-winning line of products. Her hands-on experience as an esthetician and trusted skin care expert has created a real-world solution — products that are formulated for nine different types of skin so your face will get exactly what it needs to look and feel its best. Trusted by celebrities, editors, bloggers, and skincare obsessives around the globe, her vast real-world knowledge and constant research are why Marie Claire calls her "the most passionate skin practitioner we know."