If you're familiar with my skincare line, you're probably also familiar with Triple Berry Smoothing Peel. This best-selling product is loved by beauty editors, celebrity clients, and customers alike, thanks to its ability to target a multitude of skin concerns at once. Whether it's enlarged or clogged pores, breakouts, hyperpigmentation, uneven texture, or dull-looking skin, this peel can work wonders! 
After being out of stock for over a year (and amassing almost a 5,000-person waitlist!), I'm so happy to announce that Triple Berry Smoothing Peel is back! It has the same brightening antioxidant berry blend and the same great exfoliating benefits, and it still looks and smells just like raspberry jam. However, we gave the formula some exciting new updates. In this post, I'll share them with you in detail. Let's dive in.
Why Triple Berry Was Out of Stock
Like so many other companies, we were hit with supply chain disruptions at the beginning of the COVID-19 pandemic. These disruptions led to one of the ingredients used in Triple Berry Smoothing Peel being discontinued. The ingredient was a unique polymer that was used to thicken the formula and give the peel its signature, jelly-like formula. This polymer was very difficult to replicate, so it took time.  
Finding out an important ingredient in one of your best-selling products is unavailable is not a good feeling, but I knew I had to pivot quickly and figure out the next steps. I asked myself, "Where can I find the silver lining in this?" After going through the options, I decided the best course of action was to reformulate Triple Berry Smoothing Peel. It's been over ten years since I first launched this product (how time flies!), and one thing I'm very committed to is making sure the products in my line are up to date. While I never formulate based on what's trendy, I always want to make use of the best and latest innovations in skincare when appropriate. I decided this was the perfect opportunity to reevaluate Triple Berry and modernize the formulation. 
While it took longer than I would've liked, it was incredibly important to me to get this reformulation exactly right. I went through so many samples and versions with our lab until, finally, we came up with something I was proud to put out into the world. I know it's been a long road, and I can't say how much I appreciate our wonderful customers for being patient with us!
Meet the New Formula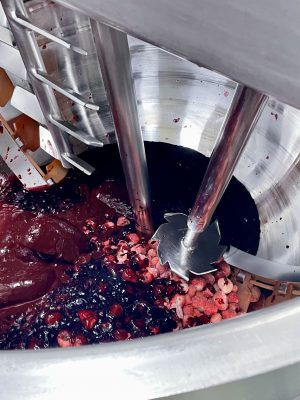 When I initially started thinking about this reformulation, the first step was to take into account all the feedback we'd gotten about the peel over the years. One of the biggest complaints we heard over and over again was that it wasn't pregnancy-safe due to the inclusion of salicylic acid. Anyone who's been pregnant knows hormonal shifts can send breakouts and hyperpigmentation into overdrive, and Triple Berry is perfect for those concerns. We wanted to make sure the peel was accessible to all of our customers, so, step one was to remove salicylic acid, making it pregnancy-safe.
Note: If you still want to use salicylic acid in your routine, I suggest using an exfoliating acid serum, such as the BHA Clarifying Serum or the Pore + Wrinkle Perfecting Serum. These can be used on exfoliation nights when you aren't using the peel. 
Additionally, you can use the Rapid Response Detox Masque after rinsing off Triple Berry Smoothing Peel. These two products have been so effective for managing breakouts when used together. If you have the time and want to take it a step further, use this peel/mask duo as part of an at-home facial.
Say Hello to the New Ingredients
To ensure the peel was still great for combatting breakouts and clogged pores, I then opted to add a few new exfoliating acids. The main way this peel fights breakouts and congestion is by removing dead skin cells that can fall into the lining of your pores and cause blockages.
Next, I decided to add an exciting new ingredient that would take this peel to the next level in terms of fading hyperpigmentation. I also chose to add a few more soothing ingredients to help keep the skin comfortable. 
Here's a breakdown of all the new ingredients.
Phytic Acid
First is phytic acid, an alpha-hydroxy acid naturally found in certain grains and legumes (though for skincare purposes, it's synthesized in a lab). It's been shown effective in reducing acne and enlarged pores, and it's also helpful for combatting post-breakout marks and fine lines.
Gluconolactone
Gluconolactone is a PHA, which stands for poly-hydroxy acid. This group of exfoliating acids works in the same way AHAs and BHAs do, but they have a larger molecule size so they're more gentle. Gluconolactone also hydrates the skin while it exfoliates.
PHAs were originally patented by the brand NeoStrata around 1994, which meant they had exclusive rights to use them in skincare formulations. That patent expired a few years ago, which means PHAs are now fair game and can be used by other skincare formulators such as myself. Exciting!
Potassium Azeloyl Diglycinate (Azelaic Acid)
Pronouncing this one is no easy feat, but potassium azeloyl diglycinate is actually just a derivative of azelaic acid. Azelaic acid is known for improving acne and calming redness and irritation (it's even used in some prescriptions for rosacea). It's also been proven very effective at fading hyperpigmentation.
The reason we chose to go with a derivative instead of azelaic acid itself is that, from a cosmetic chemistry standpoint, azelaic acid is very hard to work with. It's difficult to stabilize unless it's used in very minimalistic formulas—basically, it doesn't play well with other active ingredients.
Potassium Azeloyl Diglycinate is a fairly new ingredient, and it's just as beneficial for addressing hyperpigmentation. Whether it's hormonally-driven, like melasma, or caused by sun damage or past breakouts, this ingredient can help. Used consistently, it encourages brighter-looking, more even-toned skin.
Allantoin and Mirabilis Jalapa Extract
Allantoin and Mirabilis jalapa are both excellent soothing ingredients, and they're definitely the cherry on top of all these great, new additions to Triple Berry Smoothing Peel. My goal is always to create effective products that make a noticeable change in the skin without irritating it, so adding these ingredients was key.
In addition to adding more soothing ingredients, I really wanted to go the extra mile to make sure this peel would be safe for all 9 Skin Types to use. I opted to have it go through clinical testing, where it was administered to over 50 participants. Their reactions were monitored, and I'm happy to say none of them were adverse. 
Even though this peel has been clinically demonstrated to be non-irritating, everyone is different. We always recommend patch testing a new product before using it for the first time. Even if you used the previous version of Triple Berry Smoothing Peel, it's a good idea to patch-test this one.
This reformulation has been a labor of love. After over a year of research and testing, I'm thrilled to send it out into the world. I can't wait for you to try it, and I hope you love it as much as I do. If you want to know more about how to use Triple Berry Smoothing Peel, check out the FAQs on the product page.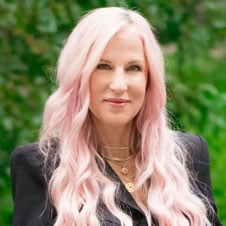 Celebrity Esthetician & Skincare Expert
As an esthetician trained in cosmetic chemistry, Renée Rouleau has spent 30 years researching skin, educating her audience, and building an award-winning line of products. Her hands-on experience as an esthetician and trusted skin care expert has created a real-world solution — products that are formulated for nine different types of skin so your face will get exactly what it needs to look and feel its best. Trusted by celebrities, editors, bloggers, and skincare obsessives around the globe, her vast real-world knowledge and constant research are why Marie Claire calls her "the most passionate skin practitioner we know."