Updated 1/12/18. The skin around the eye area is constantly moving with more than 10,000 blinks a day. The reason for fine lines and wrinkles as we age is the weakening of collagen and elastin fibers in the skin. This is mainly caused by long-term sun exposure but also blinking, smiling and facial movements that create actual folds and creases in the skin. When it comes to offering solutions for reducing the appearance of lines and wrinkles to my clients, I often use this example.
If you were to take a piece of wood and hit it with a hammer, you would make an indentation in the wood. To smooth out the dent, a little sandpaper would make the dent less noticeable, right? The same rules apply to the skin. Wrinkles and lines are considered to be indentations in the skin, so by "sanding" down the skin with exfoliators, the lines and wrinkles will appear less deep, and therefore, less noticeable. It's truly that simple. Once the skin is exfoliated, you must then focus on giving the skin intensive hydration to fill the cells with intensive moisture and collagen-building ingredients so the lines stay plumped up.
When it comes to the eye area, most people rely exclusively on an eye cream but moisturizing with an eye cream alone won't cut it. You must use a gentle exfoliant around the eye area to actually remove the dryness and crepiness so fresher, plumper cells come to the surface of the skin and your eye cream can give better results. Trying to moisturize cells that are already expired won't get you very far, trust me on this one. While it's important to use eye cream, people hardly have ever been told that gentle exfoliation around the eyes can make a significant improvement in reducing the appearance of lines and wrinkles and smoothing away surface dryness.
How can you safely exfoliate around the eyes to reduce dryness and the appearance of lines?
The skin is much too delicate for the use of an exfoliating facial scrub so instead, I suggest you use a gentle exfoliator using lactic and glycolic acids. When you apply it to the under-eye area, it safely lowers the pH of the skin that starts a process of dissolving the glue that holds dry, dead cells together. Within hours, the dryness is smoothed away and fresh, new cells appear.
You certainly want to be careful around the eye area, so make sure that you're only applying an exfoliating serum in the outer eye area where lines and wrinkles (crow's feet) are visible. You will not want to use this directly on the eyelids but you can use it under the brow bone.
After you apply an exfoliating eye serum, you'll want to follow it with an eye cream to seal in the serum and provide comforting moisture.
If dryness and crepiness is your concern, I highly recommend you start exfoliating around your eyes so you can be on your way to smoother skin. (Of course, using a well-formulated retinol serum is extremely effective for bringing an incredible smoothness to the skin, when used long-term.)
When it comes to eye creams, many people aren't even sure if they actually work. Read my thoughts on eye creams.
Which skin care products are best for you? See our nine skin types or take the Skin Type Quiz and get products recommended.
Need expert advice from a licensed esthetician? Schedule a virtual consultation to get customized advice in person, over the phone or online via Skype or FaceTime.
For more expert advice check out the blog. Also, sign up for our skin tip e-newsletter, follow Renée Rouleau on Twitter and Instagram and join the discussion on our Facebook page. You'll be your own skin care expert in no time. Get the #ReneeRouleauGlow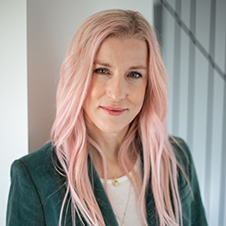 Celebrity Esthetician & Skincare Expert
As an esthetician trained in cosmetic chemistry, Renée Rouleau has spent 30 years researching skin, educating her audience, and building an award-winning line of products. Trusted by celebrities, editors, bloggers, and skincare obsessives around the globe, her vast real-world knowledge and constant research are why Marie Claire calls her "the most passionate skin practitioner we know."